CAST
Pamela Adlon (Say Anything)
Tommy Davidson (The Proud Family)
Julie Brown (Clueless)
Paul Dinello (Strangers With Candy)
Sandra Bernhard (2 Broke Girls)
Colleen Camp (American Hustle)
Dan Castellaneta (The Simpsons)
Robert Costanzo (Batman: TAS)
Matthew Glave (Stargate SG.1)
Jennifer Rubin (Screamers)
Jennifer Coolidge (2 Broke Girls)
Simbi Khali (3rd Rock From The Sun)
At the start of the movie, Don LaFontaine's voice talks about how Tarantino started a trend of extremely violent movies, and says that the time has come for much more wholesome, life-affirming movies — and he's cut off as someone shoots him. The body of the film contains the following intertwined plotlines:
Jimmy Nova and Julius are two exterminators, required to dress as hitmen; they work for Montello, who also owns a strip club. Jimmy is assigned by Montello to look after his wife, Mimi, while he's out of town; her over-eating and wild behavior get herself and Jimmy into one mess after another, including being imprisoned by a convenience store owner and his pet "gimp" Nell. Jimmy and Mimi eventually drive off to Mexico together.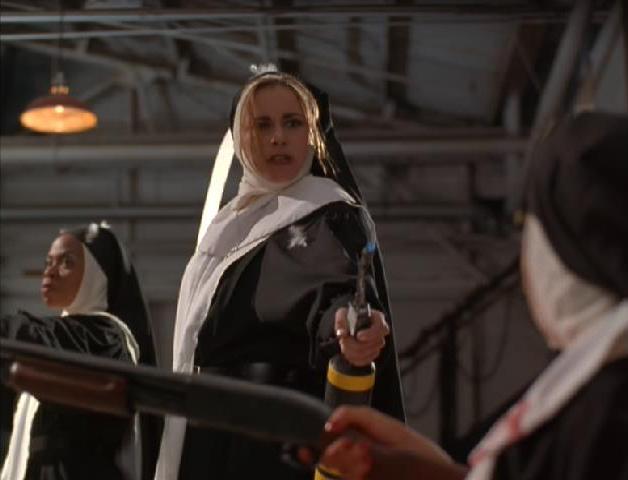 Some of Montello's strippers concoct a plan to steal Montello's money; they disguise themselves as nuns and use fake names, including Sister Sister, Sister Sledge, and Sister Bertrille. The plan goes awry, and one of the nuns is wounded. As trust between the criminals breaks down, they all draw weapons on each other (including a blowtorch and a crossbow), but suddenly they're all gunned down by film director Crispin Maraschino, who's making a movie in the next room and doesn't want to be disturbed.
Nicky and Vallory Cox, a pair of tag-team wrestlers called the Natural Blonde Killers, blame their lot on a terrible movie made about them by Gulliver Stone. They steal a seemingly valuable suitcase from Montello and go into hiding; while on the run, Nicky accidentally leaves the suitcase in a booth at The Independent Cafe, a theme restaurant whose theme is independent films. The two of them go back to retrieve it, and find themselves in a showdown with Julius (whom they'd encountered earlier). The contents of the suitcase turn out to be an old Welcome Back, Kotter lunch box and several orange glow sticks. The Coxes both wind up shot by Julius.
Bunny Roberts has written a violent film that Crispin Maraschino is shooting, but he doesn't have a copy of the script; she sends her friend Bumpkin to deliver her last copy to Maraschino. As Bumpkin runs to the studio, he occasionally bumps into the other characters, each time dropping the script pages and having to pick them up again. When he finally gets to the studio, the script is a convoluted mess, and Maraschino loves it; the title is revealed to be Plump Fiction. Bunny, meanwhile, winds up dead in the showdown between Julius and the Coxes.
After the credits, a server at the Independent Cafe (who calls himself Priscilla, Queen of the Desserts) looks into the camera and says, "This has been one long, mixed-up, crazy, out-of-sequence kind of day!"
Funny, entertaining, but basically a sketch, not a movie.  If you don't know the comics already, you may be a little confused.