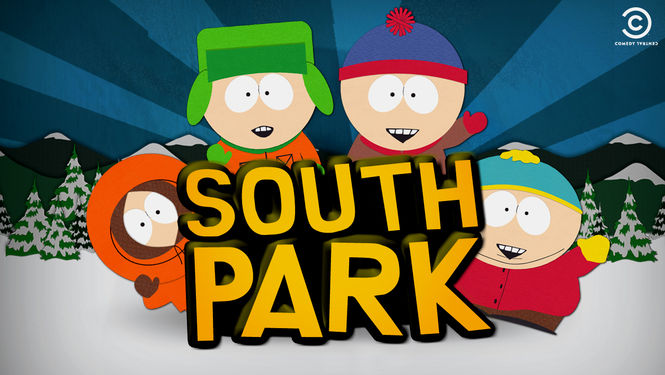 MAIN CAST
Trey Parker (Tales From The Crapper)
Matt Stone (Orgazmo)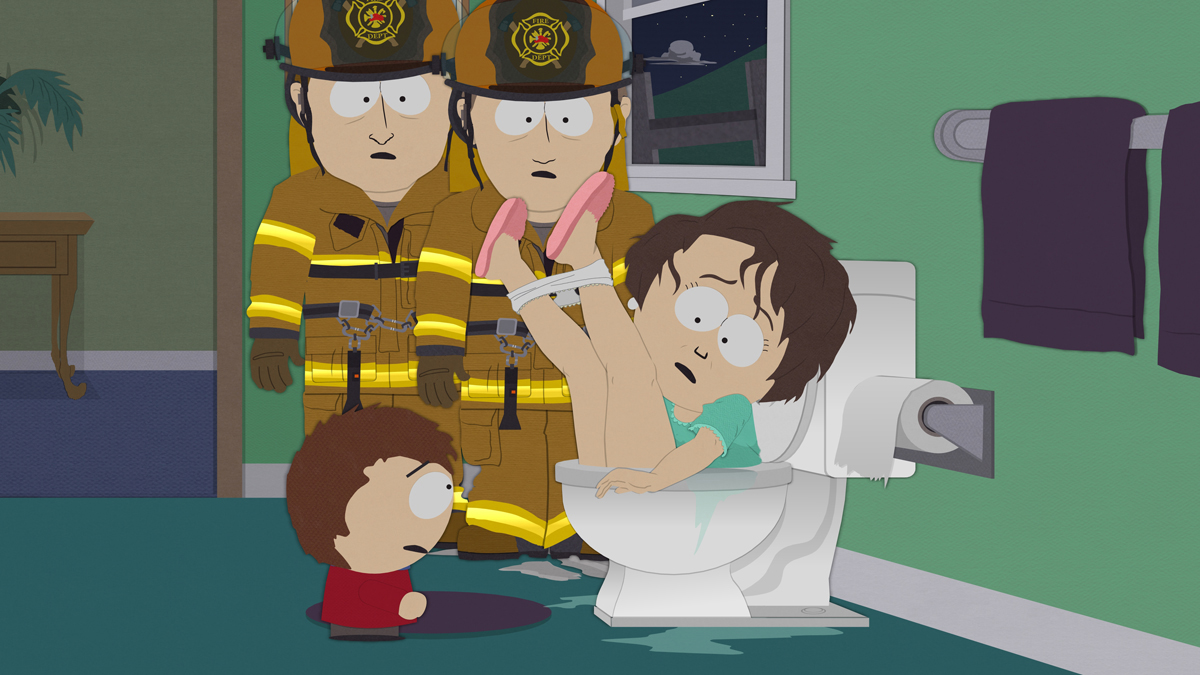 Season 16 kicked off in the spring of 2012 with fourteen episodes, each written during the week before broadcast. In true "South Park" style, some of the pop-culture references of this season include: bullying, zip-lining, "scause" armbands, voting, the Lance Armstrong scandal, NFL nanny regulations, BlockBuster/Netflicks, airport security/TSA, Honey BooBoo, Amazon addiction, native Hawaiians, memes, Easter/Passover, obesity, and TV shopping networks.
Episode 1: "Reverse Cowgirl"–New laws governing potty time emerge as backlash to Clyde's inconsiderate bathroom behavior. The tyranny upsets loggers, thinkers, and top-of-the-tank readers alike. Can toilet pioneer John Harrington set everyone straight?
Episode 2: "Cash for Gold"–When Stan's elderly Grandpa gets swindled by a shop-from-home network, Stan sets out to make things right. Cartman, on the other hand, capitalizes on the `cash for junk' market.
Episode 3: "Faith Hilling"–The boys struggle to stay ahead of the competition for the newest internet memes. The war turns to survival of the fittest; who (or what) will be `T.he Swift.est' to adapt?
Episode 4: "Jewpacabra"–Cartman warns his friends to avoid the South Park Easter Egg Hunt due to video footage he captured on a strange monster. To stick by his charade, Cartman becomes obligated to face the beast alone; his only hope lies in prayer for a Passover Miracle.
Episode 5: "Butterballs"–Butters becomes the victim of a ruthless bully. Stan quickly volunteers to be the creator and star of a new anti-bullying video, and he won't let anyone stand in his way.
Episode 6: "I Should Have Never Gone Ziplining"–To make the most of their spring break, one of the boys suggests going ziplining. The adventure is long, uneventful, and irritating…. But when an attempt to escape goes wrong, stuff gets REAL. Will all four boys make it out alive? And, more importantly, WHO had the bright idea to go ziplining in the first place?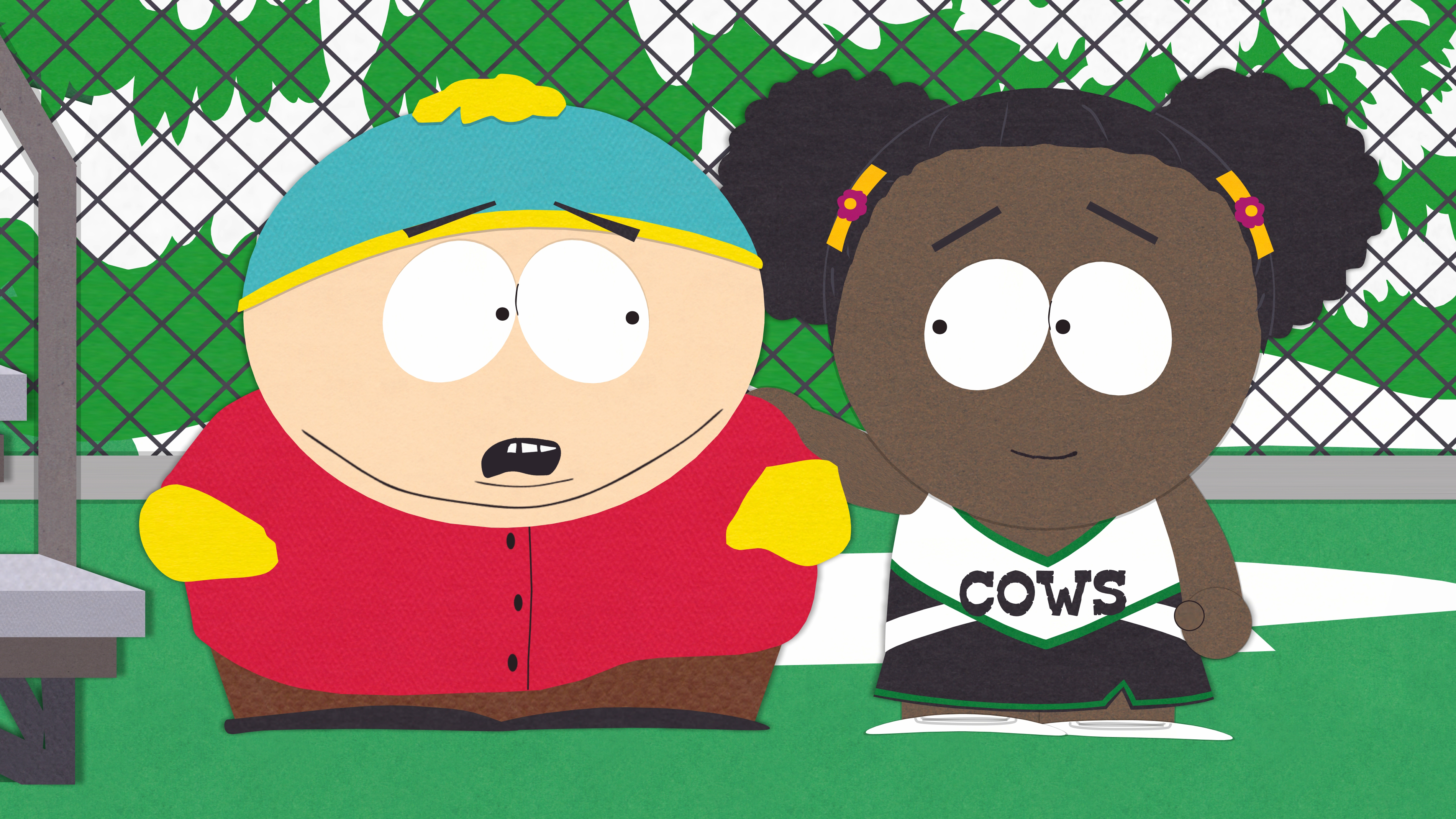 Episode 7: "Cartman Finds Love"–The new girl in town turns Cartman into a giddy, love-struck matchmaker.


Episode 8: "Sarcastaball"–After the NFL implements safety-related rule changes, Randy offers his opinions through sarcasm. When Randy takes a mouthful of Butters' secret weapon, he finally learns to calls things as they are.


Episode 9: "Raising The Bar"–Along with the rest of the country, Cartman begins to own his unhealthy and trashy lifestyle; the fate of all integrity is left in the hands/mechanical arms of James Cameron.
Episode 10: "Insecurity"–When online shopping invites delivery men into the home, Kyle begins to worry that the `regular deliveries' are actually services to his mother's infidelity.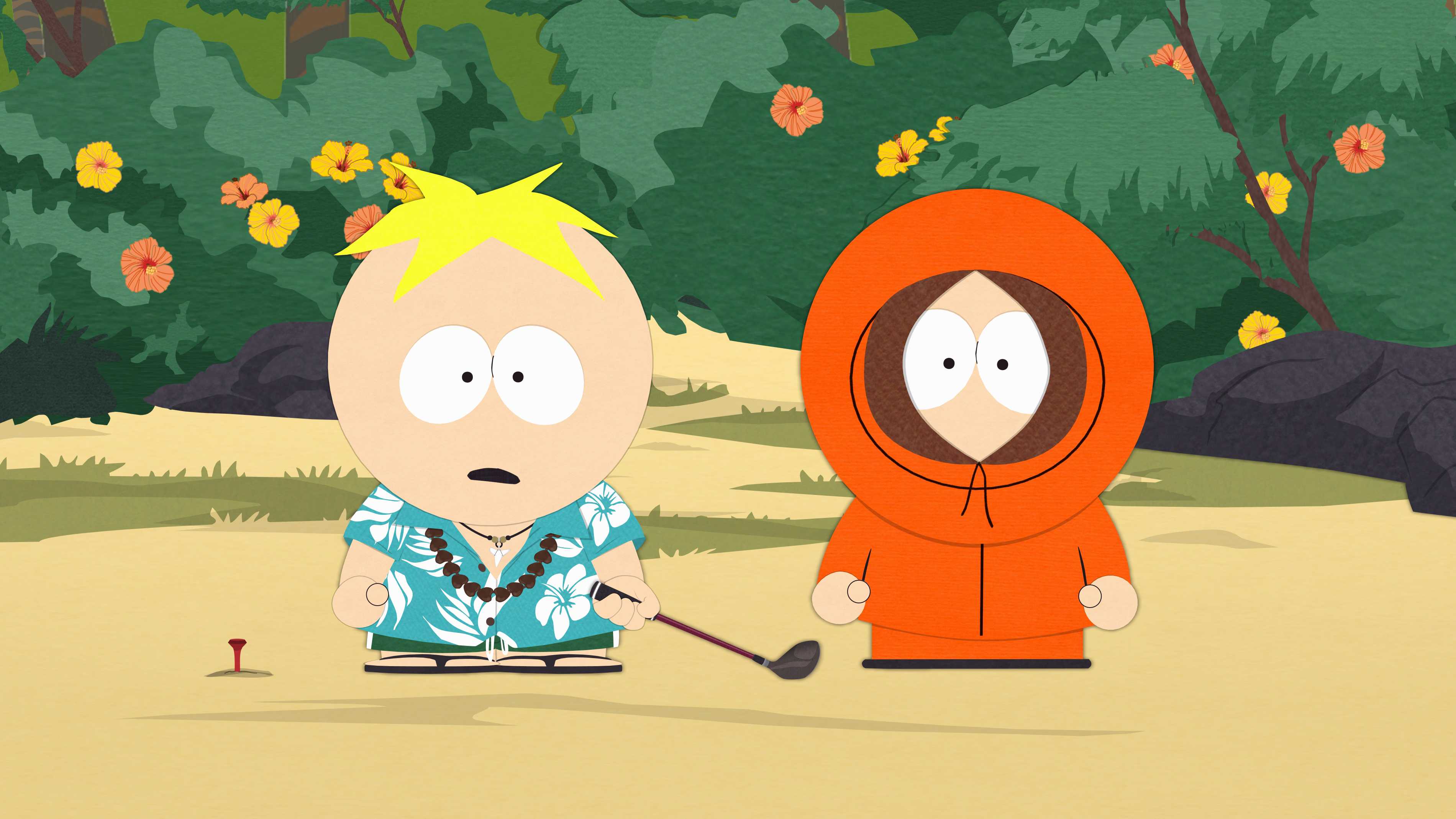 Episode 11: "Going Native"–Butters hits a stage in adolescence marked by unruly behavior; it is a sign that reveals the truth of his origins.
Episode 12: "A Nightmare On FaceTime"–The Marsh Family takes over the South Park BlockBuster, forcing Stan to miss out on trick-or-treating with his friends. As Randy tries to resurrect a dying business, Stan finds a way to join his friends, in costume, through FaceTime.


Episode 13: "A Scause for Applause"–When a famous idol is accused of using performance-enhancing drugs, the world loses faith as well as their supportive wristbands.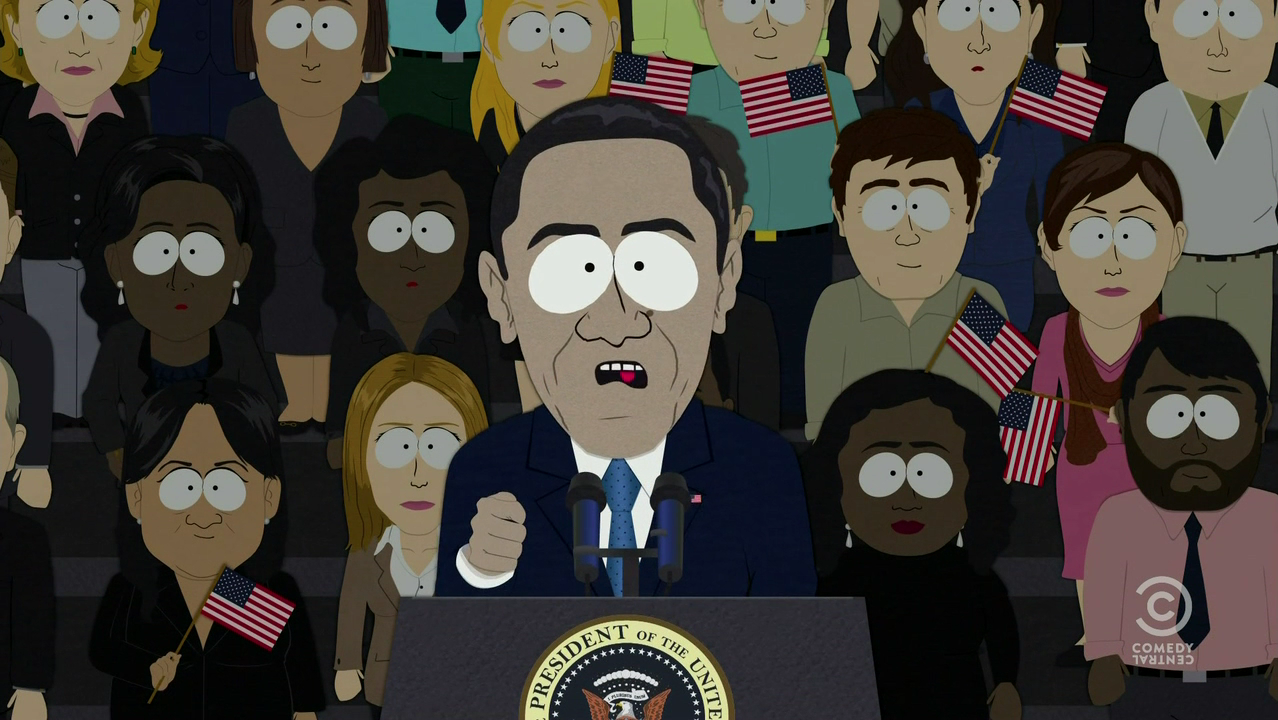 Episode 14: "Obama Wins!"–Cartman sets up an elaborate extortion scheme that holds the result of the 2012 Presidential Election hostage.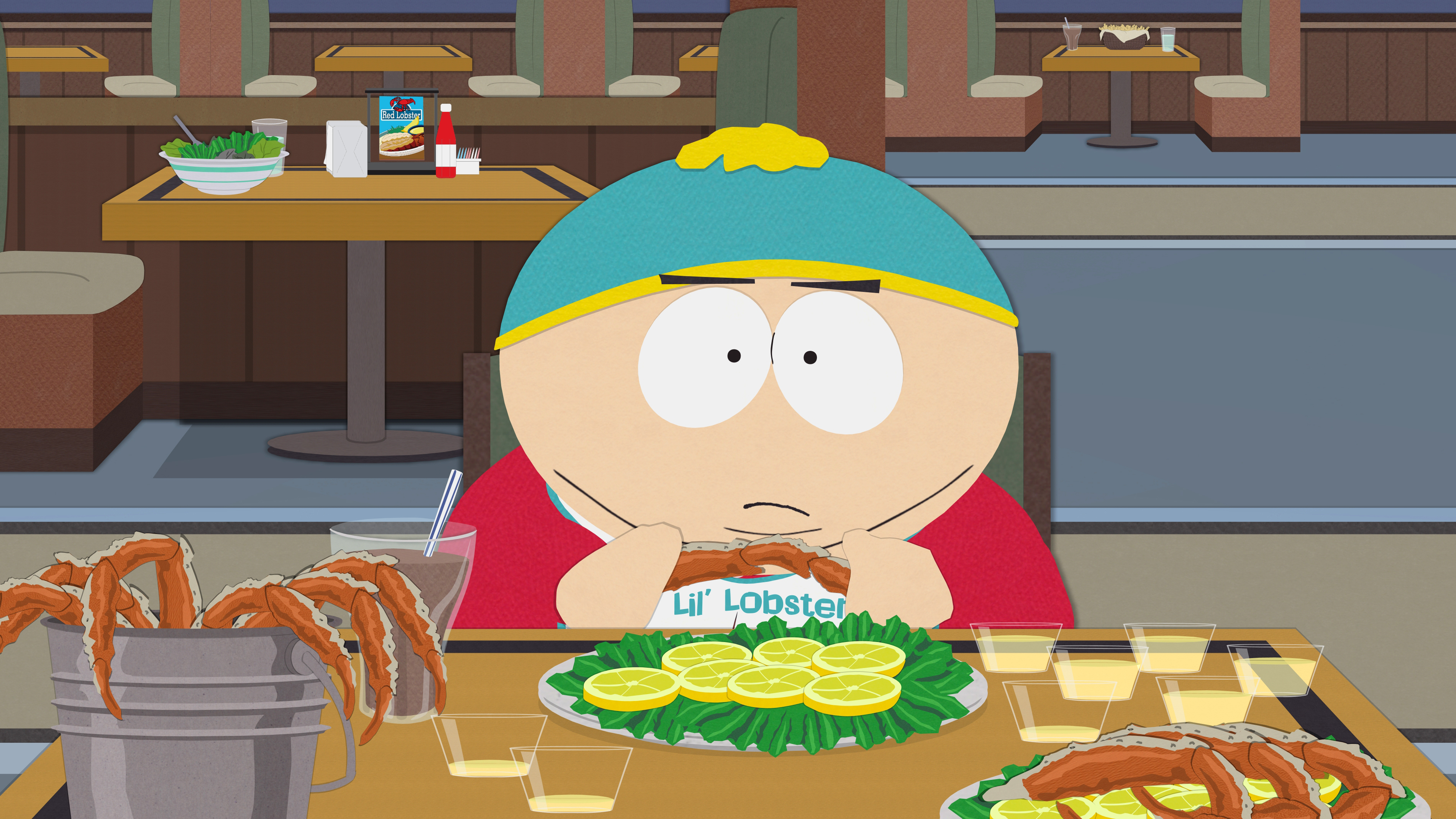 Cartman reigns supreme and the show is always relevant and funny