CAST
Jean-Claude Van Damme (JCVD)
Dolph Lundgren (Masters of The Universe)
Ally Walker (Longmire)
Ed O'Ross (Red Heat)
Leon Rippy (Stargate)
Michael Jai White (The Dark Knight)
Tommy "Tiny" Lister (Jackie Brown)
Jerry Orbach (LAw & Order)
Tico Wells (The Relic)
Robert Trebor (Hercules: The Legendary Journeys)
Ralf Möller (The Bad Pack)
In 1969, a U.S. Army Special Forces team receives orders to secure a village against North Vietnamese forces. Private Luc Deveraux (Jean-Claude Van Damme) discovers members of his squad and various villagers dead, all with their ears removed. Deveraux finds Sergeant Andrew Scott (Dolph Lundgren), who has gone insane, with a string of severed ears and holding a young boy and girl hostage. Devereaux, who is near the end of his tour of duty, tries to reason with Scott, who shoots the boy and orders Devereaux to shoot the girl to prove his loyalty. Deveraux refuses and tries to save the girl, but Scott kills her with a grenade. The two soldiers shoot each other to death. Deveraux and Scott's corpses are recovered by a second U.S. Special Forces squad and cryogenically frozen, their deaths covered up as "missing in action".


Deveraux and Scott are revived without memories of their previous lives and are selected for the "Universal Soldier" program, an elite counter terrorism unit, and are deployed via an Aero Spacelines Mini Guppy to the Hoover Dam to resolve a hostage situation. Devereaux used efficient means to dispatch terrorists, but Scott used excessive force, which causes concern among the project technicians. The team demonstrates their superior training and physical abilities against the terrorists, such as when GR76 (Ralf Möller) withstands close-range rifle fire. After the area is secured, Devereaux begins to regain patches of memory from his former life upon seeing two hostages who strongly resemble the villagers he tried to save in Vietnam, causing him to ignore commands from the control team and become unresponsive.


In the mobile command center, it is revealed that the UniSols are genetically augmented soldiers with enhanced healing abilities and superior strength, but also have a tendency to overheat and shut down. They are given a neural serum to keep their minds susceptible and their previous memories suppressed. As a result of the glitch, Woodward (Leon Rippy), one of the technicians on the project, feels it may be better to remove Devereaux from the team until he can be further analyzed, but UniSol commander Colonel Perry (Ed O'Ross) refuses. TV journalist Veronica Roberts (Ally Walker), who was fired while covering the Hoover Dam incident, tries to get a story on the UniSol project in order to get her job back. Roberts sneaks onto the base with a cameraman, discovering GR76 immersed in ice, still alive despite normally-fatal injuries.


When her presence is noticed, Devereaux and Scott are ordered to capture her. She flees to her cameraman's car, but they crash. Scott coldly executes the cameraman against orders, before Devereaux stops him from shooting Roberts. Together, Devereaux and Roberts escape in a UniSol vehicle. Colonel Perry insists on preventing knowledge of the UniSols getting out, not only to the public, but to the Pentagon, which does not know the true nature of the project. Devereaux and Roberts flee to a motel, where Roberts discovers she has been framed for the murder of her cameraman. Scott's previously insane personality begins to emerge, causing him to kill Perry and the technicians. Scott then takes command of the UniSol team, ordering them to find and kill Devereaux and Roberts.


Devereaux continues to rebuild his memory while Roberts tries to find more information about the UniSol program. They meet Dr. Christopher Gregor (Jerry Orbach), the creator of the program, who informs them that the UniSol project was started in the 1960s in order to develop the perfect soldier. Although they were able to reanimate dead humans, they were never able to overcome the body's need for constant cooling. The other major problem is that memories of the last moments of life are greatly amplified. In Devereaux's case, he still believes he is a soldier who wants to go home, while Scott believes he is still in Vietnam fighting insurgents. When Devereaux and Roberts leave the doctor's office, they are caught and arrested by the police. En route to jail, the police convoy is ambushed by Scott and GR76. A chase ensues, ending when the police bus and the UniSol truck both drive off a cliff and explode, killing GR76. Devereaux and Roberts head to Devereaux's family's farm in Louisiana. After Devereaux reunites with his family, Scott appears and takes the family and Roberts hostage. A brutal fight ensues, and Scott's use of muscle enhancers enables him to mercilessly beat Devereaux. Roberts manages to escape, only to be seemingly killed by a grenade thrown by Scott. Devereaux grabs the muscle enhancers Scott used and injects himself. Now evenly matched, Devereaux fights back and is able to impale Scott on the spikes of a hay harvester. Devereaux then starts the machine up, grinding Scott into pieces. Roberts survived the explosion and she and Devereaux embrace.
This is going to be a lot of people's guilty pleasure. If you like your action fast and violent then this movie is definitely for you
CAST
Jean-Claude Van Damme (JCVD)
Michael Jai White (The Dark Knight)
Heidi Schanz (The Truman Show)
Xander Berkeley (Taken)
Justin Lazard (Species II)
Daniel Von Bargen (The Postman)
James Black (Anger Management)

Seven years after the events in the first film, Luc Deveraux (Van Damme), now an ordinary human, is a technical expert who is working with the government with his partner Maggie (Kiana Tom), who has been through countless hours of combat training with him, in order to refine and perfect the UniSol program in an effort to make a new, stronger breed of soldier that is more sophisticated and intelligent to reduce the use of normal, human soldiers in the battlefield. All of the new UniSols, which are faster and stronger than the original UniSols, are connected through an artificially intelligent computer system called S.E.T.H. (voice of Michael Jai White), a Self-Evolving Thought Helix. When S.E.T.H. discovers that the Universal Soldier program is scheduled to be shut down because of budget cuts, it takes action to protect itself.


Killing those who try to shut off its power, and unleashing a platoon of super soldiers, led by the musclebound Romeo (Bill Goldberg), S.E.T.H. spares Devereaux, only because Devereaux has the secret code that is needed to deactivate a built-in program that will shut S.E.T.H. down in a matter of hours. With the help of Squid (Brent Hinkley), a rogue cyberpunk, S.E.T.H. is able to put its program in a UniSol which Squid made superior to any of the newer models (White). Not only must Luc contend with ambitious reporter Erin Young (Schanz), who will not leave his side, but he must also contend with General Radford (Daniel von Bargen) who wants to take extreme measures to stop S.E.T.H.. S.E.T.H. has arranged Romeo to kidnap Luc's injured 13-year-old daughter Hillary (Karis Paige Bryant), killing Maggie in the process.


Luc is the only person who can rescue Hillary, because Luc knows firsthand how a UniSol thinks, feels, and fights. Luc infiltrates the UniSol building, but finds Maggie, now revived as one of the UniSols. S.E.T.H is able to figure out the code itself, decides to kill Luc and raise Hillary as a daughter, who it has healed using UniSol technology. During the fight Luc covers S.E.T.H. in liquid nitrogen then shatters S.E.T.H.'s frozen body. Luc then engages into a final fight with Romeo, which ends when Maggie finally rebels against the UniSols by shooting Romeo, and allows Luc and Hillary to get out of the building on time. However, the bomb that General Radford had placed was deactivated by S.E.T.H.. As Romeo and the platoon of Universal Soldiers start to march out for battle, Luc fires at the explosive charge blowing up the building, killing all the Universal Soldiers.
Its a terrific film if not taken too seriously and it really is good to see two martial arts experts go head to head and a ex superstar wrestler steal the show with a very over the top and funny character and though sometimes it doesn't make sense this is always entertaining.
CAST
Jean-Claude Van Damme (JCVD)
Dolph Lundgren (Masters of The Universe)
Mike Pyle (Men In Black 3)
Anfrei Arloviski (Limitless TV)
Corey Johnson (Ex Machina)
Gary Cooper (New Tricks)
Emily Joyce (Jane Eyre)
A group of terrorists led by Commander Topov (Zahary Baharov) kidnap the Ukrainian prime minister's son and daughter and hold them hostage, demanding the release of their imprisoned comrades within 72 hours. In addition, they have taken over the crippled Chernobyl Nuclear Power Plant and threaten to detonate it if their demands are not met. It is revealed that among the ranks of the terrorists is an experimental Next-Generation UniSol (NGU) (Andrei "The Pit Bull" Arlovski), who was smuggled in by rogue scientist Dr. Colin (Kerry Shale). U.S. forces join up with the Ukrainian army at the plant, but quickly retreat when the NGU slaughters most of them effortlessly. Dr. Porter (Garry Cooper), Dr. Colin's former colleague on the Universal Soldier program, revives four UniSols to take down the NGU, but they are systematically eliminated.


Former UniSol Luc Deveraux (Jean-Claude Van Damme), who is undergoing rehabilitation therapy in Switzerland with Dr. Sandra Fleming (Emily Joyce) with the goal of rejoining society, is taken back by the military to participate in the mission. As the deadline nears its expiration, the prime minister announces the release of the prisoners. The terrorists, having gotten what they wanted, rejoice and shut off the bomb. Dr. Colin, however, is not pleased with the outcome, as he feels his side of the business is not done. As the NGU is programmed not to harm the terrorists, Dr. Colin unleashes his second UniSol: a cloned and upgraded version of Andrew Scott (Dolph Lundgren) – Deveraux's nemesis – who quickly kills Commander Topov. However, Dr. Colin never considered Scott's mental instability, and he is killed by his own creation. Scott then reactivates the bomb before heading out to hunt the children.


In the midst of the chaos, Capt. Kevin Burke (Mike Pyle) is sent in to infiltrate the plant and rescue the prime minister's children. He is successful in locating them and leads them toward safety. On their way out, they encounter the NGU. The children flee as Burke tries in vain to hold off the NGU, who stabs him to death after a brutal fight.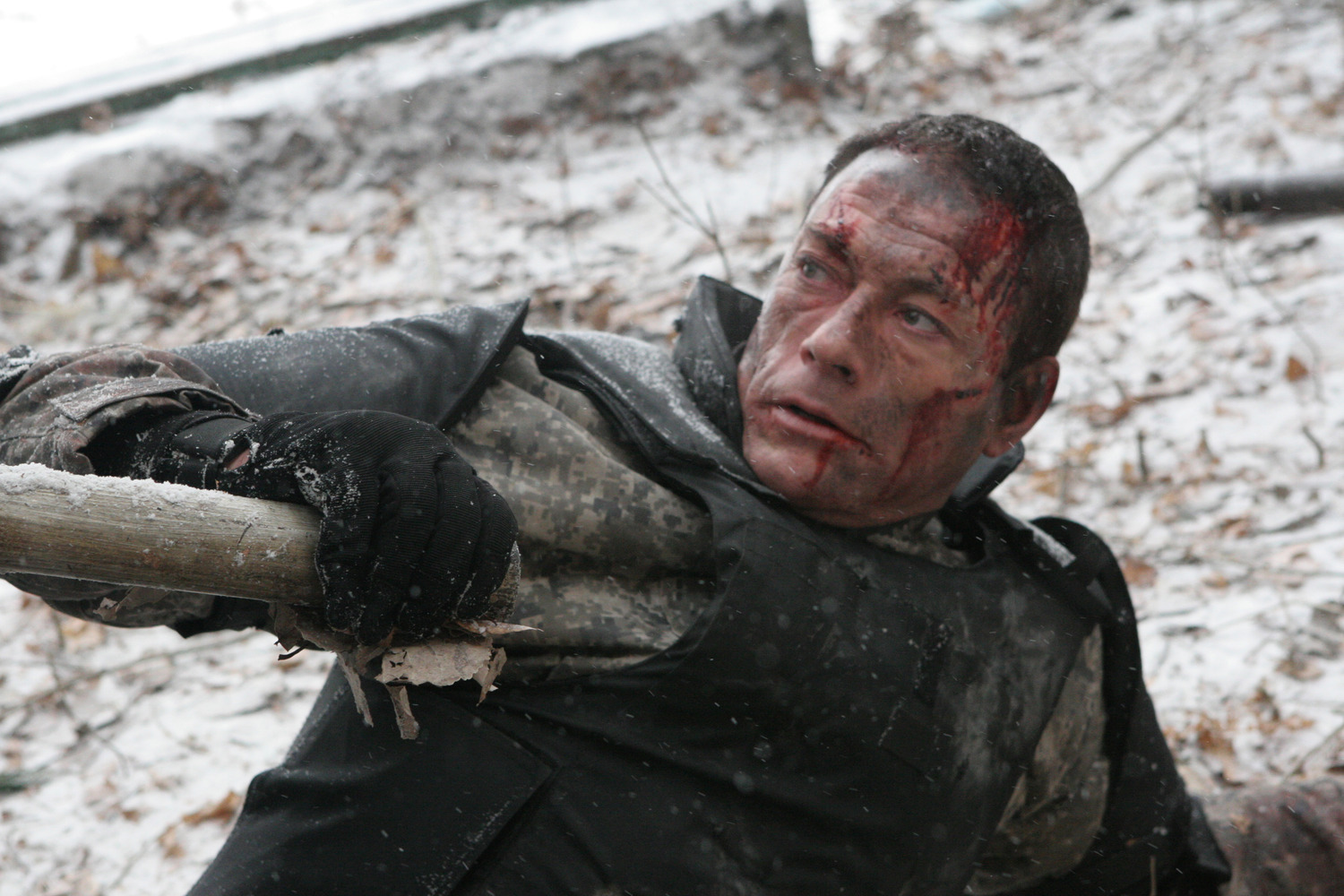 With 30 minutes remaining on the bomb's timer, a re-conditioned Deveraux is geared up and sent to the plant, where he kills every terrorist he encounters. He searches the buildings and finds the children cornered by Scott. Scott, who has distorted memories of Deveraux, is about to kill the children when Deveraux attacks and a grueling fight ensues. In the end, Deveraux impales Scott on the forehead with a lead pipe and fires a shotgun through it, blowing his brains out. As Deveraux escorts the children to safety, they are attacked by the NGU. Deveraux and the NGU take the fight to the site of the bomb, with less than two minutes remaining. During the melee, Deveraux removes the detonator and jams it in the back of the NGU's uniform as they both jump out of the reactor chamber. NGU pulls the detonator off his back as it explodes, taking him with it. U.S. soldiers quickly arrive on the scene and tend to the children as Deveraux leaves. Burke's body is placed in a black bag and taken away, as well as recovered pieces of the NGU. In Langley, Virginia, Burke's body is shown stored in a cryogenic chamber as a new UniSol, along with multiple clones made of him.
It had great atmosphere throughout – one of it's best features, it was riviting. To dismiss this film as another crappy sequel would be a big mistake. A certain must-buy for JCVD fans or films of the original – there are some quite clever references to the first movie in it, without being cheesy.
CAST
Jean-Claude Van Damme (JCVD)
Dolph Lundgren (Masters of The Universe)
Scott Adkins (The Legend of Hercules)
Anfrei Arloviski (Limitless TV)
Mariah Bonner (The Social Network)
John (Scott Adkins) awakens from a coma to find that his wife and daughter were brutally murdered in a home invasion. Haunted by images of the attack, he vows to kill the man responsible: Luc Deveraux (Jean-Claude Van Damme), one of the original Universal Soldiers (UniSol). While John tries to piece his reality back together, things are complicated by a relentless UniSol named Magnus (Andrei "The Pit Bull" Arlovski), who is determined to kill John. Meanwhile, Deveraux and surviving UniSol Andrew Scott (Dolph Lundgren) are preparing to unleash anarchy and build a new order ruled by Unisols. They are weeding out the weak and constantly testing their strongest warriors in brutal, life and death combat. Luc has emerged operating the UniSol Church of Eventualism, taking in wayward Unisols whom the government has been secretly operating as remote controlled sleeper agents. His mission is to liberate these UniSols from the implanted memories and the lies the government has inserted in them. As John gets closer to Deveraux and the rogue army of genetically enhanced warriors, he discovers more about himself and begins to call into question everything he believed to be true.
Eventually, John reaches the underground bunker where the Unisol Church has its headquarters. There, he is greeted by Dr. Su, who reveals to be the designer of the fake memories of John's family that were implanted into him, as part of the government program that created him merely a few weeks earlier. John accepts Dr. Su's offer to surgically remove the implant, but is driven insane by the pain and the attachment to his memories, causing him to rebel. He kills every UniSol in his path, culminating with Scott in a one-on-one confrontation. John then reaches Deveraux himself and a fight ensues, with Deveraux eventually gaining the upper hand. Realizing that the cycle of sending clones of John against rogue UniSols is destined to repeat, and seeing John as a worthy successor who could turn the tide of the rebellion, Deveraux gives in to John, who kills him.
Some time later, John meets with FBI Agent Gorman in the woods. Gorman admits to his involvement with the UniSol program, and to having purposefully put an unaware John on Deveraux's trail. Gorman ascribes John's success to the attachment to family he was designed with, as opposed to the patriotism implanted in his predecessors. John kills Gorman, then two UniSols and a clone of Gorman emerge from John's van. The clone leaves in the car of original Gorman, hinting that John has taken over the UniSol Church and intends to infiltrate the government.
Day of reckoning is crass, extremely violent, uneven, and low budget, but it should also be commended for being ambitious, and shot through with passion and creative vision. It is absolutely not a movie for everyone — if you want a safer trip up action-memory-lane stick with The Expendables 2 — but if you fancy a detour of the beaten path, and are willing to forgive the flaws the flaws that are a consequence of the directorial ambition, then by all means give this a shot.