MAIN CAST
Amanda Tapping (Stargate SG.1)
Robin Dunne(Dead Like Me)
Emilie Ullerup (Leprechaun: Origins)
Christopher Heyerdahl (Twilight: Breaking Dawn)
RECURRING / NOTABLE GUEST CAST
Ryan Robbins (Arrow)
Kavan Smith (Stargate: Atlantis)
Kandyse McClure (Battlestar Galactica)
Peter Shinkoda (Masked Rider)
Chuck Campbell (Jason X)
Michael Adathwaite (Tru Calling)
Ellie Harvie (The New Addams Family)
Panou (Flash Gordon 2007)
Leah Cairns (Interstellar)
Laura Mennell (Thirteen Ghosts)
Peter Bryant (Dark Angel)
Peter Outerbridge (Earth: Final Conflict)
Alex Zahara (The Stickup)
Mackenzie Gray (The Net: The Series)
Matthew Walker (Highlander: The Series)
Sarah Strange (White Noise)
David Nykl (Arrow)
Kirsten Robek (Cats & Dogs)
Katharine Isabelle (Hannibal)
Jonathon Young (Antitrust)
Gabrielle Rose (Jennifer's Body)
Jim Byrnes (Highlander: The Series)
Lynda Boyd (Power Rangers In Space)
Rekha Sharma (The Core)
Peter Wingfield (Caprica)
Christine Chatelain (40 Days and 40 Nights)
Alex Diakun (Androemda)
Being a big fan of Stargate SG-1 in general and Amanda Tapping in particular, I was quite excited to hear that the actress had signed up to play the lead in (and was executive producer of) a web-based series entitled Sanctuary.  I had meant to download the 8 15-minute webisodes but with one thing and another, never got around to it.  Based on the strength of those shorts, the series was picked up by the horribly named cable network Syfy, had a successful first season, and was renewed for a second (that is scheduled to begin in October.)  E1 Entertainment has now released Sanctuary Season One on DVD in a nice four disc set that fans of SF should consider picking up, especially if you gave up on the series while it was airing after a few episodes.


Dr. Will Zimmerman (Robin Dunne) is a profiler for a local police force in an unnamed metropolitan city.  Being very observant in a Monk-like way, he puts together clues that others often miss and follows them to their logical conclusions, even if those conclusions sound crazy.  He was kicked out of the FBI for his hair-brained hypotheses, and is pretty much shunned by the policemen he works with for the same reason.


While investigating the dead of a civilian and two police officers Zimmerman crosses paths with Dr. Helen Magnus (Amanda Tapping).  She runs the Sanctuary, a privately funded large gothic building in the middle of town that is host to, Will eventually discovers, a wide assortment of bizarre creatures called 'abnormals'.  Basically all of Zimmerman's theories have been correct, there are odd being roaming the world in secret and Magnus' group helps those that they can and hunts down the ones that are dangerous to humanity.
Will signs up and joins the Sanctuary team that includes Magnus, who turns out to be much, much older than she looks, Helen's kick-ass daughter Ashley (Emilie Ullerup), tech geek Henry Foss (Ryan Robbins) and butler and extra muscle when needed Bigfoot (Christopher Heyerdahl).  Searching the globe for abnormals the group discovers mermaids, ancient witches, a human-like race that can compact their bodies to squeeze through the smallest spaces, a vampire, people who can shoot heat rays from their eyes, and even the basis for Sherlock Holmes and the real Jack the Ripper (who just happens to be Magnus' ex-lover.) Every great team needs a suitable enemy too, and Sanctuary has one in the form of the Cabal, a super-secret, well funded, organization that also investigates abnormal sightings, but they have sinister motive behind what they're doing and consider the Sanctuary their sworn enemies.

In the second half we're introduced to Nikola Tesla  who used to be a friend of Magnus' way back when and who is a vampire.  An intriguing character and easily my favorite in the show, viewers are never sure if he's lying or telling the truth and whose side he's really on.  The show picks up for there, no longer being a 'monster of the week' program; it starts telling a larger story and is more careful how the plots unravel.  The faux witty banter is toned down considerably and small incidental details actually make sense at this point.  They also go back and correct some of their earlier mistakes such as Magnus' education.  In the first episode they stated that she attended Oxford in the mid 1800's, a time when women weren't allowed to enroll, but in episode 12 a character reveals that she only audited classes at that time, something that makes much more sense. The acting in the program is generally good with Amanda Tapping stealing the show.  She's playing a character similar to Dr. Samantha Carter, the person she portrayed on Stargate SG-1, but Tapping went out of her way to create a totally different personality for this new character.  Physically she dyed her hair and she also sports a British accent (that sounds pretty good actually.  She was born in England, I guess that helps more than a bit.)  Magnus is also more careful than Dr. Carter and has a totally different demeanor.  I was always enamored of Tapping's role in SG-1 (she reminded a lot of my wife,) but while watching her here I never thought of her as "that gal from SG-1," a testament to how well she did in crafting a new individual.

MAIN CAST
Amanda Tapping (Stargate SG.1)
Robin Dunne(Dead Like Me)
Emilie Ullerup (Leprechaun: Origins)
Christopher Heyerdahl (Twilight: Breaking Dawn)
Ryan Robbins (Arrow)
Agam Darshi (Bates Motel)
RECURRING / NOTABLE GUEST CAST
Jonathon Young (Antitrust)
Christine Chatelain (Riese)
Lynda Boyd (Final Destination 2)
Hiro Kanagawa (Heroes Reborn)
Jason Schombing (Mutant X)
Chuck Campbell (Jason X)
Chris Gauthier (Watchmen)
Robert Lawrenson (Underworld: Awakening)
Nicole Munoz (Pathfinder)
Anne Marie Deluise (Highlander: The Raven)
Colin Cunningham (Elektra)
Erica Cerra (Blade: Trinity)
Colin Lawrence (X-Men 2)
Michael Shanks (Stargate SG.1)
Aleks Paunovic (I Spy)
Jason Bryden (Marmaduke)
Ryan Kennedy (Poison Ivy 4)
Chad Rock (The Flash)
Meghan Ory (Once Upon A Time)
Callum Blue (Smallville)
Shaker Paleja (The Day The Earth Stood Still)
Paul McGillion (Stargate: Atlantis)
Sahar Biniaz (Smallville)
Terry Chen (The Chronicles of Riddick)
Balinder Johal (Killer Punjabi)
Season 2 carried on from where season 1 left off. Dr Helen Magnus and team Sanctuary are trying to discover what happened to Ashley Magnus (Emilie Ullerup) and why she would betray her family and friends and join the Cabal, all while trying to save and protect "abnormals" from those who would do them harm. The main cast of Amanda Tapping (Dr Helen Magnus), Dr Will Zimmerman (Robin Dunne), John Druitt (Christopher Heyerdahl), Henry Foss (Ryan Robbins) and Bigfoot (Christopher Heyerdahl, again) all return for the second season.


There is also new girl Kate Freelander (Agam Darshi).  Who was created to replace Ashley (who is killed in the opening two epiosdes), Although Ashley was a popular characterKate does grow on you more and more with each episode, by seasons end shes is more rounded out character.

I Enjoyed this season even more than season 1 . In this case the stories seem much stronger and have more depth to them than those in the first season. Instead of a season long battle with the Cabal, that story line gets wrapped up in two episodes. Which lets season two create new stories that enrich the characters more.
MAIN CAST
Amanda Tapping (Stargate SG.1)
Robin Dunne(Dead Like Me)
Christopher Heyerdahl (Twilight: Breaking Dawn)
Ryan Robbins (Arrow)
Agam Darshi (Bates Motel)
RECURRING / NOTABLE GUEST CAST
Callum Blue (Smallville)
Shaker Paleja (The Day The Earth Stood Still)
Paul McGillion (Stargate: Atlantis)
Sahar Biniaz (Smallville)
Terry Chen (The Chronicles of Riddick)
Balinder Johal (Killer Punjabi)
Robert Lawrenson (Underworld: Awakening)
Jim Byrnes (Highlander: The Seroes)
Chasty Ballesteros (Final Destination 5)
Raquel Riskin (Killer Bash)
Gary Jones (Stargate SG.1)
Peter Flemming (Replicant)
Jonathon Young (Antitrust)
Michael Rogers (Duets)
Jorge Vargas (Power Rangers Ninja Storm)
Martin Christopher (Stargate: Atlantis)
Chris Gauthier (Watchmen)
Pauline Egan (Elysium)
Allison Hossack (Kingdom Hospital)
Adrian Hough (Underworld: Evolution)
Ian Tracey (Bates Motel)
Peter Wingfield (Highlander: The Series)
Vincet Gale (Big Eyes)
Pascale Hutton (Ginger Snaps 2)
Polly Walker (Caprica)
Jody Thompson (Flash Gordon 2007)
Francoise Yip (Andromeda)
Tinsel Korey (The Lookout)
Peter Deluise (21 Jump Street)
Aliyah O'Brien (Smallville)
Sean Rogerson (Bitten)
Douglas O'Keeffe (Dark Angel)
Richard De Klerk (Reign)
Jordana Largy (Flashpoint)
Barclay Hope (Final Destination 5)
Adam Copeland (Highlander: Endgame)
Tom McBeath (Stargate SG.1)
Greyston Holt (Bitten)
David Milchard (The Eye)
Season three sees Sanctuary taking a big step forward,and for the most part being very successful. instead of the previous two seasons 13 episode runs,this has 20 episodes,something which allows the writers to expand storylines and explore things further,bringing more depth to this seasons story arc. As always the acting from the entire cast is first rate .There is also plenty of Jonathan Young as Nikola Tesla,whos presence always lifts any episode he appears in,and guarantees some sharp dialogue.This series looks better as well,and steps out of,whenever possible,the confines of a cgi generated world,something which I always believed limited it far too much.Season three sees Sanctuary setting itself up as a major league player,and staking a claim as a show to be taken seriously,and it does it very well.Giving you more than it has before,while leaving you with the impression that there is much more to come,and the desire to find out what.
The Sanctuary team deal with the aftermath of the gigantic tidal wave released by Big Bertha while Will's life remains in balance but soon the errand comes to an end once Will leads one final plea to "Kali" A.K.A. Big Bertha in his near death experience to stop the destruction. Following Will's return to life two abnormals appear to him to rekindle his memory and in doing so Will remembers an important message that Gregory sent for Helen to find an underground city with great technology and secrets.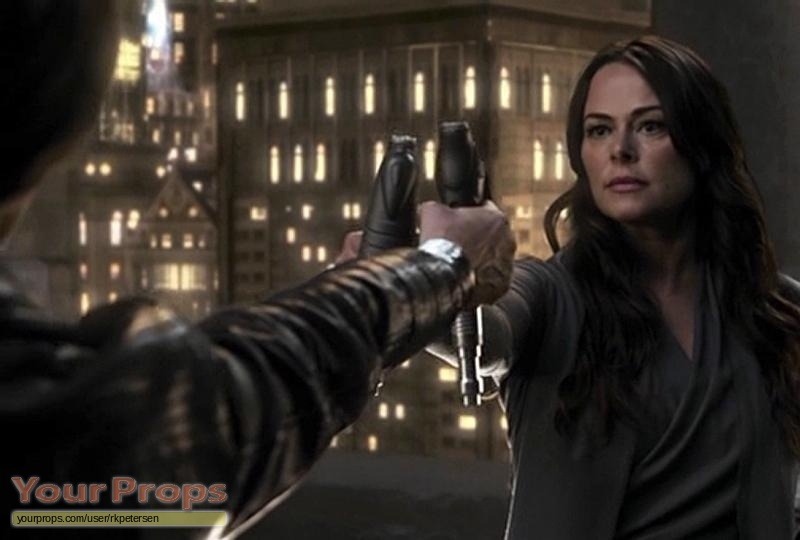 Later Nikola sends an SOS call and after his rescue continues to help Helen in discovering the secrets of the city which eventually leads them to a Hollow Earth atlas. Soon Adam Worth, a former acquaintance, tricks Helen and causes radiation poisoning (that should kill both Helen and Adam in a few weeks) so that she may show Adam the Hollow Earth. Upon Adam's interference Helen, Will, Henry and Kate enter the city to save Gregory and find a cure for the poisoning but only to be executed immediately when caught while Adam imprisons John, leaving Tesla and Big-Guy alone in the mysteries. Magnus is then revived by Ranna for answering and Magnus finds out that she needs her to help an abnormal from the events of 'KALI', thereby Magnus and the gang is revived and she given the cure and is reunited with her father, together Gregory and Helen save the abnormal and reach the surface back again while John kills Adam. The show returned to its original format, featuring a new short story for every episode until Tesla and Magnus discover a Praxian Stronghold. This is revealed to have been taken by Vampires and as such was a Vampire Stronghold where a whole army of Vampires and their queen were buried to be awakened someday. Magnus views this as a threat and destroys the stronghold, but not before restoring Tesla to a Vampire again.
MAIN CAST
Amanda Tapping (Stargate SG.1)
Robin Dunne(Dead Like Me)
Emilie Ullerup (Leprechaun: Origins)
Christopher Heyerdahl (Twilight: Breaking Dawn)
Ryan Robbins (Arrow)
RECURRING / NOTABLE GUEST CAST
Agam Darshi (Bates Motel)
Peter Wingfield (Highlander: The Series)
Ian Tracey (Man of Steel)
Pascale Hutton (Flash Gordon 2007)
Francoise Yip (Robocop: Prime Directives)
Tom McBeath (Stargate SG.1)
Robert Lawrenson (Human Target)
David Milchard (The Eye)
Greyston Holt (Bitten)
Adam Copeland (Highlander: Endgame)
Pauline Egan (Ambrosia)
Brian Markinson (Izombie)
Lara Gilchrist (Battlestar Galactica)
Mig Macario (Once Upon A Time)
Sandrine Holt (Terminator Genisys)
Carlo Rota (Stargate Universe)
John Novak (Wishmaster 3 & 4)
Martin Cummins (Dark Angel)
Tora Hylands (Primeval: New World)
Charlie Carrrick (Reign)
Jonathon Young (Antitrust)
Zak Santiago (Caprica)
Adam Greydon Reid (Cult)
Caroline Cave (Saw VI)
Al Sapienza (Margin Call)
Brent Stait (Blade: The Series)
Jodi Balfour (Final Destination 5)
Jim Byrnes (Highlander: The Series)
Kurt Evans (Watchnmen)
Brenda Campbell (Orphan)
Gil Bellows (Flashforward)
Gerard Plunkett (Andromeda)
At the end of the last season things were getting pretty hairy on a couple of different fronts. The subterranean abnormals who live inside the Earth have decided that they want their chance in the sun and three armies march out of caves in different parts of the planet. If that wasn't bad enough, Magnus is battling an old companion, Adam Worth, who manages to open up a hole in time and slip back to the 1800's with the aim of curing his terminally ill daughter. This will change the time stream irrevocably, so Magnus follows him on his one-way journey into the past in order to stop him.


This season opens with Magnus in 19th Century London, following Worth. He manages to wound her and escape, so she turns to one person she knows she can trust, he husband at the time, James Watson  Together they have to stop Worth, but even if they do, how will Magnus manage to return to the 21stCentury? She does manage it, but it takes a very long time. Meanwhile Will has been put in charge of the New York Sanctuary by the Sanctuary Network, that mysterious body that runs the various abnormal shelters around the world. He's having a rough time, as the US military wants to actually  attack the invading army, especially after there's a revolt in the refugee compound that's housing several Hollow Earth abnormals in which the subterranean creatures take hostages and threaten to kill them. No one in authority will take Will's calls, and with Magnus MIA he's clearly out of his depth.


After that crisis, and Magnus' return, things are different. The government is very leery of abnormals and they create a department, SCUI, to hunt down the Hollow Earth creatures that are still on the surface. Either imprisoning the abnormals that they capture or using them for experiments it's a race between the bad military and the saintly Sanctuary to see who can locate and capture the renegade abnormals first.There are some very good episodes in this season. Monsoon, where Magnus is held hostage by some abnormal crooks while in an airport in Africa was a high point. Seeing the unarmed Magnus take out a group of ex-military super-humans was delightful.
The series does wrap up (though there is room for more adventures)  It was nice that the show did get a coda. All in al lSanctuary was an excellent show that lasted four seasons and left room for more stories to be told shold Syfy every decide to bring it back.