CAST
Jessica Westfeldt (Two Guys and a Girl)
Heather Juergensen (The Haunted Mansion)
Tovah Feldshuh (Lady in The Water)
David Aaron Baker (The Hoax)
Brian Stepanek (The Island)
Kevin Sussman (Ugly Betty)
Michael Showalter (Wet Hot American Summer)
Michael Ealy (Flashforward)
Jon Hamm (Mad Men)
Idina Menzel (Frozen)
Twenty-eight-year-old Jessica Stein, a copyeditor living and working in New York City, is plagued by failed blind dates with men, and decides to answer a newspaper's personal advertisement containing a quote from Rilke that she had read and admired earlier. The advertisement has been placed by Helen Cooper, a thirtysomething bisexual art gallerist who is seeking a lesbian relationship to replace her unsatisfying and meaningless sex with men.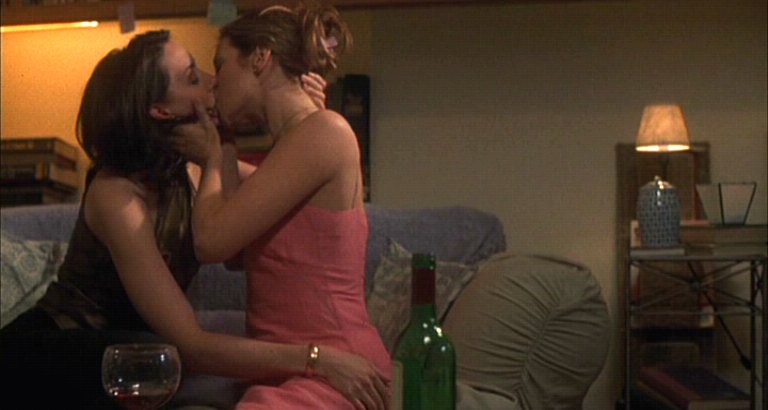 Given some of the men Jessica is shown to be test-dating at the start of the film, it's no surprise she'd want to fan out her prospects a little. As nervous as Jessica is about dating Helen, she realizes after a surprise kiss that a different experience can be good. Through the early part of their relationship, Jessica finds in Helen everything she'd dreamed of finding in a man. They are compatible, they like many of the same things, and they are caring for one another. Even when Helen gets sick—which she says earlier in the film never happens to her—Jessica is there to care for her.
The only predicament for the relationship is Jessica's nervousness concerning same-sex intimacy. Over the early weeks of their relationship, she and Helen slowly work on building up her confidence in this area by gradually extended make-out sessions. Eventually, they graduate to full intimacy, which is initiated by Jessica during an over night stay at her parents' home in Scarsdale. In spite of Jessica's happiness with Helen, she keeps the relationship secret. Jessica's secrecy means that she has to endure scenes that would not happen had she been open about the two of them. One example occurs during a dinner to celebrate her brother's engagement. Her mother had invited an IBM executive in hopes of setting him up with Jessica.
Helen and Jessica later get into a quarrel about Jessica's refusal to inform her family of their relationship, resulting in an apparent breakup. It isn't until later, as her brother's wedding approaches, that her mother figures out that they are dating. Her mother reminds Jessica of when she was little and had been given the lead in the school play, but after the first rehearsal, Jessica had deemed her co-star not to be up to the task. She quit the play because she thought the play wouldn't be "the best ever." Her mother says that she worries about Jessica having this attitude towards life, and that sometimes she thinks back to that night and thinks that if Jessica went on, maybe it wouldn't have been the best, but it might have been pretty good—and who knows, maybe it would have been the best ever. She then tells Jessica that she thinks Helen "is a very nice girl."
This acceptance on her mother's part gives Jessica the confidence to come out in the open with her relationship with Helen, and invites her as her guest to her brother's wedding. Helen quickly becomes popular with the other women at the reception, who don't seem to mind at all her lesbian relationship with Jessica. At the same time, Jessica gets a love confession from her ex-beau and current boss Josh, who declares he's had feelings for her for a long time. Jessica rejects him, explaining that she already has Helen. Jessica and Helen move in together, but their relationship, while good in most respects, begins to suffer from a lack of frequent sexual intimacy. Jessica's behavior towards Helen is more akin to that of a best friend rather than a sexual partner. The relationship ends amidst Jessica's tears and Helen's realization that she wants more than Jessica is willing to offer. After moving beyond the heartbreak, Jessica and Helen appear to remain friends, and it is suggested that Jessica might now have a renewed interest in Josh, after both have left the newspaper where they previously worked.
Westfeldt and Juergensen first created and played the characters of Jessica and Helen for their stage play "Lipschtick," which certainly explains why they are both so totally comfortable in their roles. As writers they have created a script that is smart and witty