MAIN CAST (VOICES)
Seth MacFarlane (Flashforward)
Alex Borstein (Power Rangers Zeo)
Seth Green (IT)
Mila Kunis (Black Swan)
Mike Henry (Ted)
Jennifer Tilly (Curse of Chucky)
Patrick Warburton (Scream 3)
Adam West (60s Batman)


RECURRING / NOTABLE GUEST CAST (VOICES)
Lori Alan (Wall-E)
Ellen Albertini Dow (The Wedding Singer)
Alexandra Breckenridge (She's The Man)
Phil LaMarr (Free Enterprise)
Kevin Michael Richardson (The Cleveland Show)
Phyllis Diller (A Bug's Life)
Carrie Fisher (Star Wars)
Indigo (Weeds)
Rachael MacFarlane (American Dad)
Louis Gossett Jr. (Stargate SG.1)
Samm Levine (Veronica Mars)
Drew Barrymore (Poison Ivy)
Robert Constanzo (Batman:TAS)
Gary Cole (One Hour Photo)
Taylor Cole (Heroes)
Lauren Conrad (The Hills)
David Cross (Scary Movie 2)
Stacey Scowley (The Brotherhood 2)
Garrett Morris (2 Broke Girls)
Rob Lowe (Code Black)
Ted McGinley (No Good Nick)
Connor Trinneer (Star Trek: Enterprise)
Charles Durning (The Sting)
Michael Clarke Duncan (The Finder)
Hugh Hefner (Citizen Toxie)
Roy Schneider (Jaws)
Gilbert Gottfried (Anger Management)
Neil Patrick Harris (The Smurfs)
Josh Radnor (How I Met Your Mother)
Tara Strong (Batman: The Killing Joke)
Adam Carolla (Road Hard)
Will Sasso (The Three Stooges)
Paula Abdul (Bruno)
Randy Jackson (American Idol)
Simon Cowell (The X Factor)
Patrick Stewart (X-Men)
Ricardo Montalban (Star Trek II)
James Woods (Another Day In Paradise)
Jessica Barth (Ted)
Chace Crawford (Gossip Girl)
Harvey Fierstein (Independence Day)
Bryan Cranston (Drive)
Brian Blessed (Flash Gordon)
Elisha Cuthbert (24)
Andy Dick (2 Broke Girls)
Debbie Reynolds (Singin' In The Rain)
Frank Sinatra Jr. (Cool World)
Mae Whitman (Boogeyman 2)
Meredith Baxter (Family Ties)
Seth Rogen (Bad Neighbours)
Ed Helms (The Hangover)
Fred Savage (The Wonder Years)
LeVar Burton (Star Trek: TNG)
Denise Crosby (Trekkies)
Michael Dorn (Ted 2)
Jonathan Frakes (Lois & Clark)
Gates McFadden (Star Trek: TNG)
Marina Sirtis (The Grudge 3)
Brent Spiner (Dude, Where's My Car?)
Wil Wheaton (Powers)
Wentworth Miller (Legends of Tomorrow)
Bryce Dallas Howard (Jurassic World)
Jay Leno (The Simpsons)
Richard Dreyfuss (Tin Man)
John Ross Bowie (The Big Bang Theory)
Keri Lynn Pratt (Veronica Mars)
Chevy Chase (Chuck)
Dan Aykroyd (Ghostbusters)
Hart Bochner (urban Legends 2)
Christine Lakin (Valentine's Day)
Brittany Snow (Prom Night)
Nana Visitor (Star Trek: DS9)
Fred Tatasciore (Hulk Vs)
Johnny Galecki (The Big Bang Theory)
Hugh Laurie (House)
Jim Parsons (The Big Bang Theory)
Dwayne Johnson (Faster)
Adrianne Palicki (Agents of SHIELD)
Allison Janney (Mom)
Lucas Grabeel (Smallville)
Anne Hathaway (The Dark Knight Rises)
Charlie Sheen (Two and a Half Men)
Danielle Panabaker (The Flash)
Ioan Grufford (Ringer)
David Lynch (The Cleveland Show)
Sanaa Lathan (Blade)
Shelley Long (Cheers)
At this point in the series, the beginning of the fifth season, the show has settled into being a showcase for Peter's stupidity, throwing a bone to Brian and Stewie once in a while, and occasionally Lois and family. Only four of the 13 episodes aren't focused on the head of the family, and unsurprisingly, the two of those four that aren't Brian and Stewie stories are two of the best in the volume, "Prick Up Your Ears" and "Barely Legal."
While it's easy to see where an episode can go, one of the show's biggest strengths is its willingness to do anything to get there, even if it won't make it to TV, because they know that there will be a DVD release. Thus, you have jokes that would never get past standards and practices, and a reason for the show's fans to check out the DVDs, as the episodes are expanded and uncensored. It has to be incredibly freeing to have almost no boundaries, and the writers take full advantage of it. It's in this relatively free medium that a character like Quagmire, who has no filter and is obsessed with sex, can really shine. His behavior in "Bill and Peter's Bogus Journey" is actually very funny simply because of how utterly obscene he can be on DVD.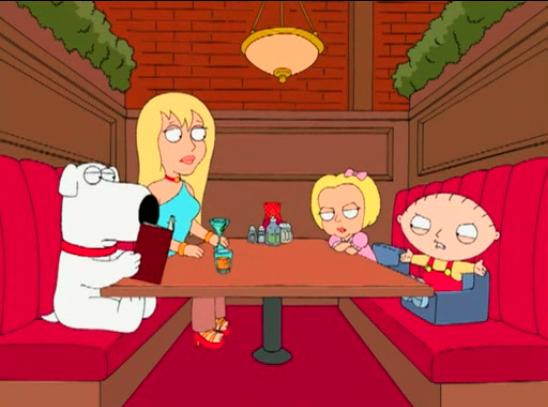 As noted before, "Prick Up Your Ears" and "Barely Legal" are two of the best episodes in this collection, both of which feature the Griffins' daughter Meg, voiced by Mila Kunis ("That '70s Show".) Meg's character has grown up a bit, though she remains an awkward teen, and these two episodes focus on her explorations into love and lust. "Prick Up Your Ears" is a smart jab at the conservative Christian approach to sex education, and the effect it has on Meg, as well as Peter, is great, while "Barely Legal" show's Meg's crazier side, as she falls in love with Brian after they make out at her prom. A joke that's born out of Meg's insanity and efforts to woo Brian is among the series' funniest, and again, one you only get on DVD. Also worth checking out is the B-story of "Mother Tucker," in which Brian and Stewie host a morning zoo radio show. It's a perfect parody of everything that's wrong in radio.
The show's guest-star list continues to be surprising in both its depth and quality, including Phyllis Diller (as Peter's mom), Gore Vidal, Samm Levine, Carrie Fisher, Drew Barrymore (playing Jillian, Brian's hot, but dumb girlfriend in several episodes), David Cross, Rob Lowe, Hugh Hefner and Roy Scheider. That the series can get a Gore Vidal to play himself getting shot in the mouth with a hot dog (it's actually a funny scene, but not for that reason) is impressive.
This latest offering from the 'Family Guy' team finds the writers and producers doing their best to be more outrageous than ever before. No celebrity is too big to ridicule and absolutely no topic is considered too taboo.

But the acid test is this: when being profane and attacking and offending every minority group in existence, is it actually funny? The short answer is `yes'. This is not merely funny, it is very funny indeed. Rosie O'Donnell features in one particularly insulting sequence, and when Joe has a leg transplant and becomes his old active self, the guys decide the only way to fix things is to `re-cripple him again'. This is quite literally the most non-PC programme ever put on your TV screen, but it contains more invention and (frequently hilarious) jokes per minute than practically any sitcom. Highlights are two numerous to mention, but I particularly enjoyed the sofa at Quagmire's shack and Peter's stripper-cop routine at his daughter Meg's hen night. Shocking stuff!
Only downside is the first two episodes were put out separately as the `Star Wars' spoof `Blue Harvest', so this pack is a little light at only 13 episodes.
another great Family Guy set Some of the best episodes include the one where Stewie helps Frank Sinatra Jr turn his fortune around with a club; the one where Peter meets Jesus; the one where Quagmire, Joe and Peter do Jackass style stunts, and the one where Mort ends up transporting himself to 1940's Poland.

Even though everyone hates the episode, the one with Surfing Bird is a great episode, especially the parody with Stewie and Brian doing a scene from Office Space. Some people say it's not Seth's best moment, but it's memorable like the chicken fight in series 6 and Brian being ribbed about his book by Stewie ("has it got a beginning, and end and a narrative?"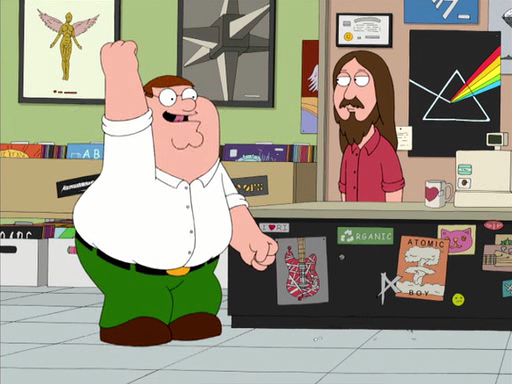 Highlights of this latest season to name a few include Brian committing murder, Quagmire becoming a Father, the truth behind Hannah Montana, Major West being 'activated' and the genius "Road to The Multiverse" which in my opinion is one of the greatest episodes within the last few seasons if not the entire collection.


Many of the episodes are extended when compared to their TV counterparts (blame the censors) along with dozens of deleted scenes which will keep even the most devoted or demanding Family Guy fan happy. Other special features worth noting are the Multi-verse featurette which was pretty interesting along with commentaries from cast and crew alike.


Despite being cancelled twice the show is still going strong and still offers brilliant humor, dialogue and cutback scenes after all this time. The characters continue to amuse and develop as the seasons progress (Stewie on Steroids stroke of brilliance) and there is plenty of scope for the future. The vast majority of the episodes are gold. I've already mentioned Multi-verse but also up there is "Dog Gone".
If further proof is needed as to the series' ability to succeed without its usual crutches, it can be found in "And Then There Were Fewer…" a mystery in Family Guy clothing. Series semi-regular James Woods gathers the town people for dinner, hoping to atone for his past wrongs, but someone starts bumping them off, leaving the group to figure out who the killer is and escape with their lives. Though the cutaways are present, they are worked into a genuine storyline, that's both well-crafted and funny, feeling like a quality parody of the Agatha Christie school of mysteries. It may be close to blasphemy to say so, but there's definitely a touch of Clue to the proceedings. The quality story is matched step-by-step by the animation (in the series' first widescreen episode) and music, both of which may be the best the show's ever produced (which is no feint praise.) The series may find itself in a rut at times, going to the same comedy well again and again, but when inspiration strikes, they take the show to another level.
As is often the case with this series, there's always an attempt to push the envelope, including episodes focusing on suicide and sex changes, but "Extra Large Medium" is one of the show's most controversial to reach airwaves, and it's mainly due to a throwaway joke. Following a life-changing event, Chris (Seth Green) decides to finally ask out a girl he likes, and it so happens that she has Down's syndrome. This leads to one of the finest songs the show's produced to date in "Down's Syndrome Girl," as well as a line where the girl notes that he mom was the former governor of Alaska. It's hard to figure out what the joke really is (it's not really making fun of anyone, be it Palin or people with Down's) but it pissed off a lot of people. Fortunately, the rest of the episode, especially that song, makes the headaches worth it, as Chris struggles with his feelings for his special gal and Brian's attempts to break Lois of her belief in psychics accidentally convinces Peter he actually is psychic.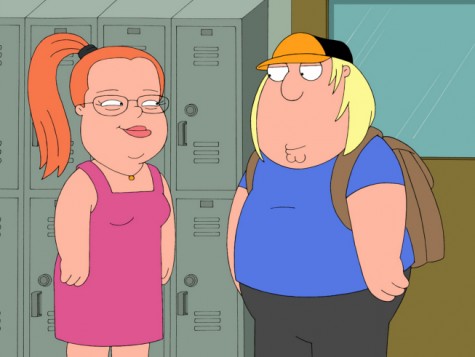 Though the series proudly sees the world from a liberal point-of-view, savaging republicans and conservatives at every chance, "Excellence in Broadcasting" stands as an unusual team-up, with Rush Limbaugh giving voice to himself, as he visits Quahog and gets what could be considered a friendly reception (at least by Family Guy standards.) Yes, there are jokes about the Republicans and Limbaugh himself, but he doesn't get it too rough, and if anyone comes off badly, it's Brian, who is easily swayed by Limbaugh into selling out his own convictions. It's rather odd to see, and makes one wonder what went on behind the scenes to make it happen, as MacFarlane doesn't seem the type to play nice, and the idea of Limbaugh working in tandem with an atheist pot advocate is mind-bending.