MAIN CAST (VOICES)
Seth MacFarlane (Flashforward)
Alex Borstein (Power Rangers Zeo)
Seth Green (IT)
Mila Kunis (Black Swan)
Mike Henry (Ted)
Jennifer Tilly (Curse of Chucky)
Patrick Warburton (Scream 3)
Adam West (60s Batman)


RECURRING / NOTABLE GUEST CAST (VOICES)
Christina Milian (Bring it On 5)
Patrick Stewart (American Dad)
Nana Visitor (Star Trek: DS9)
Carrie Fisher (Star wars)
Dana Gould (Mob City)
Arianna Huffington (The Cleveland Show)
Christine Lakin (Valetnine's Day)
Bill Maher (A Million Ways To Die In The West)
Ashley Tisdale (Scary Movie 5)
David Boreanaz (Bones)
Gary Cole (Chuck)
Rachael MacFarlane (American Dad)
Adam Carolla (Two Guys and a Girl)
Phil LaMarr (Free Enterprise)
Jessica Stroup (Ted)
Alan Tudyk (Firefly)
Alexandra Breckenridge (The Walking Dead)
Dee Bradley Baker (American Dad)
Nina Dobrev (The Vampire Diaries)
Laura Vandervoort (Bitten)
Cheryl Tiegs (The Brown Bunny)
Frank Welker (The Simpsons)
Drew Barrymore (Poison Ivy)
Meredith Baxter (Family Ties)
Julie Hagerty (Airplane)
Michael Gross (Tremors)
Wallace Shawn (The Princess Bride)
Judy Greer (Jurassic World)
Chris O' Dowd (St. Vincent)
Tara Strong (Batman: TAS)
Ioan Grufford (Ringer)
Ryan Reynolds (Deadpool)
Lacey Chabert (Mean Girls)
Fred Tatasciore (Hulk vs)
Kevin Durand (Dark Angel)
Scott Grimes (American Dad)
Ari Graynor (Bad Teacher TV)
Missi Pyle (Dodgeball)
Sanaa Lathan (Blade)
R. Lee Ermey (Full Metal Jacket)
Joel David Moore (Bones)
Jessica Barth (Ted)
Marlee Matlin (My Name Is Earl)
Sara Fletcher (Icrime)
David Herman (Futurama)
Ellen Page (Super)
Ricky Gevais (Ghost Town)
Lucy Davis (Shaun of The Dead)
Scott Bakula (Chuck)
Eddie Kaye Thomas (American Pie)
Cate Blanchett (The Hobbit)
Anna Kendrick (The Voices)
Martin Spanjers (8 Simple Rules)
Dan Castellaneta (Fantastic Four)
Billy Gardell (Mike & Molly)
Jon Hamm (Mad Men)
Sandra Bernhard (2 Broke Girls)
John De Lancie (Star Trek: TNG)
Jim Parsons (The Big Bang Theory)
Will Sasso (Anger Management)
Emily Osment (Mom)
Megan Hilty (The Good Wife)
Jessica Biel (New Girl)
Christine Baranski (The Big Bang Theory)
Giovanni Ribisi (Ted)
Emma Roberts (Scream Queens)
Chad L. Coleman (Arrow)
Tony Sirico (Goodfellas)
Ashley Benson (Spring Breakers)
Liam Neeson (Batman Begins)
Lauran Bacall (The Big Sleep)
Cary Elwes (The Princess Bride)
Freddy Rodriguez (Planet Terror)
Keke Palmer (Scream Queens)
Aaron Taylor-Johnson (Kick-Ass)
David Thewlis (Harry Potter)
Hank Azaria (The SMurfs)
Nancy Cartwright (The Simpsons)
Julie Kavner (Rhoda)
Yeardley Smith (As Good As It Gets)
Julie Bowen (Modern Family)
Maya Rudlph (Bridesmaids)
Carl Lumbly (Alias)
Ana Ortiz (Ugly Betty)
Lucas Grabeel (Smallville)
Ana Gasteyer (What A Woman Wants)
Glenn Howerton (That 80s Show)
Allison Janney (Mom)
Nat Faxon (The Descendants)
Harvey Fierstein (Mulan)
Cristin Milioti (How I Met Your Mother)
T.J. Miller (Deadpool)

Season 11 is really the reamaing of episodes of season 9 but by now you get use to the dvd season. great epsiodes and more greats jokes and anyones fair game, be it the spiritual, who get assaulted in "Brian Writes a Bestseller," as the dog writes a quickie self-help guide, but can't defend it against Bill Maher's questions, pretty much any minority and Meg, the family's socially-awkward daughter, who not only tries to weasel her way into wheelchair-bound Joe's life, but hooks up with her brother. Nazis, a standard part of the show after so many years, get their moment to shine as well, as the neighborhood pedophile Herbert recognizes Chris' new friend as a war criminal, setting up an epic old-man fight, and perhaps one of the few times in history where you might find yourself rooting for a kid-toucher.

One of strangest jokes is where Peter is reminiscing about 1985, and notes that it gave us the gayest music video ever, before showing nearly half of David Bowie and Mick Jagger's "Dancing in the Streets." As it plays, you start wondering when we'll get back to the show, before beginning to question if we're ever going back. And then you start questioning how the video ever came into existence. Then you ask, how did they get the rights to use it in the show this way? Then you kind of forget you're watching Family Guy. Then you kind of wish you were watching the video again, but that was the point of the episode doing it to mind screw you.
 This season is a pretty strong one. It has the mean-spirited episode is Screams Of Silence: The Story Of Brenda Q and it's not only the strangest episode on the season but one of the strangest of the entire series. Basically Glenn's sister gets into an abusive relationship and he, Peter and Joe decide to take care of the problem. The episode gets increasingly darker as it plays out and the ending, which is presented straight and without any obvious irony or attempt at humor, is pretty grim. The crew should get credit for tackling a serious social issue with at least some semblance of seriousness but is this really the right format to raise an issue like this? Opinions will vary, obviously, but this episode is twisted.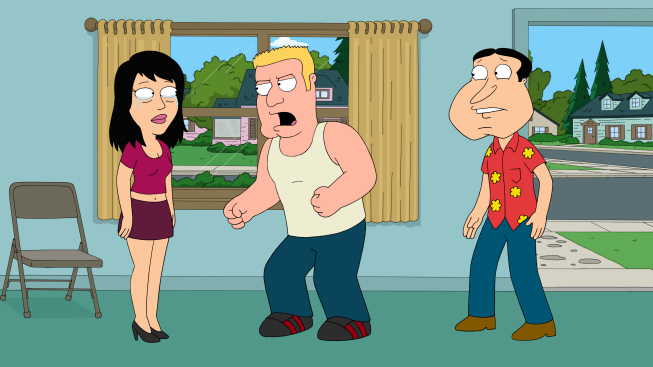 Aside from that, it's more or less business as usual. There are some fun celebrity cameos here, the most obvious one being Ricky Gervais who provides the voice of a dolphin who helps Peter out and then demands a ridiculous amount of favors in return. The Lottery Fever series opener is a fun one which shows not only how Peter behaves after winning the lottery but how those around him will leach off of him when he does. We get to see Brian take mushrooms before a hurricane hits the town and then watch him trip out and see some seriously bizarre hallucinations. The Back To The Pilot episode also stands out as we see Stewie travel back with Brian in tow to January 31, 1999 (which was the broadcast date of the series' first episode). This shows how the series has changed over the years and also how in just as many ways it has stayed the same.
Quahog news anchor Tom Tucker gets the spotlight in Tom Tucker: The Man And His Dream in which we learn about his acting career. It seems he played Michael Myers in Halloween IV and once Peter learns that, he and James Woods get involved in resurrecting his thesping profession. In Killer Queen Peter and Chris wind up at fat camp where a serial killer is at work, while back in Quahog, Stewie is terrified by the artwork of Queen's New Of The World album cover. H. Jon Benjamin from Bob's Burgers and a bunch of other great credits does a guest voice here. Stewie falls for a girl named Penelope, voiced by Kate Blanchett, in Mr. And Mrs. Stewie but of course that can't end well even if she shares his love of weapons and math. Tea Party is another stand out. When Peter tries to open his own business and gets shut down, he becomes an advocate for small government and takes hardcore conservative Tea Party ideas to ridiculous extremes with predictably funny results.
All in all, this is a pretty great season. It's also fairly daring, not that the show has ever really shied away from controversy but they definitely push things on a visual level here. That's not a bad thing, so long as you're accepting of the fact that as offensive as the series can be, it's an equal opportunity offender and it provides a great opportunity to laugh at the absurdity that is all around us on a daily basis.
So how does this season hold up? In a lot of ways, it's more of the same, but at the same time, by being more of the same there's a certain expectation of unpredictability that this collection consistently meets and occasionally exceeds. You get to a point in the show where you expect the unexpected, and there's a whole lot of unexpected to appreciate this time around. The season starts off strong with Into Fat Air where Lois runs into an ex-boyfriend who boasts about his family's accomplishments. This gets Lois feeling competitive and before you know it, the Griffins are climbing Mount Everest. Shades of Alive run deep in this particularly perverse episode. The show takes on the Nielson Ratings in Ratings Guy. When the Griffins are selected to a Nielson family, Peter goes for a blatant abuse of his power to shape TV to his liking but is then tasked with trying to set things right. It's actually a pretty amusing take at the fickle viewing habits of the general public. The health care industry and its corporate ties are taken on in The Big C when Peter finds out that his father in law has been keeping the cure for cancer his corporation has discovered secret in the name of making more profits off of treatment. As irreverent as this series gets, this episode will at least get you thinking.
The seemingly obligatory time travel episode in this season is Yug Ylimaf and once again Stewie and Brian cruise back in time and goof off. It's old hat at this point but there's comfort in familiarity. We get to learn more about Joe's disability when the man who shot him and confined him to a live in a wheelchair goes on the lam and Peter, Joe and Quaigmire hunt him down to get revenge. The Jesus, Mary and Joseph! episode lets Peter tell us his own version of the Nativity Story in what is essentially a Christmas episode gone awry. Nothing is sacred, fans know that by now. Quagmire is the focus of The Giggity Wife, an episode that shows what happens when Glenn marries a skaggy old hooker on a trip with Peter and Joe. He realizes quickly that this was a horrible idea but she won't grant him a divorce. Glenn tries to convince her that he's actually gay, with Peter's help. In Chris Cross the elder Griffin son swipes some money from his parents to go out and buy some cool new sneakers. When Meg finds out, she blackmails him but Chris quickly has his fill and decides to go live down the street with everyone's favorite pedophile, his old friend Herbert. Meanwhile, Stewie convinces Brian to help him track down Canadian songstress Anne Murray. In Call Girl Lois uses her voice to make some extra money as a phone sex operator and in Turban Cowboy Peter befriends a Muslim and then converts to Islam. Phone sex might not be so topical these days, but the Islam episodes pushes some buttons in some clever ways.
As the season comes to a close, in the Bigfat episode we find out what happens when Peter, Joe and Quagmire go on a trip to Canada. Peter goes missing for months and when they finally find him, he's lost the ability to communicate like a 'normal person.' Total Recall is another 'Rupert' inspired episode where Stewie and Brian try to get the teddy bear back after a recall is done. Peter and friends try to save their favorite bar in Save The Clam while Peter takes up farming in Farmer Guy, but soon gives that up in favor of dealing meth. Road To Vegas sees Brian and Stewie clone themselves and head to Vegas where they have completely opposite experiences from one another and last but not least, No Country Club For Old Men gets the Griffin's into a posh country club when Christ strikes up a romance with a girl who comes from the wealthiest family around. This doesn't sit well with Carter, who winds up getting the boot.
It's all pretty much non-stop insanity but hey, it wouldn't be Family Guy if there weren't a lot of guest voices, right? Right! Popping up throughout this collection are such luminaries as Elizabeth Banks, Ryan Reynolds, Sofía Vergara, Giovanni Ribisi, Jessica Biel, Drew Barrymore, Will Sasso, Emma Roberts, J.J. Abrams, Sandra Bernhard, Cheryl Tiegs, Anne Murray, Bill Maher, Sharon Osbourne and quite a few others. And we'd be remiss not to mention the mighty Robert Loggia shows up here too. There's a lot of fun to be had in this set so long as you go in with an open mind and remember that pretty much every one from every walk of life is fair game.  This marks the second time a full season of the show has been released in one set (season 13 12 had the full season 11 on it). In prior years Fox, in its infinite wisdom, would release sets that had half of one season and half of another on it. It has really been a minor point because in terms of following the show, it is not like it ever has season long story arcs that need to be followed. You just have to have seen a prior episode to get a reference if they call back to something. But for those of us who do get the DVDs it has often meant paying the same price for a set with a partial season on it. So it is nice that they have come around to doing what they should have in the first place. It also makes for a pretty funny joke this season in one of the episodes.


As far as the show itself goes, it is pretty standard with what it has been doing the past few years. It can get repetitive with some of the gags (they do like vomit), but I do think they are still entertaining on a consistent enough basis to keep fans of the show entertained. This season has the controversial story line in the middle involving Brian (chances are everyone knows what it is and the cover of the DVD set basically gives it away) that definitely shook the show (and the fans) up. It also sees the return of Cleveland after the Cleveland Show's cancellation. Like the show always has, it makes fun of pretty much any topic, and because the DVD is uncensored it replaces some of the tamer jokes from the broadcast version with harder edged versions. It is also worth noting that nothing gets bleeped out on the DVDs, so expect all the swearing to be in every episode.

For those who get the DVD set, as far as extras go, there are deleted scenes from every episode, a couple episodes showing the full animatics with the dialogue, and a short feature on the Brian storyline with show runners and Seth Green talking about the fan reaction. Pretty standard for what has been included before
This is really season 13, its the season featuring the Simpson/ Family Guy Crossover. The hour in Springfield started off in poignant, self-referential fashion, with Seth MacFarlane and co. recognizing that this was probably a "one time shot." Cue the slew of Easter eggs and references for fans of The Simpsons, and the fan-service is appreciated for the most part. There are guest appearances from Apu (once in his natural habitat, and once as Stewie's prisoner), and hilarious scenes with the likes of Cleveland and Quagmire meeting their Simpson counterparts.
The entire premise of this episode (an attempt to put the rumors of any Family Guy vs The Simpsons feud to rest) hinges on each show taking some low blows and wearing it's respective heart on it's sleeve. Whether it's The Simpsons (or Duff Brewery's) longevity, which invites criticism about it's consistency, or Family Guy's (and Pawtucket Brewery's) questionable originality and knack for what may seem like "pale imitation," this episode takes stabs at both parties involved. The argument begins in a bar at the start of the third act, and spirals out of control into an absurd, and probably overlong, classic chicken fight.
Other highlights in the set include,
The 2000 Year Old Virgin where Jesus shocks peter by saying that he has never had sex. Determined to change this, Peter enlists the help of Cleveland, Joe and Quagmire so Jesus can lose his virginity for his 2000th birthday.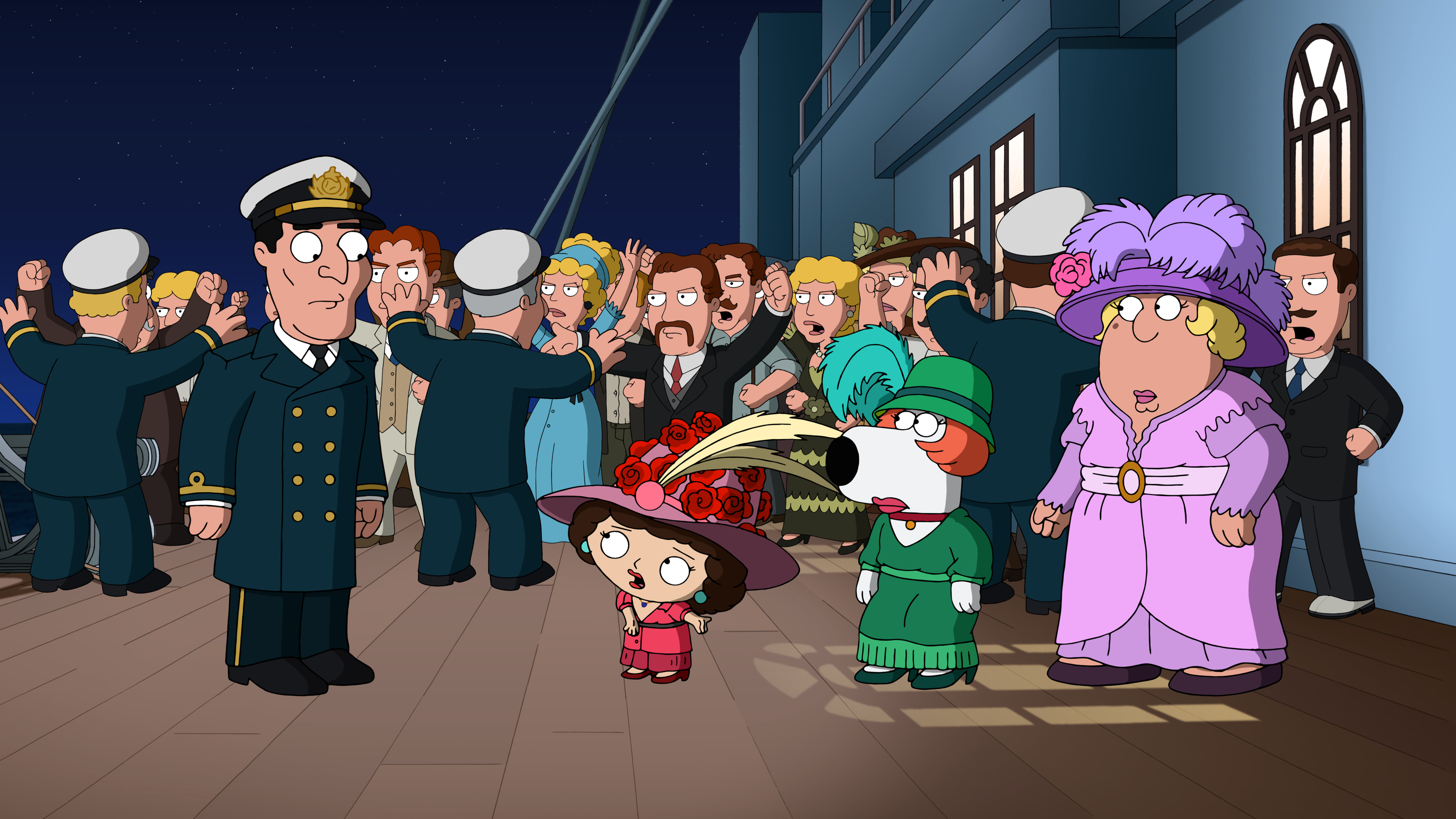 Stewie, Chris, & Brian's Excellent Adventure where Stewie and Brian invite Chris on a journey through time to help him pass a test that is his only hope of finishing ninth grade, and the three end up stuck in 1912 aboard the Titanic.
and of course the Fight Irish episode where Peter claims that he could beat Liam Neeson in a fight, but his skills are put to the test when Neeson himself actually shows up. Meanwhile, Stewie is annoyed with Lois when she becomes a class mom and starts paying more attention to other children.
Another classic season with great jokes and great guest stars, The Simpson Guy being the biggest highlight now we can own it on dvd