MAIN CAST (VOICES)
Seth MacFarlane (Flashforward)
Alex Borstein (Power Rangers Zeo)
Seth Green (IT)
Mila Kunis (Black Swan)
Mike Henry (Ted)
Jennifer Tilly (Curse of Chucky)
Patrick Warburton (Scream 3)
Adam West (60s Batman)
Lacey Chabert (Mean Girls)


RECURRING / NOTABLE GUEST CAST (VOICES)
Lori Alan (Wall-E)
Fred Tatasciore (Hulk Vs)
Phil LaMarr (Free Enterprise)
Billy West (Futurama)
Erik Estrada (Chips)
Joey Slotnick (Nip/Tuck)
Frank Welker (Transformers)
Rachael MacFarlane (American Dad)
Alex Rocco (The Simpsons)
Kevin Michael Richardson (The Cleveland Show)
Dick Van Patten (Spaceballs)
Fairuza Balk (Almost Famous)
Charles Durning (The Sting)
Dwight Schultz (The A-Team)
Patrick Duffy (Dallas)
Victoria Principal (Blind Witness)
Will Sasso (Movie 43)
Sam Waterson (Law & Order)
Tara Strong (Batman: TAS)
Norm MacDonald (Billy Madison)
Candice Bergman (Gandhi)
Martin Mull (Sabrina: TTW)
Lee Majors (Ash vs Evil Dead)
Faith Ford (Hope & Faith)
Will Ferrell (The Lego Movie)
Jay Mohr (Cherry Falls)
Brian Doyle-Murray (Groundhog Day)
Robert Costanzo (Batman: TAS)
Michael Chiklis (Gotham)
Jon Cryer (Two and a Half Men)
Gary Cole (One Hour Photo)
Luke Perry (The Fifth Element)
Adam Carolla (Wreck-It Ralph)
Michael McKean (This Is Spinal Tap)
Thomas Dekker (Terminator: TSCC)
Haley Joel Osment (A.I.)
Leif Garrett (The Outsiders)
June Foray (Mulan)
Ray Liotta (Killing Them Softly)
Ron Jeremy (Orgazmo)
Alyssa Milano (Charmed)
Edward Asner (Elf)
Hugh Laurie (House)
Estelle Harris (3rd Rock From The Sun)
R. Lee Ermey (Full Metal Jacet)
Majel Barrett (Star Trek)
Carol Kane (Gotham)
Dakota Fanning (Taken)
Jane Lynch (Glee)
Meredith Scott Lynn (Legally Blonde)
Valerie Bertinelli (Hot In Cleveland)
Tony Danza (Who's The Boss?)
Fred Willard (Anchorman)
Jennifer Love Hewitt (Ghost Whisperer)
Andy Dick (2 Broke Girls)
Jon Favreau (Iron Man)
Lauren Graham (Bad Santa)
Judy Greer (Jurassic World)
Mark Hamill (Star Wars)
Peter Riegert (The Mask)
Drew Barrymore (Poison Ivy)
Jonathan Lipnicki (Jerry Maguire)
Gina Gershon (Bound)
Judd Hirsch (The Big Bang Theory)
Indigo (Weeds)
Stacey Scowley (Dollhouse)
Jane Carr (Treasure Planet)
Cloris Leachman (The Iron Giant)
LeVar Burton (Star Trek: TNG)
Jessica Biel (Stealth)
Nancy Cartwright (The Simpsons)
Alexandra Breckenridge (The Walking Dead)
Michael Dorn (Ted 2)
Jonathan Frakes (Star Trek: TNG)
Marina Sirtis (The Grudge 3)
Patrick Stewart (X-Men)
Gabrielle Union (Flashforward)
James Woods (Another Day In Paradise)
Carrie Fisher (Star Wars)
Mia Maestro (Alias)
Maurice LaMarche (Futurama)
Robert Downey Jr. (Iron Man)
Sherman Hemsley (Lois & Clark)
Marion Ross (Happy Days)
Carol Channing (The Love Boat)
Jay Leno (The Simpsons)
Alexander Siddig (Game of Thrones)
Bryan Cranston (Argo)
Wallace Shawn (The Princess Bride)
Kate Jackson (Charlies Angels)
Betty White (The Golden Girls)
Chad Morgan (Pearl Harbor)
Judith Light (Ugly Betty)
Out of the small animation boom that happened several years ago came "Family Guy", one of the most hilarious and controversial shows that Fox has aired
For those unfamiliar with the show, it focuses on the Griffin family, residents of Quahog, Rhode Island. Peter (creator Seth MacFarlane) is the heavy-drinking father who works in a toy factory, Lois (Alex Borstein of "Mad TV") is the calm leader, Meg (Mila Kunis of "That 70's Show" and Lacey Chabert for the earlier episodes) is the insecure daughter, Chris (Seth Green) the chubby and dim-witted son, Brian (MacFarlane) is the alcoholic dog who talks and Stewie (creator Seth MacFarlane earned an Emmy for his voice work on the character) is the diabolical baby who is bent on world domination.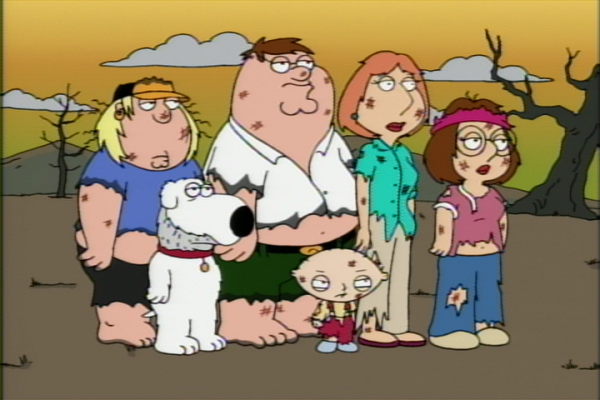 The first two volumes of the show on DVD offers both the first season and half of the second seasons of the show and gives viewers who missed it another chance to witness some of "Family Guy"'s most brilliant moments. "E. Peterbus Unum" has Peter breaking off from Quahog to form his own country when he finds out that his house is a blank spot on the map. When confronted after breaking the law, he gets out of it due to diplomatic immunity ("like that guy in 'Lethal Weapon 2′", says Peter). "The Son Also Draws" has Peter and Chris going on a Vision Quest when they lose their car at an Indian casino. When the trees start chatting with Peter, he asks, "If one of you falls, and no one's around, does it make a noise?" The tree responds, "Are you kidding? Scott fell last week, and he hasn't shut up about it since." In "Death Is a Bitch", Death (voiced by Norm MacDonald) comes after Peter after he fakes death to get out of paying his hospital bill. When Death sprains his ankle, Peter has to take over. "Da Boom" has the family searching for food (they dismiss a potential house after they find out Randy Newman is there, singing about everything he sees) after information hears about the world nearly coming to an end after Y2K turns out to be true.
"Family Guy" remained remarkably politically incorrect throughout its original run, but most of the jokes were rolling-on-the-floor funny because they were throwaway, including one exchange between Peter and Brian: "Brian, there's a message in my Alpha Bits. It says "OOOOOO"!". "Peter, those are Cheerios." Every episode of the show was packed with such minor gags, most of which were successful and unexpected. The show's voice talent, especially MacFarlane, Kunis and Green, handled the material with perfect comedic timing.
This second DVD volume of the series includes second half of season two and all of third season of the series, along with the controversial episode, "Wish Upon a Weinstein", where Peter tries to get Chris to become Jewish because he believes he'll be successful if he does. The plots of season three still get laughs fairly often, although I don't think they reach the inspired heights of earlier episodes, such as the one where Peter's house became its own country or lead his family towards a twinkie factory after the apocalypse.
Still, there are certainly some highlights throughout many of the episodes. In "Peter Griffin: Husband, Father…Brother?" Peter takes Chris to an Irish Heritage Museum to learn more about his heritage, where both find out that, before alcohol, Ireland was a futuristic utopia. "Mr. Saturday Knight" has Peter working at Quahog's Renaissance Faire as a jouster when his boss accidentally dies at dinner. His competition is the Black Knight, brilliantly voiced by Will Farrell. "Thin White Line" and "Brian Does Hollywood" have Brian overdoing his new job as drug sniffing police dog, then running off to Hollywood and ending up with a job directing porn (at the adult awards in the episode, John Williams is one of the composers nominated for Best Original Score). In "Lethal Weapons", Peter uses Lois's newfound fighting skills to drive out New Yorkers who come up to Rhode Island just to stare at the leaves changing color.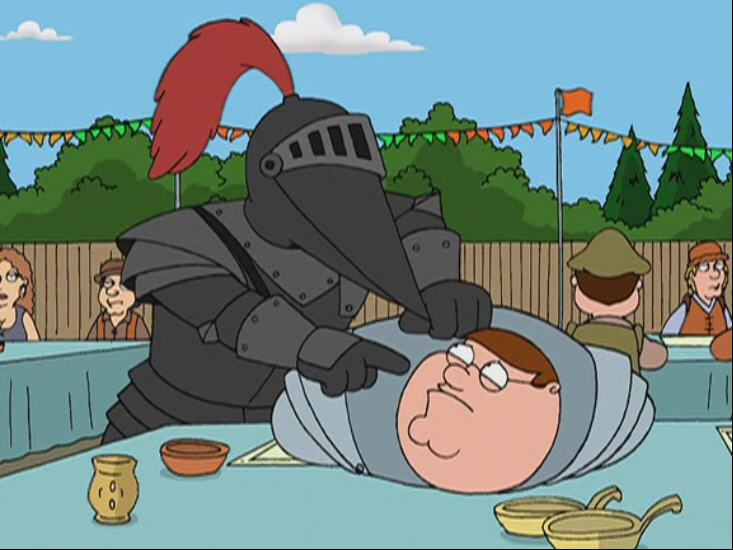 Rude, crude and often hilarious, "Family Guy" saw fit to offend just about every group, but did so in a way that was sharp, funny and wonderfully absurd.
Often brilliant, extremely witty and darkly hilarious, "Family Guy" was unfortunately cancelled after season three Fox bumped it around six or seven different time slots. Although this third season wasn't as consistent as the first two, it's still hilarious and fans of the show should definitely pick up this terrific set. thankfully a few years later the show would return for a fourth and become a constant.
Back on the air after an unprecedented un-cancellation, "Family Guy" had a slight bit of leeway in its return. Fans were rabid for some new episodes, while the network that had cancelled it once wasn't likely to do so again and risk being considered foolish twice-over. As a result, there was a chance to experiment and try something new, and expand the horizons of the show. Or, they could choose to keep doing the same thing they did before, which is exactly the choice they made.
In a way, it was the smart choice. Why mess with a good thing, when you could keep making the kind of show the fans fell in love with and bought rapidly on DVD. The un-PC content is still in place, along with the pop-culture references, cut-aways and nonsensical characters. Call-backs to old favorites, like Herbert the old molester and the evil monkey were good, but the shows tended to settle into ruts. A love of musicals is appreciated, but is it funny every time a character breaks into song, as in "Jungle Love"
This set has some very good episodes in this set, starting with "Petarded," which sees Peter declared mentally retarded. The ways he takes advantage of this status is classic "Family Guy" material, while the musical montage here, involving phone calls all over town, is actually quite funny. Plus, the appearance of the Greased-Up Deaf Guy gave hope that the creators still had that sense of the bizarre in them.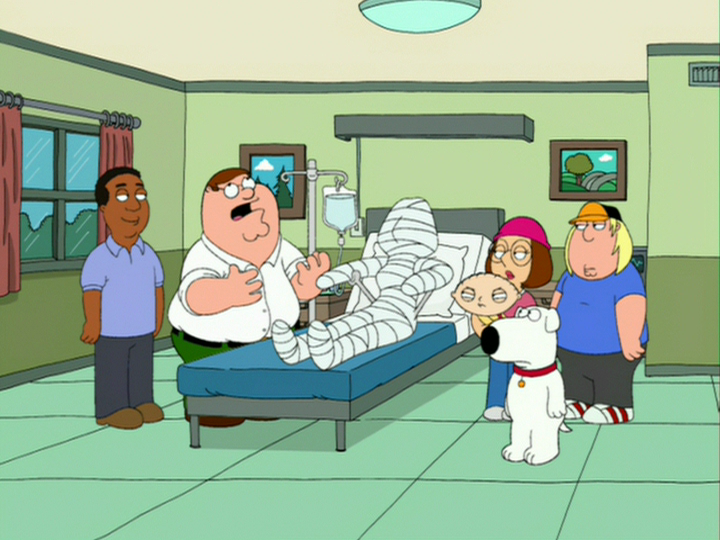 But if any moment stands out among this run, it's the supermarket scene in "Breaking Out is Hard to Do." When Chris is pulled into the "Take On Me" video by A-Ha, it's a perfect blend of what this show does best, combining nonsense, the '80s and some neat animation. The lead-in, the punchline and the execution of the whole scene is handled so well that it might be one of the show's most memorable ever.
If there's a real reason for fans of the show to own this set, it's provided in the extras. According to the commentaries, there are scenes included that were produced for the show that the creators knew would be cut, but did them with the intent of including them on DVD. I'm not certain what scenes were added, but there are several lines that would have been questionable for network TV. Also included are uncensored audio tracks that were bleeped on TV. It's certainly a welcome change having the series presented as they were intended, instead of chopped up as so many shows are on DVD.
Among the 14 episodes in this set is a number of funny moments, normally involving either Lois or Chris, though neither enjoys a spotlight episode. Instead, Peter powers a couple of inspired shows, starting with "PTV," a sharp rebuttal of the FCC's assault on broadcast standards. As a fan of entertainment for adults, the crippling of language by the government certainly needs to be skewered. Peter's revolutionary instincts crop up again in "The Father, the Son and the Holy Fonz." It delivers an entertaining parody of religion, as Peter forms a faith based around Henry Winkler's "Happy Days" character, with about as valid a basis as most religions.
comedy. There's some good stuff in here, culled from the 14 episodes, including some subplots that were cut. They are joined by three featurettes that look behind the scenes of the show. The first is a simple one, as supervising director Peter Shin shows how to draw Stewie. Straightforward, but a bit interesting. "A Director's Life: Debunking the Myth" spends almost 15 minutes looking at the job of the directors on the show, explaining in detail what they do to make the series go. It's rather good and shows how much goes into making animation.
I enjoy sitting down with a set of "Family Guy" episodes, thanks to the voices and rather lush animation, another great set thou some fans might be confused with the season box sets not watching the actual seasons but once you figure out the numbering its