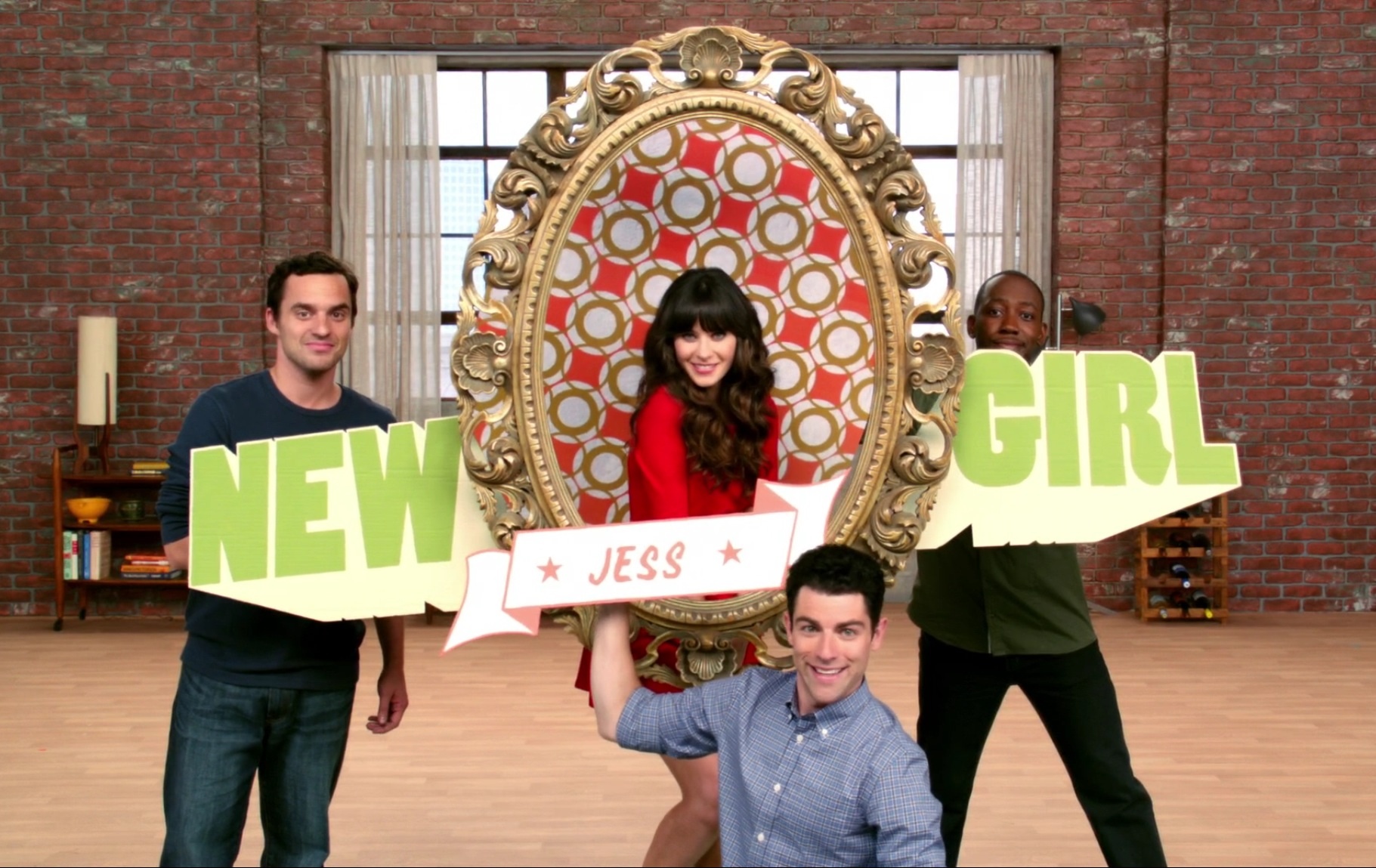 MAIN CAST
Zooey Deschanel (Yes Man)
Jake Johnson (Jurassic World)
Max Greenfield (Veronica Mars)
Lamorne Morris (The Guild)
Hannah Simone (Oldboy)
Damon Wayans Jr. (Big Hero 6)
RECURRING / NOTABLE GUEST CAST
Gillian Vigman (The Hangover)
Mary Elizabeth Ellis (The Grinder)
Ian Wolterstorff (The Neighbours)
Katie Cassidy (Arrow)
Natasha Lyonne (American Pie)
Lake Bell (In A World…)
Justin Long (Waiting…)
Eva Amurri Martino (Saved)
Michaela Watkins (Casual)
Stephen Amell (Arrow)
Rachael Harris (The Hangover)
Lizzy Caplan (Cloverfield)
Kali Hawk (Bridesmaids)
Jeff Kober (Buffy: The Vampire Slayer)
Clarke Duke (Kick-Ass)
Ryan Kwanten (True Blood)
Joey King (The Dark Knight Rises)
June Diane Raphael (Bride Wars)
Dermot Multoney (The Grey)
Martin Starr (This Is The End)
Natalie Drefuss (The Originals)
Rebecca Reid (Eastern Promises)
Thomas Lennon (17 Again)
Nelson Franklin (Argo)
Parker Posey (Superman Returns)
David Walton (Bad Moms)
Josh Gad (Frozen)
Molly Cheek (American Pie)
Rob Riggle (21 Jump Street)
Rob Reiner (This Is Spinal Tap)
Jamie Lee Curtis (Scream Queens)
Carla Gugino (Watchman)
Olivia Munn (X-Men: Apocalypse)
Dennis Farina (Get Shorty)
Nate Corddry (Mom)
Brooklyn Decker (Battleship)
Brenda Song (The Social Network)
Odette Annable (The Unborn)
Margo Martindale (Mike & Molly)
Merritt Weaver (Signs)
Curtis Armstrong (American Dad)
Mary Lynn Rajskub (2 Broke Girls)
Ajay Mehta (Anger Management)
Riki Lindhome (Much Ado About Nothing)
Jon Lovitz (Big)
Taye Diggs (Chicago)
Jessica Chaffin (Spy)
Nakia Burrise (Power Rangers Turbo)
Brian Posehn (The Big Bang Theory)
Ben Falcone (The Boss)
Prince (Purple Rain)
Linda Cardellini (Scooby-Doo)
Alexandra Daddario (Texas Chainsaw 3D)
Kerri Kenney (Anger Management)
Jessica Biel (The A-Team)
Ciara Hanna (Power Rangers Megaforce)
Kaitlin Olson (The Heat)
Alan Ritchson (Smallville)
Erinn Hayes (The Watch)
Julian Morris (Hand of God)
Cleo King (Mike & Molly)
Amber Stevens West (22 Jump Street)
Greta Lee (St. Vincent)
Barry Bostwick (Spin City)
Nasim Pedrad (Scream Queens)
Zoe Lister-Jones (Salt)
Nora Dunn (Bones)
Ariela Barer (Runaways)
Your desire to watch New Girl is probably predicated by Zooey Deschanel, her cutesy fringe and massive possum eyes but rest assured there is a lot more to this show than that. If you aren't already a Zooey fan please don't let the somewhat annoying portmanteau "Adorkable" put you off seeing this great show.
In my opinion the first few episodes of the show's run are a little weak, but as season 1 continues this show goes from strength to strength as the writers seem to be figuring out what works and getting rid of what doesn't. If you have seen the first few episodes on TV and are not sure if this show is for you I would definitely recommend sticking with it as the characters become less cartoonish and more fleshed out. While there are lots of comedies about people in their 20s and early 30s struggling with quarter-life crises, this show find a fresh approach to these issues that both men and women of this age in particular should enjoy.


There is lots of cringe-inducing humour and the show benefits from a great deal of physical humour and sight-gags as well as nerdy rapid-fire verbal comedy (which is my favourite!). I would definitely recommend getting this show on DVD, as it is incredibly rewatchable. Not only will you quickly come to really enjoy `hanging-out' with these characters but sometimes the jokes and quips come so quickly you will definitely pick up on jokes you missed during the first watch.


The actors are all excellent and are perfectly cast in their different roles bringing a real warmth to the relationships between the main characters. Zooey is excellent as Jess and is a really refreshing comic lead. It is great to see a quirky, laid-back female character as so often actresses in sit-coms are relegated to being the nagging girlfriend/wife or to just commenting on the funny situations the male characters get themselves in to. Not only is Jess a witty character but also her lack of tact and weirdness are frequently sources of humour, as are the gaffs of her three roommates. Schmit is the break out character of the show for me. While in the first episode he comes across as an arrogant, shallow meat-head he quickly becomes more nuanced and sensitive and in my opinion is far and away one of the funniest characters on TV.
The first season of New Girl established the will-they-won't-they pairing of Nick and Jess and the they-did-will-it-last coupling of Schmidt and CeCe, so the second season is all about raising the stakes for them. For Nick and Jess this takes the form of bad relationships keeping their minds off messing with the loft dynamic by dating a roommate. Though each has some legitimate opportunities for happiness, be it Jess' commitment-phobic Dr. Sam or Nick's sexually adventurous stripper girlfriend (played by Olivia Munn.) However knowing that there remains a chance they could end up together leads to frequent self-sabotage.As much as Deschannel is the star of the show, Johnson has quietly become just as integral, as Nick grows and discovers himself, with the help of his future self and a water-massaging elderly Asian gentleman (the show can get weird sometimes.)
For Schmidt and CeCe, reality is far less promising, as CeCe begins to sense her biological clock is ticking, and finds herself on a course for an arranged marriage to a pleasant man who just isn't Schmidt. Meanwhile, the one true Schmidt seeks to alleviate the impending loss of his caramel queen by running back to his one true love, Elizabeth, a girl he dated in college, when he was hundreds of pounds heavier. It sets up a troubling love triangle, as the real Schmidt is just right for Elizabeth, but the Schmidt he wants to be is a perfect match for CeCe. While there's a grimy aspect to Schmidt keeping two women secret from each other, on the other hand, Greenfield makes it work by showing Schmidt cares about both women and is, oddly, doing it to not hurt either of them, rather than out of some sort of romantic greed. It's an unusual situation, and one the show handles well.
The focus on Schmidt and CeCe this season unleashes the show's secret weapon, as Simone proves to be one of the most consistently funny performers in the series, popping in a look or a delivery that's just perfect for the situation. Many of the show's best moments this season grow out of CeCe's on and off again connection with Schmidt, with the season's home-stretch existing only thanks to the culture clash that grows from her arranged marriage, Part of what makes her so entertaining is how her exotic beauty gets betrayed to hilarious effect by her ability to be wonderfully silly. (The other benefit of having CeCe around is the presence of her Russian modeling pal Nadia (Rebecca Reid), who is economically hysterical, with a higher laugh to word ratio than anyone on TV.)
The mix in the loft is why the show works so well, as the quartet of roomies and friends behaves realistically, no matter how offbeat the situation may be or how odd the four may sometimes get. So whether it's Schmidt feeling old thanks to some hipsters who have imoved in and befriended Jess, the exploration of the group's most annoying aspects (a.k.a. "pogos") or Winston struggling with his period, they mercilessly tease each other, but have each other's back to the end. This is never more clearly illustrated than in "Virgins," where the crew one-up each other with their horrible tales of their first sexual experiences. The way they interact is as close to real friends as anything on TV.
With the series expanding upon the world created in the first season, we get to meet more of the people in the lives of the four roommates, and those additions were rather impressive, to go with returning speicial guests, like June Diane Raphael (playing Jess' lesbian gynocologist.) The late Dennis Farina had a great turn as Nick's con-man father, while Margot Martindale plays his brassy mom, Nick Kroll is his dim-witted brother and Bill Burr is his Beantown cousin. Meanwhile on Jess' side, they snagged Rob Reiner and Jamie Lee Curtis to play her feuding parents (and Reiner should become a series regular as her dad). Add in Rob Riggle as Schmidt's brother, Carla Gugino as his sexually-aggressive boss and Brenda Song as Winston's new lady friend, and the show managed to cultivate a fine ensemble outside of the core five, expanding and improving the series.
The natural progression of the relationships between Nick and Jess and Schmidt and CeCe, along with the changes in the world around them, made for an entertaining season that balanced silly fun with genuine emotion.
Coach's return was a little unexpected, there was already a great ensemble, why mess with it? For those who don't know, Coach was one of the original characters from the pilot. Wayans's was already cast in Happy Endings, but with Happy Endings suffering in the ratings, it was expected to be cancelled, leaving Wayans's free to find another role. It didn't get cancelled, and New Girl even benefited with the addition of Winston. Eventually, Happy Endings was cancelled, and Coach comes back.  Coach's return to, guess what, coaching was inspired, and his slight change in focus really benefits both him and Schmidt, as well as the show as a whole. By the end of the season, it feels like Coach has always been there!
Then there is Winston. It really is a testament to Lamorne Morris's ability as an actor and comic that he has got so much out of character that doesn't really have much to do. I think he's one of the least developed characters, and with so much focus on Nick & Jess, the re-introduction of Coach and Schmidt's all round issues, he's left to fill out episode storylines without getting much development himself. The comic relief Winston provides is necessary to balance out the drama with the other characters, but it's a shame so much of it is just short story arcs or lasts just a single episode. If there's any area I'd like season 4 to develop, it's Winston. There is just too much talent and comedy to ignore.
New Girl continues its solid track record, producing a classic relationship season without losing the fact it's a comedy at heart. Well executed by all involved.
Romantic relationships remain the primary concerns of Jess, her four dude roommates, and her best friend Cece (Hannah Simone). In season three, Jess and her cute slacker roomie Nick (Jake Johnson) made good on the will-they-or-won't-they? dynamic teased in the previous seasons and are already peaceably broken up at this point. (The episode "Goldmine" nicely addresses the difficulty of getting people not to bail on dates with each of them after learning that they live in the same apartment as their ex.) At work, Jess has made it up the ranks from schoolteacher to vice principal, which is all well and good until she gets a crush on a new British teacher (Pretty Little Liars' Julian Morris) with the saucy name Ryan Geauxinue (pronounced "Goes-In-You"); unfortunately for Jess, administrator-teacher couplings are a no-no, so she tries to ignore the hunk. (That doesn't happen.) Nick finds Kai (Greta Lee), a lady who likes to lay about the apartment as much as himself; rookie cop Winston (Lamorne Morris) "investigates" her behavior for his roommate and decides she must be homeless. (She's not.)
The show's other key couple, former-model-turned-inept-bartender Cece (Hannah Simone) and metrosexual would-be player Schmidt (Max Greenfield), continue their pas de deux; Schmidt starts off the season overwhelmingly obsessed with Cece while she just wants to move on. As the season continues, Schmidt cools it a bit and finds a way to be Cece's friend… which, of course, just makes her remember why she liked him in the first place. Unfortunately, by this point, Schmidt has started up with manipulative, career-driven city councilwoman Fawn Moscato (Zoe Lister-Jones). Fawn's power excites Schmidty, but is this duo built to last?
 Wayans was a "recurring" cast member in season 3, but he's a full-fledged co-star in season four. His presence in the show — besides demonstrating  that non-"niche" sitcom ensembles can have more than one black dude in them — is wonderfully layered with jock-y braggadocio, hidden tenderness, and amiable goofiness. Coach also reacts to relationship strife in the most entertaining ways possible, whether it's emotionally breaking down as he tries to describe fertilization in a health class he's teaching or attracting a bar full of ladies to grind up against him to the strains of Alannah Myles's "Black Velvet."
That just leaves Winston, who occasionally takes a break from studying for his police exam and from being in love with his cat to try to woo a human lady. I have to admit that Winston's decision to become a cop just keeps reminding me of the later seasons of That '70s Show, where Kelso's decision to join the police academy also felt fairly arbitrary and strange. This is addressed in a subplot in the episode "Par 5," which was actually co-written by  Lamorne Morris, in which the character feels forced to hide his profession when he starts dating a woman who actively protests the LAPD. This episode tries to add a little nuance and depth to Winston's choice to be a policeman.
For a show with so many semi-arrested characters, gaining maturity and finding worthwhile career paths are unsurprisingly also an ongoing component of the show. Jess and Winston, of course, seem like they're right where they want to be career-wise with the vice principal and police gigs respectively. Nick continues to flounder professionally, but eventually teams up with Schmidt to start their own entrepreneurial concern, and while their first concept — a suit made out of sweatsuit material — is a dud, the show seems optimistic about them finding fulfillment in working together. Cece finally goes to college, with some financial help from Coach and Winston, who consider it an investment that they expect to see repaid. When they find out Cece uses the opportunity to take somewhat esoteric liberal arts courses, the fellas are duly perturbed.
Once again, the show opens its doors to a number of excellent guest stars, including It's Always Sunny in Philadelphia's Kaitlin Olson as Jess's former classmate and potential stepmom (Rob Reiner and Jamie Lee Curtis return as Jess's divorced parents), Jessica Biel as a romantic rival for Jess, Billy Eichner as a stressed-out, catty airport employee on Christmas, Childrens Hospital's Erinn Hayes as a promiscuous school nurse, Lisa Bonet as the touchy-feely leader of a teachers conference, Nora Dunn as Schmidt's overbearing mother, and on and on. Justin Long. Josh Gad. Michaela Watkins. Barry Bostwick. Sarah Burns. Kurt Braunohler. Regis Philbin. Funny people!
 The ensemble cast truly shines in this newest season of New Girl. Some episodes come in a little below expectations, but overall the season offers some interesting developments for the characters and oodles of great jokes. If you like the show, keep liking the show.