MAIN CAST (VOICES)
Dan Castellaneta (Fantastic Four)
Julie Kavner (Dr. Dolittle)
Nancy Cartwright (Kim Possible)
Yeardley Smith (As Good as It Gets)
Harry Shearer (Godzilla)
Hank Azaria (Mystery Men)


GUEST CAST
Dennis Rodman (3rd Rock From The Sun)
Fran Drescher (The Nanny)
Maurice LaMarche (Futurama)
Richard Lewis (Anything But Love)
Phil McGraw (Scary Movie 4)
Marcia Wallace (Full House)
Tress MacNeille (Futurama)
Jackie Mason (One Angry Man)
Maggie Roswell (Pretty In Pink)
Jon Lovitz (Big)
John Ratzenberger (Cheers)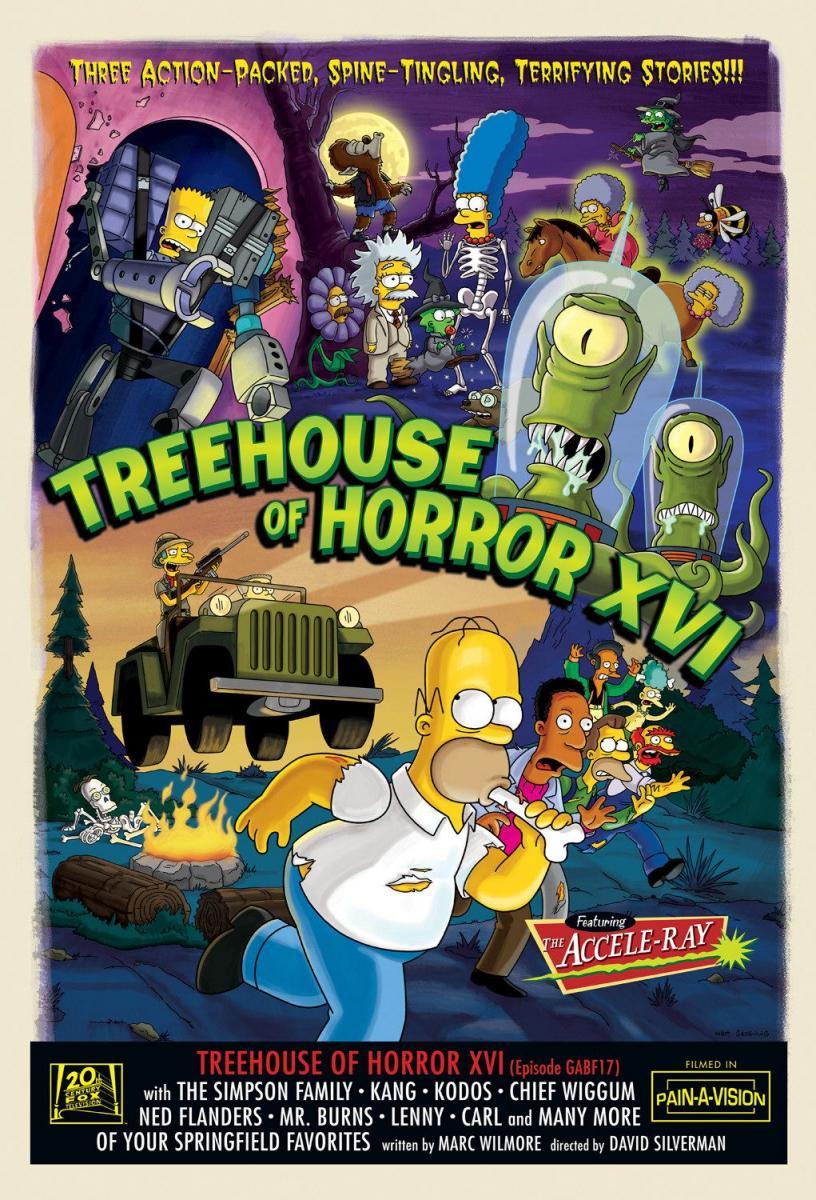 TREEHOUSE OF HORROR XVI
In the opening, using an accelerator-beam (despite Kodos fearing that "the fabric of the Universe itself may shatter!"), Kang hopes to speed up an exceedingly slow and boring World Series baseball game to air Treehouse of Horror XVI (which Kang thought wouldn't air until "Administrative Professionals Day" if the slow game kept up, Kodos of course telling him that they "must remember to get Dorothy something"), but ends up turning the baseball players into a giant black hole that destroys the universe. Kodos gets angry at Kang for doing so ("Smooth move, space-lax! You've destroyed the totality of existence!"), but Kang states that it will be fine, leaving a note on the screen showing the Treehouse's title ("It'll be fine. I'll just leave a note.").
In a parody of A.I. Artificial Intelligence, Bart winds up in a coma after attempting to jump out of a window into the swimming pool at Spinster Arms Apartments. In an effort to cope with the loss of their son, the family takes in a robotic boy, named David, who quickly proves to be a better son. David can make ice cream with his nose, make stuffed toys out of pants, and even recalibrate the lights of the town to spell words. Later, Bart wakes up from his coma. He escapes from the hospital and competes against David for the affection of their family. However, Bart is dumped on a road by Homer (who considers David to be a better son than Bart and even lies to the rest of the family that Bart went to culinary school). When Bart finds a group of old robots, he steals their parts and becomes a cyborg. In the end, he returns home, where the rest of the family realized that Homer lied about Bart going to culinary school. Bart then cuts David in half down the middle with a chainsaw, and does the same to Homer through the waist as revenge for abandoning him. Although the family is now together again, Homer is now angry that he has to be fused with David's lower half. David's legs then break off due to Homer's weight, much to Homer's dismay, but before the situation can get any crazier, it is revealed that the entire robot scenario is a dream conjured by Homer's demonically possessed mind as he is being exorcised. Marge reluctantly says she'll call work and tell them Homer can't make it in, much to Homer's delight.
In a parody of The Most Dangerous Game, men from Springfield come to Mr. Burns's mansion to go hunting. Unbeknownst to them, they are the prey to be hunted. The hunt appears on TV, and Marge, watching from home, claims she should have known something was up when seeing the new TV Guide, which featured a picture of Burns and Smithers chasing Homer with the caption "Must Flee TV!" (as a take-off of "Must See TV!"). Homer manages to survive the night while his friends and the others are killed left and right, but Burns closes in on him in the morning. Just as he is about to be shot, Burns and Smithers are both knocked out with frying pans by Marge, who then hits Homer on the head for being away from home for eighteen hours and not calling home once, before they end up having make-up sex.
In a parody of classic Twilight Zone episode "The Masks", the citizens of Springfield dress in their Halloween costumes for a costume contest. Dr. Hibbert is declared second placed victor, with first place awarded to a strange old witch. When given the award and asked who she is, she is forced to admit that she is a real witch. As a result, her reward is rescinded because she is not in actual costume. In anger, she turns everyone into their costumed characters and glides away on her broom. The only person who can reverse the spell is Maggie, who was costumed as a witch, and has become one as a result.
Half of the townspeople want to be turned back into their normal selves, including the Bumblebee Man, who was transformed into a giant bee, and Ned Flanders, chased by the bee as a result of turning into a flower. Unhappy members of the Simpson family include Lisa, who was turned into Albert Einstein, Marge, who became a skeleton, and Homer, who was no longer able to drink beer without spilling it because his head was severed from his body. The remaining townspeople do not wish to be transformed back to their original selves due to their costumes improving their lives. Examples include Bart, who has become a werewolf, Milhouse, who now has become a bulldozer, Moe who now has women thanks to dressing up as Hugh Hefner, and Sideshow Mel, who is now Spider-Man. Maggie turns them all, including Dennis Rodman, Kang, and Kodos, into pacifiers with their normal heads for no apparent reason other than her obsession for pacifiers, and flies off on a broom to the theme tune of Bewitched.
I really liked this one. B.I was a good Simpsons take on the spielberg movie. the big bart robot look pretty cool and detailed.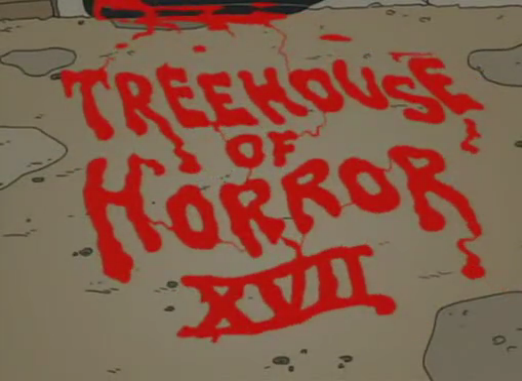 TREEHOUSE OF HORROR XVII
The episode begins with a parody of Tales from the Crypt, with Mr. Burns as the Crypt Keeper. The scene begins in a dungeon room, where a crypt opens, and after several waves of rats, snakes, spiders, and rabbits crawl out of a coffin, the Cryptkeeper sits up in it. He proclaims himself to be the master of "scare-amonies" to the delight of zombie Smithers. A bound Moe interrupts in protest and is killed in an iron maiden, his blood spilling onto the floor and spelling out "Treehouse of Horror XVII". Moe himself takes delight in this and proclaims "A Ho Ho! Look at that my blood is a genius! Fancy Roman numerals and everything!"
In a parody of The Blob, as Homer and Marge make out in the backyard, a meteorite falls nearby, burning off the top of Marge's hair in the process. It cracks open to reveal a green gooey substance that resembles a burning marshmallow. Homer, despite his family's objections (and the goo's attempts to flee), puts it on a stick and devours it. Later that night, his stomach rumbles from hunger, and Homer eats all the available food. He also eats Snowball V and then he attempts to eat Bart but is stopped by Marge. Homer then becomes morbidly obese, and eats a teenager in an attempt to "savor" him from the flames of a barbecue fire. Homer morphs into a giant green blob, rampaging through the streets of Springfield, eating all the overweight people he can find. Homer snacks on bus passengers as if they were chocolates and decapitates Ned Flanders. Dr. Phil McGraw shows up with the Simpson family and tells Homer to stop for their sakes. Homer ends his rampaging for fear of losing Marge and vows to use his insatiable appetite for more constructive purposes (he eats Dr. Phil anyway; his last words are "Food does not equal love!"). Later, Mayor Quimby dedicates a new homeless shelter. The homeless people enter the shelter, only to find themselves inside Homer's gut.
The population of Springfield are fooled by Orson Welles' infamous The War of the Worlds 1938 radio broadcast and believe the world has been invaded. Mass panic breaks out, and the citizens begin rioting. Marge voices her belief that the Martians will only destroy humans, so Sideshow Mel suggests they foil the aliens by cavorting naked in the mud like animals. They do this until the following day, when Lisa tells the citizens that it was all a hoax. Angry at being fooled, the citizens of Springfield vow to never fall for such a trick again. Meanwhile, Kang and Kodos, observing the entire event from their orbiting spaceship, decide this is the perfect time for a real invasion, and begin destroying what is left of the town. True to their word, the town does not believe that it is a real invasion and ignores it. Orson Welles comes to Springfield and admits it is not a staged act, but is unable to rouse the disbelieving citizens. The segment ends by jumping forward to three years later, with Kang and Kodos looking over the ruins of occupied Springfield and mulling on what went wrong and why they were not greeted as liberators, as they planned the invasion to rid Earth of "weapons of mass disintegration" which they refer to as "Operation Enduring Occupation" (in a reference to the war on Iraq). The segment ends with the camera pulling away from the smoking ruins of what was once Springfield, as the song "I Don't Want to Set the World on Fire" by the Ink Spots plays.
TREEHOUSE OF HORROR XIX
This segment may not be all that gory, but it's funny and, quite honestly, it will just make you feel good.
TREEHOUSE OF HORROR XX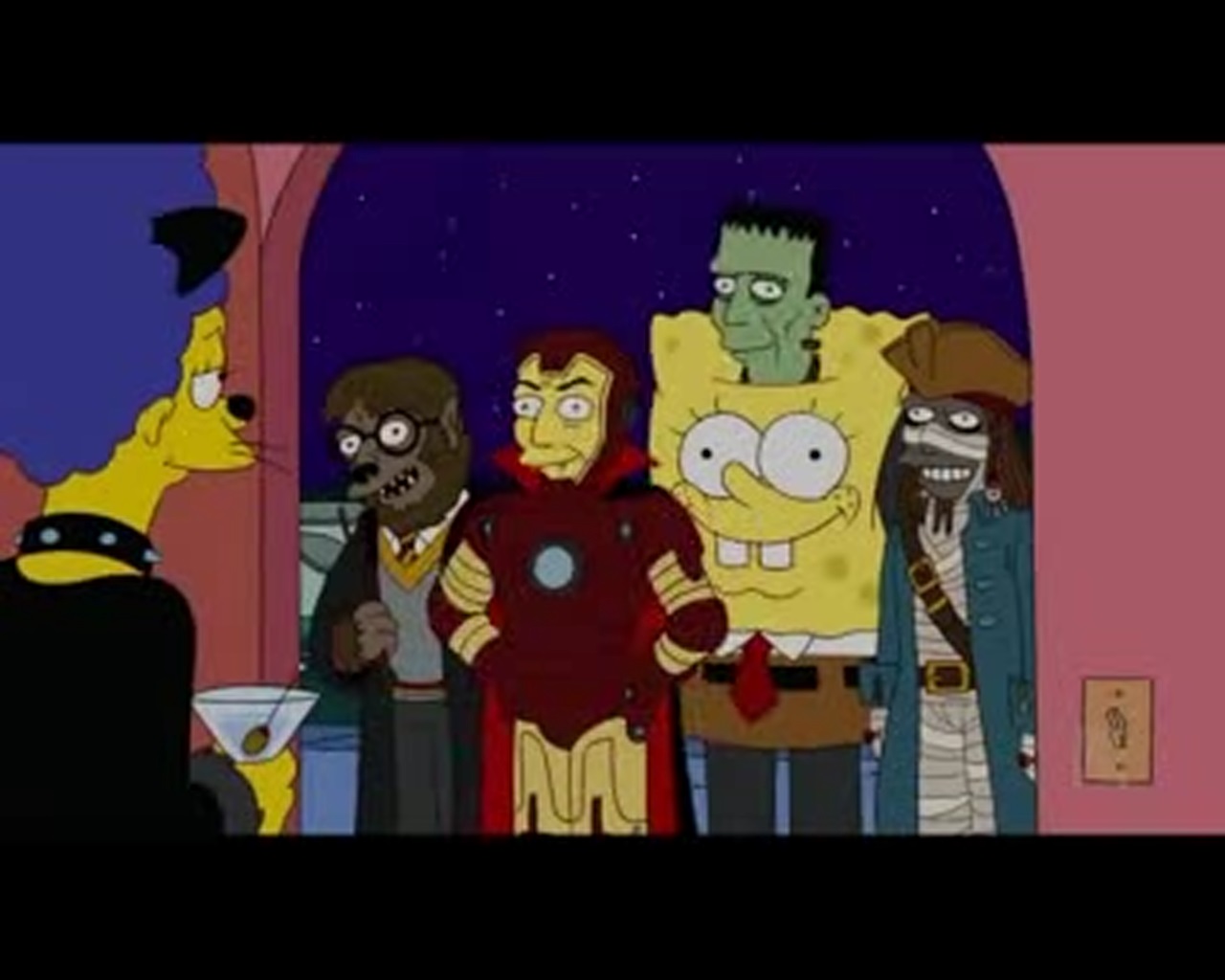 Traditional horror movie characters such as Frankenstein's Monster, the Mummy, the Wolf Man, and Dracula roam the streets of Springfield on Halloween night. After they are teased by Dolph, Jimbo, and Kearney, they get new, more modern costumes from a Halloween store, with Frankenstein's monster as SpongeBob, Dracula as Iron Man, The Wolf Man as Harry Potter and The Mummy as Captain Jack Sparrow. They then go to an adult Halloween party thrown by Homer and Marge, but are soon confronted by their wives, who are angry that their husbands lied about going out to kill children tonight. Homer tries to intervene as the wives begin to assault their husbands, only to be decapitated, and his eyes are then replaced with two red x's, the title of the episode then appears onscreen.
In a parody of Strangers on a Train, Lisa wants revenge after being sent to detention by Ms. Hoover for disrupting class as she claims another student topped her through a tutor. Bart hatches a "criss-cross" plan and tells Lisa that if she pulls a "ding-dong ditch" on Mrs. Krabappel, he will do the same to Ms. Hoover. Lisa thinks this means ringing the bell at Mrs. Krabappel's apartment and leaving. However, Lisa soon learns that Bart meant for her to kill Mrs. Krabappel (and dump the corpse in a ditch), as he has killed Ms. Hoover. Bart attempts to coax Lisa into killing Mrs. Krabappel with a paper cutter, but she refuses. Eventually, Bart decides to blackmail her into it with help from Willie, who would frame Lisa for the decapitated Skinner to honor his side of the "criss-cross" in which Bart killed Skinner. Realizing that Bart would frame her for these incidents, Lisa tricks him into belief that she was submitting at his will only to get a knife from his hands and attempts to kill Bart in self-defense, beginning a chase sequence. Bart finally finds shelter at a crowded playground carousel, but is left at Lisa's mercy when the other children leave to get ice cream. Lisa, however, recognizing that she would not be better than Bart, says she will never be a murderer, and attempts to throw the knife away. The knife cycles out of control and ends up nailing Bart in the head just as Mrs. Krabappel appears, pleased at his death. Despite her shock for accidentally killed Bart, Lisa agrees that it is better this way and she and Krabappel walk away smiling, leaving the murdered Bart to spin around on the carousel.
Krusty the Clown introduces a new version of his Krusty Burger, the Burger2, made from cattle that have eaten other cattle in their feed. Upon eating a burger on live television, Kent Brockman begins to comment on the taste before turning, gray, red-eyed, and cannibalistic, starting a chain reaction of people getting eaten. Twenty-eight days later, Springfield has become overrun by zombies (again and for the third time, not counting a Halloween-themed couch gag) — only now, they are referred to as "munchers." The Simpsons are established to be one of the few survivors. One day, Bart, tired of eating fruit, escapes from his family's barricaded house and eats one of the burgers, but turns out to be immune to its effects. Over the phone, a besieged Dr. Hibbert (who is fighting back quite well until the end of the phone call) tells them that Bart's immunity may be the key to developing a cure to the epidemic, a genetic "chosen one", and that they must bring Bart to a so-called "safe zone" outside the city. The Simpsons are attacked by the munchers after a failed attempt to sneak out. They are saved by Apu (after Rainier Wolfcastle failed his attempt), driving an armored off-road truck. Apu explains that he was never infected because, as a vegan and a Hindu, he is morally opposed to eating anything that was once an animal, and, as a convenience store clerk, he is "armed to the teeth" in case of a store robbery or a zombie apocalypse. The group tries to leave Springfield, but Apu crashes the truck on top of a pile of smashed cars. Apu goes to push the car off the pile, but the Simpsons drive away thinking Apu sacrificed himself, when he actually wanted the Simpsons to wait for him. After Apu is killed, the Simpsons drive on but run out of gas, walking the rest of the way to the safe zone. During their journey, Homer is bitten by a muncher Mr. Burns after picking off his nose, thinking he was dead, thus turning him into a muncher himself. The family decide not to kill him in the hopes of finding a cure. They reach the safe zone, where Bart – being immune to the muncher virus – is worshiped as the "chosen one". However, the people there believe that cannibalizing Bart will save them from the virus. The Simpsons think of another solution: vaccinating the remaining populace by having Bart bathe in their food before eating it.
In a parody of Sweeney Todd: The Demon Barber of Fleet Street, in which is presented like a Broadway musical, Moe is lonely and upset that he does not have a girlfriend and is jealous when he sees Homer and Marge together. When Homer falls into the basement of the bar and is impaled by the microbrew pipes, his blood becomes the secret ingredient in Moe's new beer. Everyone loves this new beer, saying that it makes them feel warm, secure and cozy on the inside. Moe uses this to his advantage and woos Marge, tricking her into thinking that Homer came out of the closet as a homosexual and left Marge, when in reality, Homer is slowly dying from losing blood. Homer emerges, alive, despite being impaled by Moe's microbrew machine, hurls a dummy of Moe across the room, and reunites with Marge.