MAIN CAST
Tim Daly (Wings)
Dana Delaney (Hand of God)
David Kaufman (Justice League: Doom)
Clancy Brown (Highlander)
Corey Burton (Critters)
Michael Ironside (Total Recall)
Joseph Bologna (The Nanny)
George Dzundza (Species II)
Lisa Edelstein (House)
Lauren Tom (Futurama)
Mike Farrell (MASH)
Shelley Fabares (Coach)
Joely Fisher (Til Death)
Victor Brandt (T.J. Hooker)
Joanna Cassidy (Blade Runner)
RECURRING / NOTABLE GUEST CAST
Christopher McDonald (Fanboys)
Finola Hughes (General Hospital)
Tony Jay (Lois & Clark)
Malcolm McDowell (Heroes)
Tress MacNeille (Futurama)
Jason Marsden (Full House)
Dorian Harewood (Earth: Final ConflicT)
Brad Garrett (Finding Nemo)
Bruce Weitz (Hill Street Blues)
Kevin Michael Richardson (The Cleveland Show)
Robert Patrick (Terminator 2)
Brion James (Blade Runner)
Sherman Howard (Superboy)
Richard Moll (Scary Movie 2)
Frank Welker (The Simpsons)
Larry Drake (Firefly)
Michael York (Logans Run)
Ron Perlman (Hellboy)
Ron Glass (Firefly)
Miguel Ferrer (Robocop)
Carl Lumbly (Alias)
Marion Ross (That 70s Show)
Cam Clarke (Teenage Mutant Ninja Turtles 80s)
Robert Hays (Airplane)
Gilbert Gottfried (Aladdin)
Sandra Bernmhard (2 Broke Girls)
Ernie Hudson (Ghostbusters)
Lori Petty (Tank Girl)
Mae Whitman (Boogeyman 2)
Michael Dorn (Star Trek: TNG)
Arleen Sorkin (Duet)
Mark Hamill (Star Wars)
Bob Hastings (McHale's Navy)
Robert Costanzo (Total Recall)
Kevin Conroy (Batman: The Killing Joke)
Efrem Zimbalist Jr. (77 Sunset Strip)
Ted Levine (The Silence of The Lambs)
Jennifer Lien (Star Trek: Voyager)
Cree Summer (Batman Beyond)
Xander Berkeley (Kick-Ass)
Carolyn Seymour (Congo)
Edward Asner (Elf)
Dennis Haysbert (24)
Peter Gallagher (American Beauty)
Roddy McDowall (Planet of The Apes)
Paul Williams(The Muppet Movie)
John Glover (Smallville)
Henry Silva (Above The Law)
Melissa Joan Hart (Sabrina: TTW)
Jason Priestly (Tru Calling)
Chad Lowe (Unfaithful)
Sarah Douglas (Superman 2)
Billy West (Futurama)
Peri Gilpin (Frasier)
Miguel Sandoval (Medium)
Nicholle Tom (Gotham)
Olivia Hussey (IT)
David Warner (Tron)
Charles Napier (The Silence of The Lambs)
I think people can generally divided into two categories: Batman people or Superman people. Either you are into the dark, gloomy and atmospheric or the optimistic and all-American. I've always considered myself a Batman guy. As such, I was estatic when "Batman: The Animated Series" hit the airwaves. An excellent portrayal of the Caped Crusader, it set a new standard for cartoons, not on in terms of the look, but also the stories. Cartoons didn't have to be made for children, but could aim higher.
So after the success of "Batman: TAS," it was only natural for Superman to get a new chance at the small screen. The creative minds behind the Dark Knight's cartoon renaissance took on Big Blue, and took him to heights not seen since the early Fleischer cartoons made him the original animated superhero standard bearer. By sticking to the character's roots, but not allowing themselves to be restricted by a slavish attention to the comic books or movies, the creators created a cartoon Superman that fans could embrace, but those without a comic-book education would enjoy as well.
The majority of the episodes follow something of a pattern, as Supes faces a challenge from a villain, is overcome and figures out how to overcome that challenge just in time to get the bad guy before 22 minutes are over (unless it's a multi-episode story arc.) When the show shakes free those format shackles is the moment when the series shines. Episodes like the series-opening three-show "The Last Son of Krypton," "Speed Demons," which co-stars The Flash and "My Girl," which introduces the all-grown-up Lana Lang, are among some of the most enjoyable in this volume. That's not to say that the straightforward adventures aren't fun, as "Two's a Crowd" and "Fun and Games" show.
Superman aficionados will enjoy appearances by Toyman, Bibbo, Metallo, Brainiac, Darkseid and a raucous two-episode appearance by the Main Man, Lobo. There's also plenty of celebrity voices to listen for, including Lori Petty, Tim Daly, Dana Delaney, Ron Pearlman, Leslie Easterbrook, Lauren Tom, Brad Garrett, Mike Farrell, Shelley Fabares, Christopher McDonald, Malcolm McDowell, Bud Cort, Joe Bologna, Michael York and Joely Fisher. If you don't know which characters they play, I won't ruin it. It adds another layer of enjoyment to watching the show.
these shows are great, with great writing and animation in every episode. Highlights from this second volume include the episodes "Identitiy Crisis" which introduces Bizarro and "Heavy Metal" which introduces fellow superhero Steel, who teams up with Superman to battle Metallo.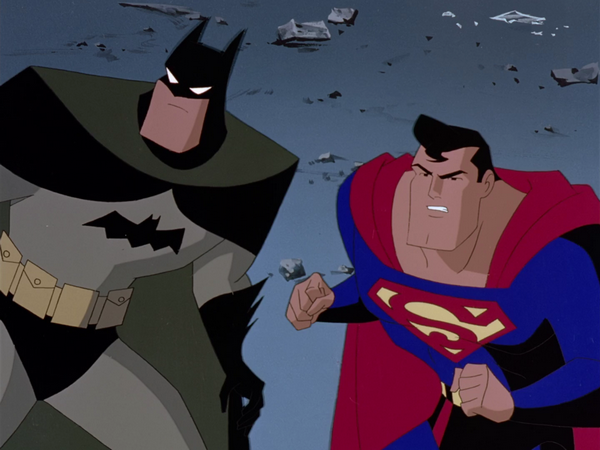 "World's Finest" is a three-part episode that teams Superman with Batman for the first time as they both take on their respective arch-nemesis, Lex Luthor and the Joker.
Other episodes feature appearances by a variety of villains and guest heroes – Dr. Fate shows up in "The Hand of Fate" – but the best episode of the collection has no guest appearance by a crime fighter or a super villain. "The Late Mr. Kent" is perhaps the most complex and best written of the 18 episodes in this volume – and perhaps the entire series. The story revolves around Clark Kent's attempts to clear a man on death row before he is executed. For his troubles, someone tries to kill the intrepid reporter, and most people believe he is dead, leaving Superman alone, without his alter ego to rely upon. For a show that clocks in at less than thirty minutes, it offers some complex insights into the relationship between mild-mannered Clark Kent and his crime-fighting counterpart Superman.
The main arc of this season borrows from the comic book universe and brings Darkseid and his homeworld to the forefront. Hinted at earlier in the show, it's in this third volume that the Lord of Apokolips finally gets his payoff – and his payback. In a trio of two-parters, Apokolips… Now!, Little Girl Lost, and Legacy, Superman fights one of his most ruthless foes in a series of episodes that offer some excellent action, drama, and science fiction fun.
While these episodes are very faithful to the mythos, we've also got a great selection of original stories that go to prove that with a character like Superman, there is no limit to the stories that you can tell. One of my favorites is Knight Time. When Batman goes missing, Superman pays a visit to Gotham City and tries to find out where his friend has gone. Supes inadvertently ends up masquerading as Batman – dressing up in the Dark Knight's costume and everything! – and teams up with Robin to solve the mystery of the missing Bruce Wayne. Not only is the episode entertaining, but it's also got a great sense of humor. Seeing Superman do his best impersonation of Batman is wonderful – Clark doesn't know which utility pockets contain what, and his attempts at being grim (nodding his head instead of speaking) are great.
Watching these shows you get the feeling that it was during this final stretch of episodes that the show's producers were finding new ways of playing with the formula that they had designed, and perfected, with both Batman: The Animated Series and Superman: The Animated Series. Not only do these Superman episodes have a lot of two-parters, but we've also got some great guest-stars; it seems that this show is the precursor to Justice League.
We've got heroes, Kyle Rayner from In Brightest Day, and villains, Ra's Al Ghul in The Demon Reborn, and everyone in between – everyone's favorite master of the sea, Aquaman in Fish Story. We also get an expansion of the Superman supporting cast when Supergirl makes a welcome appearance in the Little Girl Lost two-parter.
In one of the episodes found in this collection, Superman pays his final respects to a recently departed friend. In the graveyard, Superman comes to realize something very important: "In the end, the world didn't really need a Super man. Just a brave one." This show gives us a character who is both brave and super. It gives us a real hero. It gives us Superman… as good as he's ever been.