MAIN CAST
Topher Grace (Spider-Man 3)
Mila Kunis (Ted)
Ashton Kutcher (Two and a Half Men)
Danny Masterson (Yes Man)
Laura Prepon (Karla)
Wilmer Valderrama (Minority Report TV)
Debra Jo Rupp (Death Becomes Her)
Kurtwood Smith (Robocop)
Tanya Roberts (Charlies Angels)
Don Stark (John Carter)
Lisa Robin Kelly (Payback)
Josh Meyers (Date Movie)
Tommy Chong (Evil Bong)
RECURRING / NOTABLE GUEST CAST
Wayne Pere (Galaxy Quest)
Mark Bramhall (Alias)
Danny Bonaduce (The Partridge Family)
Marion Ross (Happy Days)
Nick Bakay (Sabrina: TTW)
Dwayne Johnson (The Scorpion King)
Gary Owens (Batman 60s)
Joseph Gordon-Levitt (The Dark Knight Rises)
Katey Sagal (8 Simple Rules)
Jennifer Lyons (The Amazing Spider-Man)
Grey DeLisle (The Replacements)
Mitch Pileggi (The X-Files)
Lynsey Bartilson (Grounded for Life)
Lyle Waggonr (Wonder Woman)
Neil Flynn (Scrubs)
Stephen Tobolowsky (Heroes)
Melissa Joan Hart (Sabrina: TTW)
Lindsay sloane (Bring It On)
Amy Adams (Batman V Superman)
Kevin McDonald (Lilo & Stitch)
Bob Clendenin (Cougar Town)
Shirley Jones (The Partridge Family)
Charo (Don't Trust B— In Apartment. 23)
Robert Hays (Airplane)
Marnette Patterson (American Sniper)
Matt Battaglia (Mike & Molly)
Allison Munn (What I Like About You)
Howard Hesseman (Lie to Me0
Alice Cooper (Dark Shadows)
Curtis Armstrong (New Girl)
Keri Lynn Pratt (Veronica Mars)
John Ratzenberger (Cheers)
Ileen Getz (3rd Rock From The Sun)
Dave Thomas (King of The Hill)
Wayne Knight (3rd Rock From The Sun)
Cynthia LaMontagne (Austin Powers)
Tom Kenny (The Batman)
French Stewart (Mom)
Regan Gomez-Preston (The Celveland Show)
Alice Frank (The Secret Craft)
Mo Gaffney (2 Broke Girls)
Erika Christensen (Flightplan)
Nicholas Gonzalez (Sleepy Hollow)
Brittany Daniel (That 80s Show)
Michael Milhoan (Crimson Tide)
Luke Wilson (Old School)
Christopher Masterson (Malcolm In The Middle)
Roger Daltrey (Highlander: The Series)
Jessica Simpson (Employee of The Month)
Betty White (The Golden Girls)
Tom Poston (Newhart
Joanna Canton (The Convent)
Sarah Lancaster (Chuck)
Jim Rash (Community)
Jack Osbourne (New York Minute)
Seth Green (Family Guy)
Fred Willard (Wall-E)
Bobcat Goldthwait (Blow)
Jim Gaffigan (17 Again)
Leigh-Allyn Baker (Good Luck Charlie)
Nancy Lenehan (Two Guys and a Girl)
Garrett M. Brown (Kick-Ass)
Christina Moore (Without A Paddle)
Estella Warren (Planet of The Apes)
Shannon Elizabeth (Scary Movie)
Dan Castellaneta (The Simpsons)
Shonda Farr (Crossroads)
James Avery (The Fresh Prince of Bel-Air)
Eric Allan Kramer (The Incredible Hulk Returns)
Alyson Hannigan (How I Met Your Mother)
Billy Dee Williams (Star Wars)
Brooke Shields (The Blue Lagoon)
Rachel Bilson (Chuck)
Morgan Fairchild (Roswell)
Tim Reid (IT)
Richard Kind (Gotham)
Winston Story (Masked Rider)
Lindsay Lohan (Mean Girls)
Megalyn Echikunwoke (Arrow)
Jenna Fischer (The Office)
Ron Rogge (Power Rangers Lightspeed Rescue)
Eliza Dushku (Tru Calling)
Chris Elliott (How I Met Your Mother)
Bret Harrison (V)
Jud Tyler (Andromeda)
Yvette Nicole Brown (Two and a Half Men)
Bruce Willis (Red)
Don Knotts (Pleasantville)
Carol Ann Susi (The Big Bang Theory)
Dick Van Patten (Eight Is Enough)
Gavin MacLeod (The Love Boat)
Mary Tyler Moore (Lipstick Jungle)
Isaac Hayes (South Park)
Lara Everly (Playing It Cool)
Barry Williams (The Brady Bunch)
Christopher Knight (The Brady Bunch)
Justin Long (New Girl)
In 1998 the creators of 3rd Rock from the Sun introduced That '70s Show. It's a very hilarious sitcom that takes place in, believe it or not, the 70s. Located in a fictional suburb of Green Bay, Wisconsin known as Point Place, the series revolves around the comical daily interactions of the Forman family and their friends and neighbors. Through twenty-five great episodes, the first season tackles many familiar issues like sex, drugs, dating, friendships, and family values. These issues turn into a few sticky situations that should leave you rolling over with laughter. The first season has some really great episodes, which is mostly due to the great cast and some outright great stories. That '70s Show is without a doubt, a great sitcom.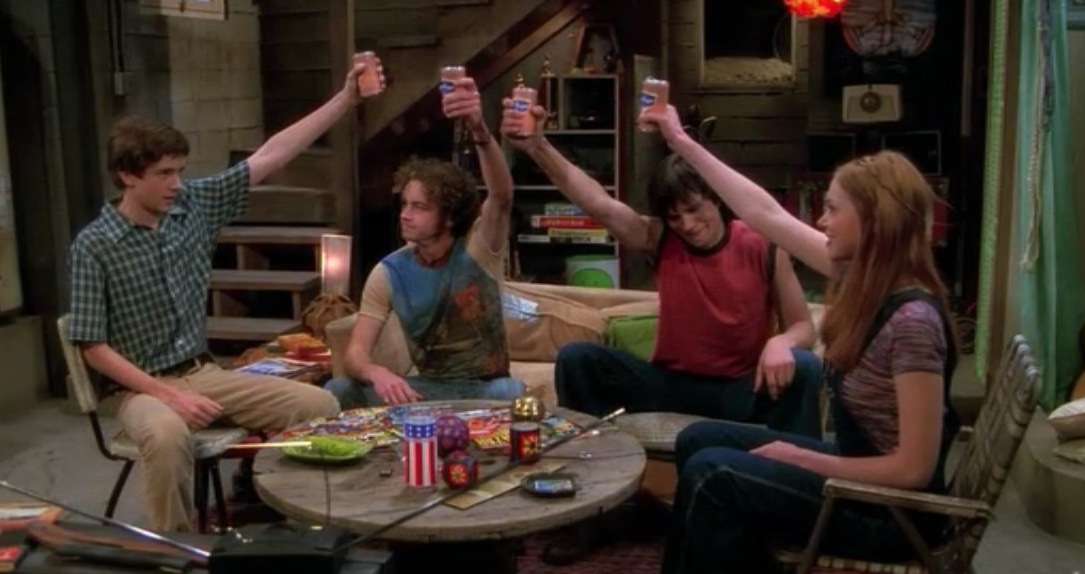 The first season cast of That '70s Show is fairly large, with eleven different characters. This series does well handling this large cast, in presenting their neurotic behaviors and quirks and their overall character development, as well as outlining their interactions. The cast is also presented in a manner that is attractive, which makes them all very likeable. It's really hard not to love this cast.
The series' main character is a teenage boy, Eric Forman (Topher Grace). He's your average kid, although a bit geeky. It's his life that the series revolves around. His parents Red (Kurtwood Smith) and Kitty (Debra Jo Rupp) join him in every episode. There relationship is comical, but a little unhealthy at times. Red doesn't like to show his feelings towards his son, so he typically treats him like an idiot and quite frankly, sometimes Eric can be an idiot. While this may sound "bad" or "mean", it comes off in a manner that's comical and not cynical. It's one of my favorite aspects of the series. I simply love the relationship that Eric and Red have. Between the two is Kitty, she typically tries her best to promote a healthy father/son relationship. In the episode "That Wresting Show" (guest starring The Rock) she's mildly successful, when she gets them to go to an amateur wrestling match together. Eric's sister, Laurie (Lisa Robin Kelly), while not officially on cast until season two, makes a few appearances that leave Eric's friends drooling.
One house down the street lives the Pinciotti family. Donna (Laura Prepon) is one of Eric's childhood friends and his current love interest. In the first season their relationship evolves into something beyond friendship. It's fun to watch them haphazardly venture into the issues of love, as two inexperienced teenagers. There are more than a couple of episodes that show just how comical love can be. For instance, in the episode "First Date", Eric and Donna's first date doesn't go as well as planned when somebody's ice tea turns out to be a long island ice tea! Donna's parents, Bob (Don Stark) and Midge (Tanya Roberts) are the type of characters that are oblivious to the obvious. Bob gets put at the butt of a few jokes, with the best coming from Red. Midge is a stereotypical blonde trying to find herself as a Feminist. These two add quite a bit to the season, especially in episodes like "The Pill". Bob doesn't handle it well when he finds out his daughter is taking birth control pills.
The rest of Eric's friends are made up of Michael Kelso (Ashton Kutcher), a clueless dumbstruck pretty boy, Jackie Beulah Burkhart (Mila Kunis), a rich stuck-up snob with no shame, Steven Hyde (Danny Masterson), an average I hate everything kind of guy, and Fez (Wilmer Valderrama), a foreign exchange student who is learning the American way of life. Their interactions add a lot to the series. Hyde is a great character, because he's so cynical and he's constantly cracking jokes on his friends. Fez is always making you laugh, because his translation of English is sketchy. More frequently than not he misses a few things in translation, which results in a few funny statements. Jackie isn't well liked by the gang. Her personality tends to drive people away, except for Kelso. He seems to be captivated by her beauty. For this reason, they're behind a lot of Hyde's jokes. Furthermore, Kelso just says and does some pretty stupid things that make you laugh. Together the cast provides some great characters that are both funny and likeable. Their interactions with each other are amazing, in just how they can turn boring daily situations into a laugh fest.
I thought that this was a very good season. It's all of the little things about the cast and their interactions that really make this a great comedy series. In addition, there are some outright great episodes. One of my favorite episodes of the season is "Streaking". When President Ford decides to stop in Point Place, Eric and the gang see the opportunity to do something wild and crazy, streaking. I really enjoyed this episode because running around naked is funny. There's no question about it. Another great episode is "Eric's Buddy", where Eric befriends one of the cool kids at school, 3rd Rock from the Sun's Joseph Gordon-Levitt. However, friendship isn't everything the new guy's got in mind, as Eric soon finds out! For the fans of Star Wars, there's a great parody episode, "A New Hope". After Eric and the gang see Star Wars, a couple of them get a little too into it. So naturally, when Eric and Donna run into problems with their relationship, he dreams about them in a Star Wars setting. This is a great episode, because Eric really blows things out of proportion, which of course isn't anything new. These are only a few examples of the great episodes that season one has to offer.
Another great aspect about this series is its alternative look on life. In many of the episodes, we get a view of Eric and company's lives while high. This aspect isn't really about the drug use, but rather the funny aftermath. When Eric and his friends are high, they say some pretty stupid things. Of course, even when they're not high they still say and do some pretty stupid things. In general, the dialogue is very good, which is another reason that the cast's interactions are so funny. Some of the things they say and the jokes they make seem like pure genius. It's also presented in manner that isn't corny or cliched, but is bluntly put, comical.
As for the stories in season two, there is more emphasis on story arcs than in season one. However, the focus is not really big. While they can play an important role in creating sticky situations for Eric and company, they aren't so important that watching the episodes out of sequence could ruin your experience. Some of the story arcs build upon small life changing events from the first season and others are just themed from the common sitcom daily interactions.
Firstly, Red being in and out of work becomes the backbone of several episodes. One of the funniest situations to come from season two brews from a soon to be jobless Red. In "Garage Sale", my favorite episode of the season, the Formans have a garage sale. Kitty eagerly tries to get Eric and Hyde to participate in the sale. But, they both have their own agendas and aren't too excited to help out. Eventually, Kitty convinces Hyde to sell brownies. Hyde being Hyde decides to make "special" brownies, and the special ingredient is marijuana. What really makes this a strong episode is who ends up eating the special brownies. This crazy situation allows the cast to experience a role reversal. It's not everyday you get to see Red go from a hard ass to a stoned fool. Later into the season, Red gets another job as a manager at Pricemart. In "Red Gets Fired Up" something pretty rare in the world of That '70s Show happens, Eric and Red bond.
There are also some stories about love and relationships. One of the funniest long running stories with Kelso's love triangle. In season one, Eric's older sister Laurie put the moves on Kelso and in season two, the relationship gets taken up another notch. But where there's Kelso, there's Jackie and both girls have their eyes on him. The relationship theme continues with Eric and Donna exploring young love. "I Love Cake" is a good example, where Donna expresses her feelings of love for Eric. Like a fool, he tells her how much he loves cake. There is also some focus on the Pinciotti's. Bob and Midge's relationship starts go south. The best episode with this underling story is "Red's Birthday". Bob and Midge bring dates to Red's birthday party. The catch is they still live together.
Overall, this season does well playing off of reoccurring stories. As earlier mentioned, the story arcs play a role in setting up the situations, but they aren't so significant you need to be familiar with them to enjoy the season. The episodes are good on their own merit. One very good example is "Halloween". The episode takes a look into Red and Kitty's past, before they had kids and Eric and the gang get into odds with each other when they start revealing very personal secrets. Another solid episode is "Holy Crap". It marks the first appearance of guest star Kevin McDonald (Kid in the Hall) as Pastor Dave.
For season three, there are a lot of fun episodes and stories. The first bunch we'll talk about have to do with relationships. In the first two seasons Kelso and Jackie have been an item. In season two Jackie found out Kelso cheated on her with Laurie and they broke up. In this season Jackie sets her eyes on Hyde. Despite Hyde's expressed dislike of Jackie, she continually pursues him and he finally asks her out on date in "Jackie Bags Hyde". They find out the chemistry isn't quite there. Meanwhile, Kelso is trying to make things work with Laurie, but also still has feelings for Jackie. As for Fez, this season marks his first girlfriend. Midway into the season, he meets a girl named Caroline. Unfortunately for him, she turns out to be a bit crazy in the head. This eventually turns into the fun episode "Fez Dates Donna", where Fez pretends to date Donna to get away from his crazy girlfriend.
The other young lovebirds, Donna and Eric, are still together in this season. Many of the episodes are about their cozy little relationship. "Romantic Weekend" is a perfect episode about the couple. In it, Eric takes Donna away for a few days of romance. Unfortunately for Eric, he left the brochure for the bed and breakfast they are staying at on the counter and Red whisks Kitty away to the same place. When Eric and Red find out they're staying in the same place, they try their best to pretend the other isn't there, as not to disturb their romantic weekends. Of course nothing goes their way and when things get messed up, you'll laugh. "Baby Fever" is another solid episode, where Eric and Donna image what their future will be like together. The reflection segments are an absolute riot.
"Dine & Dash" is a fun episode, where Kelso treats his friends to an expensive lobster dinner. When the meal is over, he informs everyone they are going to leave without paying. One by one they trickle out of the restaurant, leaving poor Eric alone. "Holy Craps" sees the return of Pastor Dave (Kevin McDonald, Kids in the Hall) and it is a blast. Kitty gets Red, Eric, Kelso, and Hyde to help at a church fundraiser. To Kitty's dismay, they abuse their posts. The episode also includes a hilarious performance from Cheers' John Ratzenberger. Pastor Dave also shows up in "Eric's Drunken Tattoo". The episode has some great segments with Kitty, Red, and Dave.
This season also has two episodes with the word panties in the title and they are unequivocally funny. In "Donna's Panties", Eric pulls down Donna's pants in front of Fez, Hyde, and Kelso. She's wearing big white cotton briefs and they start poking fun at her by calling her granny panties. It's a Valentine's Day Eric will never forget! The other episode "Eric's Panties" has Eric afraid that Donna might be jealous of him because he is spending a lot of time with his attractive female lab partner. But she laughs at him and won't believe an attractive girl like her would be interested, until she finds a pair of panties in the Vista Cruiser
Saving the best for last, "Canadian Road Trip" is the funniest episode this season has to offer. Eric, Fez, Kelso, and Hyde join Leo on a road trip into our northern neighbor, Canada. There the drinking age is lower and the boys can legally purchase beer. Unfortunately, Fez doesn't have his green card and the Mounties working border patrol are less than willing to let them return to the states. They're convinced they are smuggling illegal aliens. How this episode builds and the way it concludes is pretty damn funny. It's a fun episode you'll want to over and over again.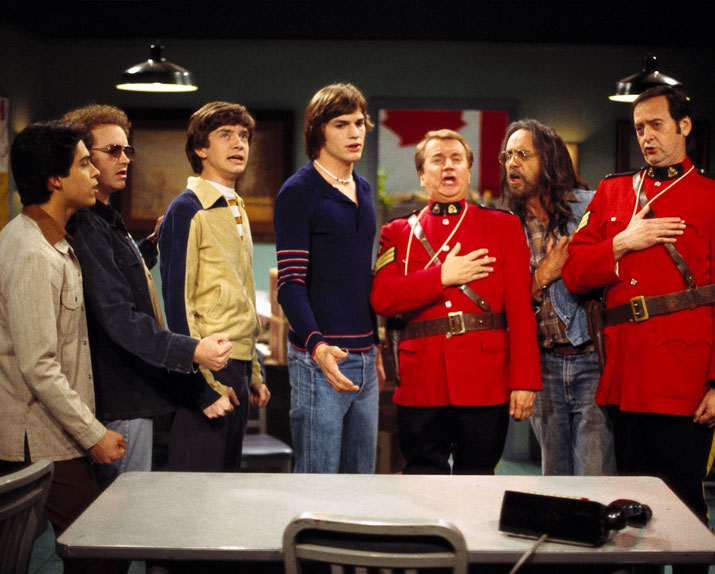 Overall I was quite happy with season three. If you couldn't tell from my reviews of season one or season two, I really love this show. The episodes in this season were just as rich, if not more, than what you find in past seasons. If you are looking to laugh over and over again, then season three of That '70s Show has more than enough fun packed in its episodes.
In the closing of season three, Eric and Donna broke up. Eric gave Donna a promise ring, which she couldn't bring herself to wear because of its symbolism. As such, Eric reacted badly and ended their relationship. Season four picks up with Eric dealing with the breakup. Wayne Knight (Seinfeld, 3rd Rock From the Sun) guest stars in the season premiere episode "It's a Wonderful Life" as a holy angel who shows Eric what life would like if Eric never dated Donna. The angel wants Eric to realize it is better to have loved and lost than it is to have never loved at all. Eric's cynical attitude and Newton's common antic performance make this a fun episode.
In the next episode "Eric's Depression" everybody tries to cheer Eric up and out of bed. The gang invites Eric to Fun Land, but he isn't up for it. They end up going with him. Just how well Kelso fits into the consumer base of the park is a riot. Red also tries to repair Eric's broken heart by giving him chores. They even share a touching heart-to-heart moment at the end. In "Pinciotti v. Forman", Eric's depression is better and he is up and about once again. Life is somewhat back to normal, except that Eric kicks Donna out of the basement while hanging out. This leads to Eric and Donna treating their friends like recently divorced couples do with their kids. They spoil everyone and try to make spending to with them better than the other.
Another big story for the series takes place in "The Relapse". The story is about Midge divorcing Bob. Midge left Bob and Donna to go to California because she was not happy with her life as a housewife. This sad and tragic event turns out to be fun. Hard ass Red is put in an uncomfortable position (being nice to Bob) several times over. The breakup also allows for a new recurring character to join the cast. Joanne Steupeck (Mo Gaffney) is a modern woman with a backbone. She makes for a fun character because she is more than willing to butt heads with Red.
"Donna's Story" is an episode where Donna writes a fictional story that is far too close to reality. It is about her relationship with Eric and after publishing it in the school paper everyone thinks he is a pig. In "Red & Stacey", Red tries to fix Eric up with the new cashier at Pricemart. Unfortunately, she only has eyes for Red. What really makes this fun is how awkward Red gets and acts after he finds out about her feelings. Not to mention, how Eric and Kitty both react when they find out. Hilarious.
"Jackie Says Cheese" is a fun episode because Jackie joins working America. Her father found out she is still dating Kelso and mandates if she continues to date him, he will cut her off financially. Torn between the most important things in her life, she chooses love and finds herself as the cheese girl at the Cheese Palace. In the later episode "Jackie's Cheese Squeeze" she cheats on Kelso with her geeky manager. Despite Kelso having cheated on Jackie several other girls, he freaks out and breaks it off. They spend the rest of the season trying to repair their relationship.
Fez starts dating big Rhonda in "Hyde Gets The Girl", which is more or less a side story that didn't have a huge impact on the season. There were some fun parts surrounding it, but it wasn't Fez's best moments. "Donna Dates a Kelso" is a pretty big episode for the season. Jackie convinces Donna she should get over Eric by dating other guys. She fixes him up with Kelso's older brother Casey (Luke Wilson, Old School). Wilson gives a great performance throughout the season as Casey, a cool suave, egocentric lady's man.
This season continues to be an absolute blast with the characters working well together to produce some fun episodes. I especially enjoyed the various reoccurring and guest characters that appeared this season such as Luke Wilson, Richard Karn, Mo Gaffney, Kevin McDonald, and Wayne Knight. Fans of the series should really appreciate getting to sit through the entire fourth season and relive the Eric/Donna breakup, as well as the departure of Midge.
In season five, the multi-season story arc continues to deal with Eric and Donna's relationship. It hit a roadblock in season four, which was Donna's new romantic love interest Casey (Luke Wilson). Casey and Donna were on and off, and it ended on a bad (but funny) note. Kelso and Jackie's relationship was also at the fore and towards the end of the fourth season, they broke up. In the season four finale, Donna and Kelso hopped in Kelso's van and drove to Malibu, California to get away from all of the drama in Point Place.
In the opening of season five, summer is coming to an end and senior year is about to start. Eric considers what to do about Donna and decides to go after her, despite Red and Kitty forbidding him to do so. In the aftermath, Eric and Donna renew their romantic relationship and when they get back to Point Place, they are in for a world of trouble. Red takes the vista cruiser away from Eric and Bob puts Donna in private school. Throughout the remainder of the season, Eric and Donna's love story remains a key development. It follows them into minor bouts of jealousy, an engagement, and college at the University of Wisconsin in Madison.
The other leading season story is a love triangle with Kelso, Jackie, and Hyde. While Kelso was off in California spending time with his new girlfriend Annette (Jessica Simpson), Hyde and Jackie hooked up. It is an odd pairing, as the two have hated each other from day one. But over the summer, more or less from boredom, they found comfort in each other's arms. The background story about how they got together is a riot, see episode "I Can't Quit You Baby". At first, Hyde and Jackie were just fooling around, but they both develop strong feelings for each other. Hyde does, especially, when Kelso comes back into the picture. Soon the three find themselves locked in a love triangle, as Jackie cares about both guys and she is not sure who she should be with.
Complicating Jackie's life even more are her parents, or rather the predicament they left her in. Jackie's dad, Point Place City Councilman, is caught accepting a bribe and goes to prison. And Jackie's mother is off partying in Mexico and has no desire to come home to care for her daughter. Jackie is left without a home and looks to her friends, Red, Kitty, and Bob for help. Besides the love triangle dealing with Jackie, Hyde and Kelso both get jobs at a hotel working in the kitchen. Kelso decides to become a police officer because he thinks it is the best way to stay pretty forever. He quits modeling and takes a job at the hotel. Hyde deals with the fact that Leo left Point Place without saying good. At the hotel, a new reoccurring character is introduced, Roy (Jim Gaffigan). Roy runs the kitchen and he offers a stupid-than-Kelso-character. Good for a quick cheap laugh.
Fez joins the working force at the Department of Motor Vehicles. While at the DMV with Kelso, Fez is exposed to the kind of people who work there. He sees it as the "belle of the ball," being able to boss people around and treat them like crap no matter their social-economical status or ethnic background. He gets a job there and pursues a relationship with his boss Nina (Joanna Canton). Nina is an overly neurotic character who loves her job at the DMV a little too much. There are some silly stories with Fez and Nina. The best is "Whole Lotta Love", where Fez loses his virginity to Nina and his recounts of the event are a riot.
The entire Foreman family goes through some troubling situations. First of all, Kitty announces she is pregnant in "What Is And What Should Never Be". The idea of another kid puts Red into fret, and gives Eric a chance to be the man and set Red straight. Fun change of pace. But the newborn news becomes a sad story when Kitty finds out it is menopause. Throughout the season, Kitty struggles with her mood swings and the various situations that arise from Eric and Donna's engagement. There are also some traumatic events for Kitty, Red, and Eric to deal with concerning Kitty's parents Bea (Betty White) and Burt (Tom Poston). Laurie (Lisa Robin Kelly) also returns to the show for a couple of episodes. Notably in the season finale, she and Fez do the Unthinkable.
Overall, season five presents some strong episodes and story arcs about the cast, their relationships with each other, and the all around goofy situations the get into. I particularly loved the dynamic between Eric and Red. The two were at odd ends for a portion of the season, and it made for some hilarious stories with the entire cast caught in the middle of it all. How both Grace and Smith act together is fantastic. The rest of the season's events were done nicely as well. In the end, fans of the series and sitcom-goers should check out this season set.
Season six has a lot of different things going on for the gang (and a few new faces). The notable storylines include Red's heart-attack, Donna and Eric's relationship, Kelso as a police cadet, Fez getting his green card, and more. The season six stories continue to give That '70s Show the edge that made it hilarious throughout the first five seasons.
In the close of season five, Red had a heart-attack. After learning that his precious daughter Laurie (played by Christina Moore in season six) married Fez to help him become a United States citizen, his heart gave. This storyline is revisited in the season six premiere. Red comes home and he is under strict orders from the doctor to take it easy. For Red, it means no work, beer, tasty foods, or fun! Eric, who is preparing to leave for college with Donna, feels guilty as he sees his mother working herself silly trying to care for Red and pay the bills. Eric postpones college to stay at home until Red is in better health. At first, Donna is intent on going to college without Eric, but decides love is more important and stays in Point Place.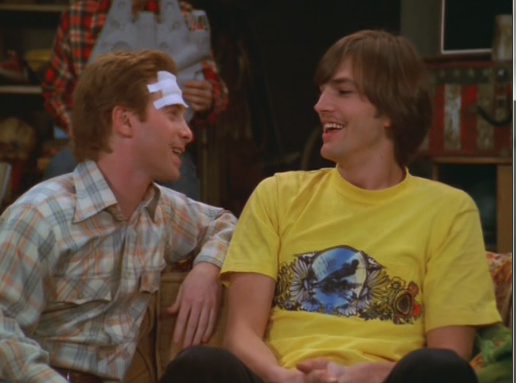 Tying into Red's heart-attack, the entire family has to deal with the post-marriage blues. Fez and Laurie's marriage is far from happy. It is purely a favor on Laurie's part, as she sleeps around to Fez's dismay. Their uncanny romance becomes an issue when an INS Agent comes to investigate the validity of their marriage. Red, who opposes the marriage, poses Fez's biggest threat. He wants to see them divorced. The humor comes from the situation and Red buckling to help Fez out. Later, he even tutors Fez in U.S. history to prepare for the test to get a green card. The two have a great chemistry together and carry the storylines about the marriage well.
Eric and Donna's relationship is, once again, at the center of everybody's attention. This season they go through some major ups and downs as they prepare to tie the knot. The fun storylines include the couple lying to Pastor Dan (Billy Dee Williams) about being virgins, a fun venture in choosing gifts for the wedding registry, Donna giving up her dream to be Eric's wife, moving into a trailer, and Eric ruining Donna's wedding dress. The events that happen associated with their holy matrimony is a riot and part of what makes this season so much fun.
Kelso is at the center of a couple big season changes. In season five, he decided the best way to stay pretty was to become a cop. This season Kelso is a police cadet and there are some hilarious stories with him, the police academy, and the rest of the gang. In addition to being a police cadet, Kelso has to face other life responsibilities when a new reoccurring character Brooke (Shannon Elizabeth) is introduced. She is a hot girl who works at the library. A few months ago, she and Kelso had a fling and now she's pregnant with his baby. He has to woe her by showing her that he is capable of being a responsible individual.
Another fun change this season is the addition of Brooke Shields. Shields plays Pamela, Jackie's ditzy, sexy mother. When Jackie's dad went to jail last season, Pamela went to Mexico. She returns to Point Place after her rich boyfriend ran out of money. She quickly latches on to Bob, who is rich, and it drives Jackie and Donna up the wall. Then there is Mitch Miller (Seth Green), who first appeared in season five, joins the cast for a few episodes. Mitch is Eric's arch-nemesis and annoying as all hell. The catch is that everyone else seems to like him. He makes for a fun opponent to Eric, especially how much their geeky tendencies clash.
The seventh season of That '70s Show is the second to the last. It also marks the last season with actors Topher Grace and Ashton Kutcher as full season cast members. Both return in season eight as guest stars. Regardless, season seven is still just as f funny as the earlier seasons.
In the beginning of season seven, there are two major focuses. The first major development is Eric and Donna coming to terms with their breakup and decision to not get married. They decide that they can still be together and date on less than serious terms. Eric also decides what he wants to do with his life. For the time being, absolutely nothing. He sells Donna's engagement ring and plans to use the money to support his "year off".
The second early development and perhaps the biggest change for the season is Hyde's new family. In the season six finale, Kitty found out that Hyde's father was not his biological father. In "Let's Spend The Night Together", she arranges for Hyde to meet his real father, William Barnett (Tim Reid). Everyone is surprised when they first meet William, because he is black. Hyde also finds out he has a half-sister named Angie (Megalyn Echikunwoke).
Both William and Angie play a role in the season, although Angie more so than William. Hyde gets to know his new family and even works in the family business, a chain of record stores. As the season continues, there are additional developments. Red buys the local muffler shop that went out of business. Fez gets a job at the local hair salon in "Beast Of Burden". It is a little creepy, as Fez apparently has a fetish with touching hair. This job gives him an acceptable avenue to live out those desires. He also lands a date with a girl played by Lindsay Lohan. Kelso's baby Samantha is born and he starts to re-think the way he treats women. Eric has to go back to school and take gym with Casey Kelso.
In the latter half of the season, the focus moves to the Jackie-Hyde relationship and Eric's future. Jackie starts to realize that Hyde may not want more out of their relationship. She is offered a job in Chicago and gives Hyde an ultimatum: marriage or else. Eric comes to realize in "Down The Road Apiece" what is in store for him if he does nothing with his life after meeting a thirty-something Star Wars geek. He decides to become a teacher. In order to get money for school, he signs up to teach in Africa for a year, which is hard for everyone to deal with, especially Donna.
Overall, That '70s Show's seventh season makes for a decent collection of episodes. It's sad to see Topher depart, but it was nice to see the show come back for on last season.
Season eight of That '70s Show is the show's final episodes. two lead actors Topher Grace and Ashton Kutcher left the show. There are still some fun moments, the goofy, slapstick comedy we have come to know and love feels forced at times.
The season begins with a lot of changes for the cast. At the close of season seven, Hyde walked in on Jackie and Kelso in a comprising situation. Hyde disappeared and returns to Point Place a married man. While in a drunken stupor, he married Samantha, a stripper. She comes to Point Place to as new reoccurring character who helps introduce some awkward situations that tend not to be funny. Despite Hyde finding love, everything goes back to normal.
About the same time Hyde returns to Point Place, he hires Randy (Josh Meyers) to work at the record store. Randy quickly integrates into the Point Place bunch and replaces Eric/Kelso. (Eric left at the end of season seven to go to Africa.) In the first few episodes, Kelso is still present. He continues to offer laughs with his dumb as bricks personality. However, he departs from the show after losing his job as a cop and deciding to move to Chicago to be closer to his daughter.
After the initial episodes and the new changes settle, it is business as usual for the Point Place crew. Hyde explores married life with his sultry wife. Fez obsesses over the opposite sex and even gets a couple girlfriends — one of which is an older woman. Donna deals with her long distance relationship with Eric — which goes does not work out. Randy quickly fits into the group and starts a relationship with Donna. Jackie has a short-lived career in television with an annoying talk show host and realizes she is in love with Fez. Red retires and sells his muffler shop. Kitty continues to be overly neurotic and supportive to everyone. Leo does lots of drugs and says weird things that make everyone laugh. Overall, the season's events continue to offer a similar goofiness as past seasons. Topher and Ashton come back for the finale which leads the cast into the 80's as the decade comes to an end