MAIN CAST
David Boreanaz (Bones)
Charisma Carpenter (Scream Queens)
Glenn Quinn (R.S.V.P)
Alxis Denisof (Dollhouse)
J. August Richards (Agents of SHIELD)
Amy Acker (The Cabin In The Woods)
Vincent Kartheiser (Mad Men)
Andy Hallett (Chance)
James Marsters (Smallville)
Mercedes McNab (The Addams Family)
RECURRING / NOTABLE GUEST STARS
Tracy Middendorf (Scream: The Series)
Christian Kane (Just Married)
Josh Holloway (Lost)
Sarah Michelle Gellar (Ringer)
Michael Mantell (The Ides of March)
Elisabeth Rohm (Joy)
Obi Ndefo (Stargate SG.1)
Johnny Messner (Anacondas)
Jennifer Tung (Masked Rider)
Seth Green (Family Guy)
Andy Umberger (Deja Vu)
Tushka Bergen (Mad Max 3)
Beth Grant (Wonderfalls)
Bai Ling (The Crow)
Jesse James (Blow)
J. Kenneth Campbell (Mars Attacks)
Henri Lubatti True Blood)
Christina Hendricks (Mad Men)
John Mahon (Zodiac)
Kristin Dattilo (Intolerable Cruelty)
Carlos Jacott (3rd Rock From The Sun)
Lee Arenberg (Once Upon A Time)
Jeremy Renner (Avengers Assemble)
Ken Marino (Veronica Mars)
Stephanie Romanov (Thirtten Days)
Tamara Gorski (Man With The Screaming Brain)
Julie Benz (Punisher: Warzone)
Eliza Dushku (Tru Calling)
Alastair Duncan (The Batman)
Sam Anderson (Lost)
Todd Stashwick (The Originals)
Justina Machado (Final Destination 2)
Matthew James (American Crime)
J.P. Manoux (Birds of Prey)
Tony Amendola (Stargate SG.1)
David Herman (Futurama)
Edwin Hodge (The Purge)
Daisy McCrackin (Halloween 8)
Juliet Landau (Ed Wood)
Brigid Brannagh (Army Wives)
W. Earl Brown (Bates Motel)
Tony Todd (Wishmaster)
Jim Piddock (The Prestige)
Julia Lee (A Man Apart)
Gerry Becker(Spider-Man)
Eric Lange (Lost)
Leah Pipes (The Originals)
Thomas Kopache (Catch Me If You Can)
Brody Hutzler (Days of Our Lives)
Persia White (The Vampire Diaries)
Daniel Dae Kim (Lost)
Mark Lutz (Bitch Slap)
Alyson Hannigan (How I Met Your Mother)
Keith Szarabajka (The Dark Knight)
Frank Salsedo (Power Rangers Zeo)
David Denman (Outcast)
Justin Shilton (Little Miss Sunshine)
Rance Howard (Chinatown)
Kristoffer Polaha (Ringer)
Jack Conley (Payback)
Jim Ortlieb (Roswell)
Laurel Holloman (Boogie Nights)
Jeffrey Dean Morgan (The Losers)
Sunny Mabrey (Snakes On A Plane)
Summer Glau (Firefly)
John Rubinstein (Red Dragon)
Alexa Davalos (Clash of The Titans)
Kay Panabaker (No Ordinary Family)
Joel David Moore (Bones)
Adrienne Wilkinson (Xena)
Gina Torres (Hannibal)
Annie Wersching (The Vampire Diaries)
Danny Woodburn (Watchmen)
Sarah Thompson (Cruel Intentions 2)
Jonathan M. Woodard (Firefly)
T.J. Thyne (Bones)
John Billingsley (Star Trek: Enterprise)
Simon Templeman (Black Road)
Roy Dotrice (Beauty and the Beast)
Brendan Hines (Lie to Me)
Tom Lenk (Argo)
Navi Rawat (Feast)
Roy Werner (Power Rangers Time Force)
Alec Newman (Dune)
Adam Baldwin (Chuck)
Jaime Bergman (Soulkeeper)
Stacey Travis (Easy A)
Dennis Christopher (Django Uncahined)
When Joss Whedon pitched Angel: the Series, he described it as a detective-style film-noir-themed take on the supernatural, much in the same way Buffy was pitched as a look from the viewpoint of the Horror genre. Buffy's style took some time to get right, but the aesthetics of this show in its first year are well thought out and crafted; darkness and emotive shadow creep over, tense musical swells linger, and the picture is shot in a large resolution to provide just a bit of grain. I'd be damned if it didn't seem intentional. Joss also said that where Buffy looked, metaphorically, at the hell of High School, Angel's show would look at life past it in your early adulthood and the life and relationship issues of that unique, big city world. This metaphor is dominant in the first season, and is one of the main themes.
Angel, as a series, is always and will always be about redemption, but the themes of its respective seasons are about the different facets to it. Exploring what it is, losing the chance at it or the responsibility one pledges to it is all covered over the duration of the show. With season one, it was most direct: How do you get it? At the start of the season we see Angel arrive in LA, see him save lives, but we also watch him slip deeply into apathy about his goal. To understand the importance and worth of a human and life and soul, Angel learns in "City of" (1×01) that one must have a human connection; friends and allies that make his life worth living so his mission can be worth fighting for, and most importantly so that he doesn't become detached from (and even dangerous to) those he hopes to save.
The season, as I mentioned, does lack a cohesive arc, but it also has a tremendous amount of hugely entertaining and well-written standalones. Many of them focus on Angel's mission: "helping the helpless." Angel makes it his goal to not only save lives, but save souls and make life worth living for others, and as a result of this his connections are solidified as he carries this out. He and his group slowly form into a legitimate investigation team which takes cases and makes money off of them, and many of the seasons situations out of which the characters are developed are a result of these cases. Cordelia, who in "Rm w a Vu" (1×05) is still defining herself by her possessions, searches for a place to live. Instead what she finds is a stronger sense of self, and in that a connection to the world of humans rather the one of plastic. Doyle and Wesley both find their own connections, as well. Episodes such as these are the season's order, in every one of which something new happens that alters the main or supporting characters, or teaches the audience something about them.
This is, in my opinion, what sets shows like Buffy and Angel apart: relevance. More than any other show, each episode contains progressive, ongoing development that charts development in a very realistic way. On a more specific level, this particular season has an extremely strong episode to episode consistency, with each individual showing striking its own tone and exploring the main theme in different ways. A few larger, more exciting events may have helped, but at the same time I appreciate this season for what it is and how it does something a bit different from most other seasons of Buffy or Angel. There's a lot more to talk about, including the metaphorical basis' used and what we're being fed through them, as well as the general ups and downs. The strongest suit this season has is its extremely fluid use of theme. Though the ponderings on connection, redemption and starting a new life are not as intricately detailed, subtle or socially penetrating as the themes of any other season, the careful and consistent way they're used to develop characters and give the stories real world relevance is masterful. Angel made it his mission to save souls, and we were shown him connecting with people by helping them, failing to help them, or losing them altogether. All the supporting characters followed, gaining their own redemption through helping Angel and the helpless.
With the exception of Wesley being overly bumbling at times, nothing felt out of character this season, and that's extremely impressive considering the length of a season. Doyle's sacrifice in "Hero" (1×09), Angel's re-ignited belief in himself in "To Shanshu in LA" [1×22] or Kate's decision to see Angel kiss daylight in "Sanctuary" [1×19] were all thematically conclusive, resonant and well built up to.
The preceding season was,strong and coherent. While looking at the tribulations of life after High School in the big city, it managed to do so in a way that developed the characters within another major theme: Connection; Human emotions and growth that make us a part of the world, make us human. By the end of the season, Angel had been given a purpose, both short and long term, and a mission to fight for: Fighting in the final battles and surviving to be made a breathing human being again. Season Two, with a much broader theme, builds logically on that, and asks our vampire hero just what it means to really be human. Much of the season's development is split in that way, with Angel increasingly being led off into his own world, with his friends developing entirely in a place away from him.
While he and the fate that ties him to Darla explore the complexities of human existence, Cordelia, Wesley and Gunn become forced to suffer through and succeed in it on their own. Though not as characterized by pain and hopelessness as much as S3 post "Sleep Tight" [3×16] through to the end of the series is, there's much darkness and suffering abound, especially for Angel. His epic trials and will for revenge separate him harshly from humanity, only for him to realize that his worst actions are indeed wholly human, and that this is what humanity really can be. Season Two has such interesting ideas in spades, and its theme looks at all the best ("Untouched" [2×04], "Guise Will Be Guise" [2×06], "Epiphany" [2×16]) and worst ("Reunion" [2×10], "Reprise" [2×15]) sides of our existence: forgiveness, self-control, image, obsession, revenge, victory, belonging and the very nature of evil itself. By the time the season closes, Angel's re-examined entirely what his mission is and how he's to fight it, and goes from a champion vampire-with-a-soul to simply a genuinely good human being who helps people.
With the exception of the brilliant period piece Are You Now or Have You Ever Been?, and a few rare others, the season doesn't have quite as much use for pure standalones. Its arc employs its best metaphors and situations in the interest of exploring all sides of the characters' journey, and as such, the season gives the impression that more happens this year than last because of the depth of each phase of the arc: the four episode standalone period, the first part of the Darla arc ("Dear Boy" [2×05] to "Reunion" [2×10]), the second part of the Darla arc ("Redefinition" [2×11] to "Epiphany" [2×16]), another couple of standalones ("Disharmony" [2×17] and "Dead End" [2×18]) and the Pylea arc ("Belonging" [2×19] to "There's No Place Like Plrtz Glrb" [2×22]).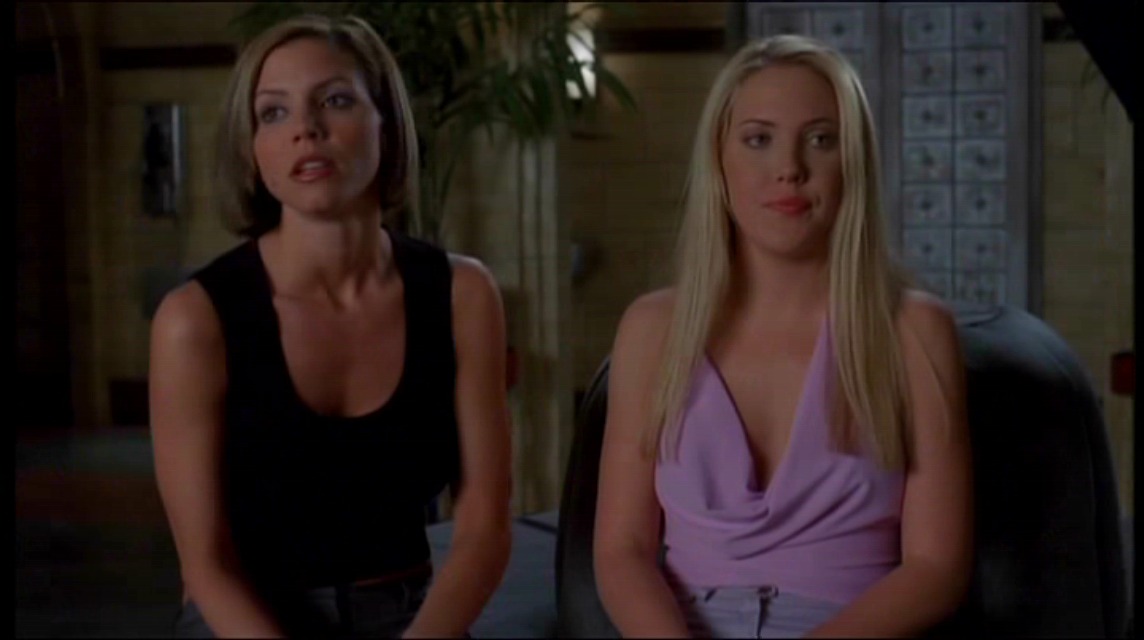 This is likely why the season finds such a strong and undivided following. While some dispute the worth of the standalones or the Pylea arc, others like them, and everyone loves the story arc; there's something for everyone. The best aspect of this year of the character's journey in L.A. is how broad and all encompassing the season is. With the exception of Season Five, I find this to be the best season of the show. It has a few great metaphors, an engaging, unpredictable story arc, fun standalones, important character development, strong drama, and some of the most intelligent moral and social considerations I've ever seen on a TV show or in a movie.
Like at the start of Season Two, the writers seemed to have a clear direction in mind at the start of Season Three, and they wisely picked up the story at the logical introductory point: With Angel having conquered his innermost doubts about his own humanity. He begins to live a truly human life. He's accepted his role in the world as a good person rather than a champion, and recognizes the world as a wide-open, random place with no greater destiny or order about it. It's the kind of world where even the smallest acts of kindness mean everything, because they mean someone is able to shrug off the horrible burdens of life long enough to make another life better.
It opens with a six episode prelude looking at various facets of the responsibilities and obligations of normal human life, and then really begins with "Offspring" [3×07] when Darla returns to L.A. in a very, very pregnant state. Like "Dear Boy" [2×05] was for S2, this is where the beginning of S3 truly lies. With Darla's death and the birth of baby Connor ("Lullaby" [3×09]) as the emotional forces driving the season, the writers used the question of responsibility and all the ideas that fall under it (justice, deserving, chaos and guilt) to create some truly, gut-wrenchingly impossible situations for our characters to face. If I have to commend this year for one thing alone, it's the painstaking drama that the writers plunge the characters into throughout the main arc and in the mini-arcs that follow. Although there's not nearly as much thematic depth as S2 or as much consistency as S1, the tragedies and difficult moral situations our beloved Angel Investigations team members are forced to face moved me deeper than a lot of other episodes in the series.
Aesthetically, S3 also has a much more sprawling scope than the previous two seasons. While the first six episodes were essentially standalones, everything that followed "Offspring" [3×07] was in some way tied to the main plot arc of the show, even when some of its key players disappeared following the epic tragedy of "Sleep Tight" [3×16]. Just when it seemed the story was about to move in another Pylea-like offshoot after the main storyline concluded, Connor and Holtz returned and the plot kept on chugging. This led to some problems, of course, as all season-long arcs eventually do. Tension sometimes tried to take the place of real content and it often showed. It also led to there being an uncomfortable setup/payoff ratio on the episode list. But on the plus side, S3 (and S4, which moves even further in this direction) had a feeling of epic scope that no other seasons manage, so to even think of the better aspects that lie within strikes me. Such a sprawl is one of the reasons many people love S3 even if they haven't looked very deeply at it.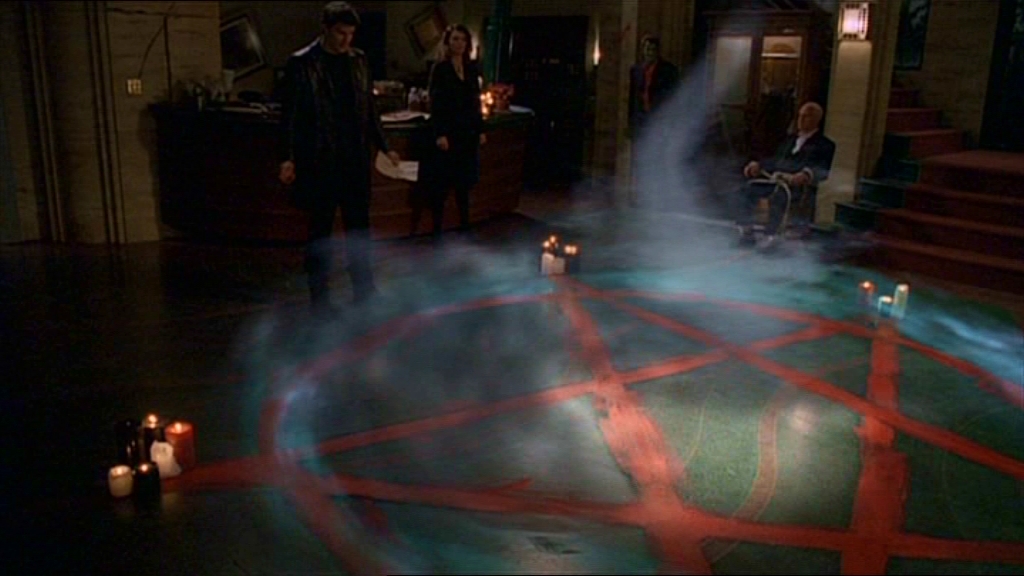 "Forgiving" [3×17] was another gem, as it looked at the human need to assume we live in an ordered world where someone is responsible for everything that happens. But it's never that easy, and watching Angel struggle with that was fascinating. The final three episodes ("A New World" [3×20], "Benediction" [3×21], "Tomorrow" [3×22]) made up another interesting stretch where we saw how our characters could be motivated by pain, hatred or love and the effects of all those things.
Having already been on the air for three years, Angel had more then enough time to establish its theme, characters, and relationships. It was in its fourth year that it would bring all of these elements to the forefront and then mix them up in a season that would come to be known for its complex twists and turns.
The season begins with our title character trapped at the bottom of the ocean – put there by his son – with the rest of his gang broken up. From this grim beginning, things only get darker – literally. Enter the Beast, a rock-encrusted devil whose arrival is heralded by a rain of fire and promptly blocks out the sun over L.A. All signs are pointing to the apocalypse, and it's up to Angel and the rest of his demon-fighting crew to put a stop to it. From a storytelling point of view things just keep getting worse and worse and it's a credit to the writers that they somehow manage to end it all on a positive note.
Since Season 2 Angel has been a very arc-heavy show, but in its fourth year it would approach almost 24 levels of continuity and follow-through. In addition to being very cool to watch, the interlinked episodes add up to a season that is one big experience unto itself. It's as if the entire season is one episode with many chapters.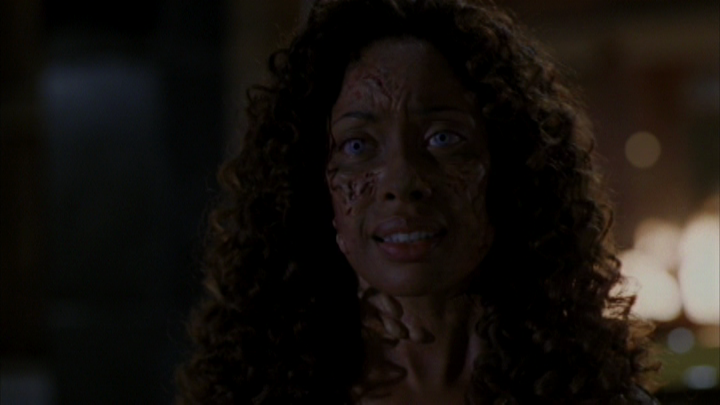 This year we get to watch everything get shaken up. Wedges are slowly driven between certain relationships while jealousy quickly divides others. The great thing about it is that you get to see what has caused all of these problems. Despite their best efforts to hold together, these characters have no choice but to push each other apart. It makes for gripping television.
Visually and stylistically the show is very well put together. The directing efforts of Joss Whedon (who is always excellent), Tim Minear (who has grown by leaps and bounds over the course of the series), and even Sean Astin (yes that Sean Astin) give the show a very polished and theatrical feel. The producers repeatedly stated that they were going for an 'operatic' feel to the season and they pulled it off very well. The use of darkness and shadow deserves special mention as does the great use of wide shots and the directors' ability to fill each frame with as much information as possible. Wesley goes from bumbling dork to dark James Bond. Cool! While the twists and turns are great, the really cool thing to the season is the multiple layers that you'll find within. Just when you think you know who the real 'big bad' is or in which direction the show is going, the rug is pulled out from under your feet. The entire season keeps you guessing from start to finish. Of course, our heroes win in the end — but everyone is left wondering if they did the right thing. And that's what sets the show apart: It's action with substance.
Nobody, not the producers, not the actors, and certainly not the fans could have predicted where this show would go. Where it could go. After all, this is an hour-long fantasy about a guy who spends so much time sitting in the shadows and brooding so much he would give Batman a run for his money. Or utility belt, as the case may be. So why is it that after five years and over a hundred episodes this show was still one of the freshest on TV? Simple: this is a story about something. What started off as just a Buffy spin-off has ended up as a massive epic that challenges, if not surpasses, its parent show. Unfortunately, the WB didn't think so. After giving the producers a hard time and insisting on several changes, the network decided to bring the show back for a fifth, and what would be its final year.
So, in previous seasons we've had operatic apocalypses, quests for meaning, and our hero even went evil for a while. There's only one place left to go. Into the belly of the beast, into hell itself: a law firm. Based on the out-of-left-field plot twist that was thrown at Angel and the gang in previous season's finale, the team is now in charge of wolfram and hart the evil law firm that they've spent the entire series battling. The trick then becomes changing the system from the inside, all the while making sure that it doesn't change them.

Unfortunately when the network decided to renew the show for a fifth year, there were conditions. First and foremost, it had to be more stand-alone. No more back-to-back cliffhangers. Next, the budget was cut. And finally, to sweeten the deal, the producers decided to bring over Spike – who was barbequed in the Buffy finale – in the hopes that his fans would follow. Luckily the introduction of Spike worked out well. He added a nice flavor to the show and helped flesh out Angel's character in a way that nobody else could have. The punky vampire brought out the worst in our hero, which ended up resulting in some great comedy. Even if this Spike was different from whom he became on Buffy, he made for a nice addition.
The most unwelcome change was the standalone mandate. Yes, it can work, but it's just not as good. The greatest strength of this show has always been its own history and tying the hands of the writers was a mistake. It resulted in a bump in the show's overall flow. Even though it seems rushed, things tie up nicely and the finale certainly puts the "grand" in grandiose; now there's a balls-to-the wall showstopper for you. Most people will agree that the show finished with perfect thematic closure. These characters fight an impossible fight knowing they'll probably lose, but that's not the point. They fight, not to win, but because that's who they are. They don't give up. No matter what.