CAST (VOICES)
Will Friedle (Boy Meets World)
Kevin Conroy (Batman: TAS)
Teri Garr (Young Frankenstein)
Ryan O'Donohue (A Bug's Life)
Lauren Tom (Futurama)
Cree Summer (Inspector Gadget)
Seth Green (Family Guy)


RECURRING / NOTABLE GUEST CAST
Michael Gross (Tremors)
Sherman Howard (Superboy)
George Takei (Star Trek)
Sam McMurray (Drop Dead Gorgeous)
CCH Pounder (Avatar)
Clyde Kusatsu (The Interpreter)
Frank Welker (Transformers)
Marc Worden (Ultimate Avengers)
Rino Romano (The Batman)
Corey Burton (Transformers)
Shannon Kenny (7th Heaven)
Stockard Channing (Grease)
Kevin Michael Richardson (The Clevland Show)
Melissa Dinsey (In A World..)
Scott McAfee (Midnight Run)
Bill Smitrovich (Ted)
Pauley Perrette (The Ring)
Linda Hamilton (Chuck)
Michael Ansara (Star Trek)
Tress Macneille (Futurama)
Chris Mulkey (Whiplash)
Olivia d'Abo (Conan The Destroyer)
Amanda Donahue (Liar Liar)
George Lazenby (Gettysburg)
Scott Cleverdon (The Prophecy 3)
Brian George (The Big Bang Theory)
Ian Ziering (Sharknado)
Larry Drake (Firefly)
Jon Cypher (Masters of The Universe)
Vernee Watson (The Big Bang Theory)
Dorian Harewood (Gothika)
William H. Macy (The Cooler)
Kimmy Robertson (Stuart Little)
Paul Winfield (The Termiantor)
Miguel Sandoval (Medium)
Ice-T (Tank Girl)
Lindsay Sloane (The Other Guys)
Stephen Collins (No Ordinary Family)
Ethan Embry (Eagle Eye)
Rider Strong (Cabin fever)
Stacy Keach (Two and a Half Men)
Carl Lumbly (Alias)
Daphne Zuniga (Spaceballs)
Sarah Douglas (Superman)
Jason Marsden (Full House)
Michael Rosenbaum (Smallville)
Henry Rollins (Wrong Turn 2)
Kate Jackson (Charlie's Angels)
Shiri Appleby (Roswell)
Dan Castellaneta (The Simpsons)
Tim Curry (IT)
John Ritter (bride of Chucky)
Rachael Leigh Cook (Antitrust)
Adam Wylie (Superman Doomsday)
Michael McKean (This Is Spinal Tap)
Andy Dick (Dude, Where's My Car?)
Gary Cole (Chuck)
Kerrigan Mahan (Power Rangers)
Johnny Galecki (The Big Bang Theory)
Chris Demetral (Lois & Clark)
Patton Oswalt (Caprica)
Mitch Pileggi (Stargate: Atlantis)
Curtis Armstrong (American Dad)
Bumper Robinson (Sabrina: TTW)
Eli Marienthal (American Pie)
Angie Harmon (Agent Cody Banks)
Robert Patrick (Terminator 2)
Olivia Hussey (Black Christmas)
David Warner (Teenage Mutant Ninja Turtles 2)
Mark Hamill (Star Wars)
Adrienne Barbeau (Swamp Thing)
Farrah Forke (Lois & Clarke)
Christopher McDonald (Fanboys)
Clancy Brown (Highlander)
Alexlis Denisof (Angel)
Diedrich Bader (Batman: TBATB)
Julie Nathanson (The Zeta Project)
Kurtwood Smith (That 70s Show)
Keone Young (Crank)
Keith Szarabajka (The Dark Knight)
Sean Marquette (13 Going on 30)

Fifty years after Batman: The Animated Series came to a close, Gotham City is without a protector. Failing health and a chilling act of desperation prompted Bruce Wayne to give up Batman's cape and cowl, and the corporation that had stayed in his family for generations has been wrest from him by a corporate raider named Derek Powers. Never married and abandoned by his sidekicks, the elderly, embittered Wayne lurks inside a sprawling mansion that seems more like a mausoleum than the stately manor of old. Derek Powers is using the remnants of WayneCorp to illegally manufacture an endlessly destructive but extremely profitable nerve gas, a secret that Wayne/Powers employee Warren McGinnis stumbles upon and pays for with his life. His troubled son Terry blames himself for the murder, but a chance encounter with Bruce Wayne results in the theft of a Batman suit brimming with cutting-edge technology and the revelation of the man truly responsible for his father's death. By the time the two-part episode "Rebirth" is over, Bruce Wayne has agreed to guide Terry as the new Batman, and an irradiated Derek Powers is a walking fusion reactor.
Batman: The Animated Series, Superman, and Justice League all drew heavily from the established mythos, but Batman Beyond is a largely original creation. Sure, there are quite a few nods to the original series — it's still set in Gotham City, Barbara Gordon has taken the mantle of police commissioner, and there are winks to fans like the Grey Ghost costume in the Batcave.

Terry McGinnis is a very different lead character than Bruce Wayne was in Batman: The Animated Series. In the previous series, it seemed more as if Batman was who this man really was and Bruce Wayne was just an occasionally convenient mask for him to wear. Terry is seen out of costume much more frequently than Bruce ever was and feels like more of a fleshed-out character. He has friends, he has family, and he has a life outside of the pointy-eared hood. Gotham City is still teeming with bad guys, but even though Batman has been transplanted to the future, he's not squaring off against Joker II or The Riddler Redux. The rogue's gallery of this futuristic Batman doesn't lift much from the previous animated series or even from the comics. The only familiar faces are Mr. Freeze, The Royal Flush Gang, and, briefly and unrecognizably, Bane. The other villains are original creations with some striking character designs, such as the amorphous corporate saboteur Inque, sound-engineer-with-a-power-suit Shriek, and the hypnotic Spellbound. This season also doesn't rehash the same villains over and over again, with Inque being the only badnik other than Derek Powers' Blight to strike more than once.

Several of the supervillains aren't costumed-threats-of-the-week, but ordinary people in extraordinary situations: Willie Watt in "Golem" is a nerdy high schooler who seizes control of a two-story-tall construction robot to exact revenge on the bullies who torment him, and "The Winning Edge" is about high school athletes using steroids yet deftly avoids playing like 'a very special episode of Batman Beyond'. One thing Batman's adversaries, costumed and plainclothes alike, have in common is their origins. Nearly all of the villains in Batman Beyond are born of tragedy or greed, and that gives these episodes more of a resonance than something like The Joker pumping Gotham City with laughing gas for no reason in particular.
Another stand-out is "Shriek", pitting Batman against an enemy whose technology enables him to manipulate sound. One of the most inventive sequences in the entire run of the series is set in a car factory where Batman starts setting off every piece of equipment in arm's reach as a distraction. Shriek uses his technology to block out the noise and isolate Batman's movements, resulting in an almost entirely silent battle with no dialogue, few sound effects, and a sparse, subtle score.


This first season of Batman Beyond is remarkably consistent, offering perhaps the strongest debut of any DC animated series to date.
Batman Beyond—Season Two would be ambitious and further expand the adventures of Terry McGinnis, the new Dark Knight of the Gotham City's future, but it would also be quite different from the first season in several ways. For one thing,  the creators had killed off Terry arch nemesis Derek Powers (a.k.a. Blight) at the end of season and despite having a cliffhanger ending, the character never returned for season two, or season three for that matter. In fact, the fundamental change between the two seasons was that the network requested more episodes be written around Terry and the kids he interacted with in his high school, instead of focusing on a corporate espionage subplot like in the previous season. The producers did not argue with this as it was more or less the direction they were interested in going too. The network also wanted the show to introduce a stronger female character that could assist Terry in his mission as Batman. The not led to the creation of new supporting character Maxine "Max" Gibson, a beautiful and intelligent girl at Terry's high school who would discover his secret in her first episode and would become one of his allies for the rest of the series. She was always intended to be her own character and not a placeholder for Robin, Batgirl, Alfred or anyone from the classic Batman supporting cast. Most of Terry's teenage peers like Dana Tan, Chelsea Cunningham, Blade Summer and Nelson Nash came back in this season and is some cases got slightly more prominent roles. But there was also at least one more friend of Terry's introduced named Howard Groote, a nerdy comic relief who design was, amusingly, inspired by producer/writer Paul Dini.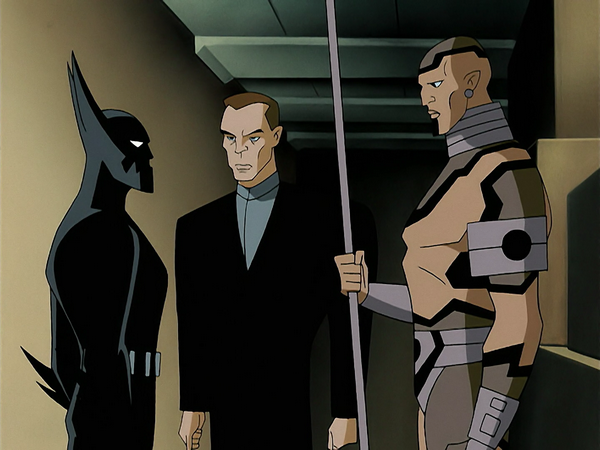 As for villains this season, many characters like the Jokerz gang, Ten of the Royal Flush Gang, Spellbinder, Willie Watt, Shriek and Curare return for further episodes. But there were also several new villains introduced, though unfortunately many of them were only one-time threats and did not become members of terry's recurring rogues gallery. The three major recurring villains introduced this season were the Stalker, a cybernetically-enhanced big-game hunter who sees Batman as his ultimate prey, the insanely liberal bomber Mad Stan, and the terrorist snake cult known as Kobra). Memorable one-shot villains include gene splicer Dr. Able Cuvier, the A.I. 'ghost' of a former corporate mogul who takes control of the Batsuit, a rat boy named Patrick that kidnaps Dana, the father of one of Terry's friends who becomes a supervillain named Armory, a burly woman named Mom Mayhem and her two sons, a snobby gossip reporter using invisibility technology, and a vigilante named Payback who takes his revenge against tormentors of troubled teenagers too far.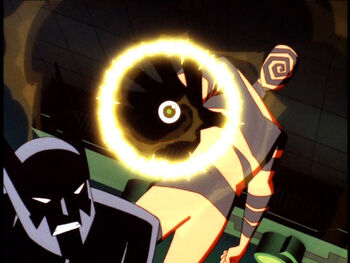 Overall, Batman Beyond—Season Two is twice and big as the first season, and just as strong.
The episodes in this final release aren't as dark as some of the great shows in the first box, but they're still very exciting. The villains don't have that tragic quality which translated so well from the regular Batman universe, but this lack of atmosphere is made up for with a great sense of adventure and fun.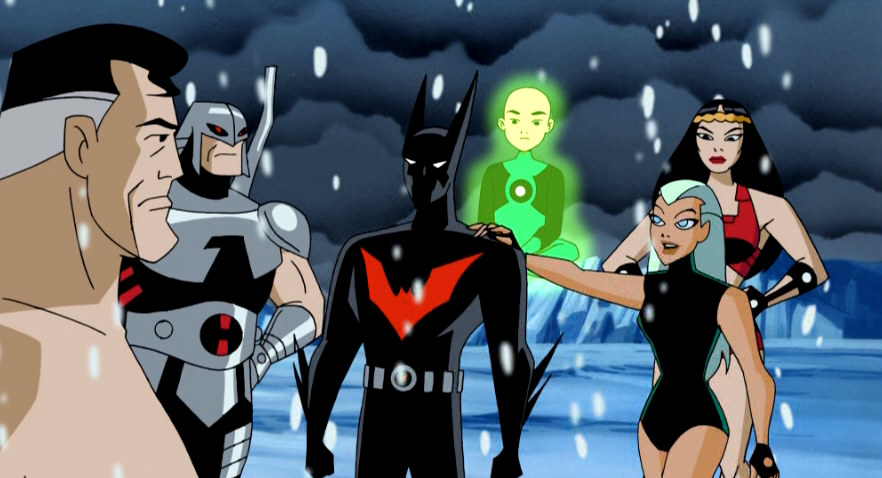 "The Call", for example, is a fantastic two-parter that sees Batman team-up with a future Justice League – it's probably too much to assume that this "Justice League Unlimited" was a conscious forbearer to the actual series, but it's certainly a great cartoon-geek moment. In the episode, Terry McGuiness uproots a villain who conspires to take over the JLU  in a suspenseful story that has a great connection to the original comic book origin of the League.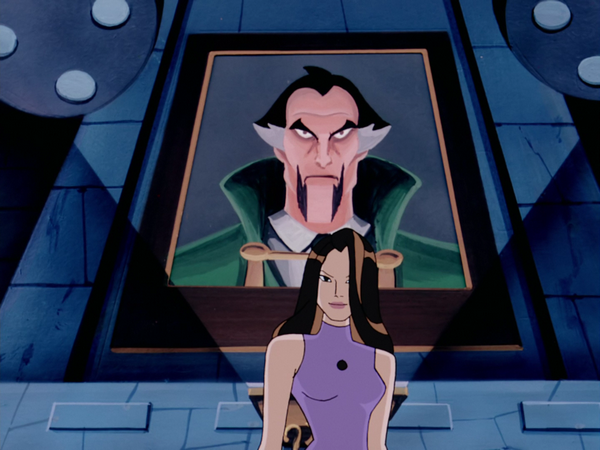 But the champion episode of the box – and perhaps the series – is "Out of The Past" (would it surprise you to learn that it's penned by Paul Dini?). Not only does the episode bring back two excellent characters from Bruce Wayne's past, Ra's Al Ghul and Talia, and not only does it do it in a way that resonates with both Batman and Bruce, but it's got, hands down, one of the best tongue-in-cheek moments in the entire DC Animated Universe. It is the stories, and their execution, where the true appeal of these episodes lies. Sure there's a great setting and a great character, but each of these mini sci-fi/fantasy stories is a very fun and exciting peak into a great imaginary world. Sure, one that happens to borrow a lot from the Batman mythology, but it's the show's imaginative qualities that make it a unique world that translates perfectly to the cartoon form.
While the traditional episode structure does tend to bore, it also does its job. Furthermore, the imaginative fight scenes – whether they be with a villain who is physically untouchable, or a fight in a giant wind tunnel – will keep your attention long after more kinetic, but ultimately rote new series have lost their appeal.

A major sticking point to this set is the lack of a satisfactory conclusion. The series was rather abruptly put to a stop after its checkpoint 52-episode run in 2001. It wasn't until Justice League Unlimited's Season Four finale, "Epilogue", that Batman Beyond was given a proper send-off. But what a send-off it was! After you finish this set it is highly recommended that you seek out the aforementioned episode. While this box's closer, "Unmasked", is a nice story, it's not the series finale that, ironically – yet thankfully – another series would provide.  Batman Beyond was born out of a WB executive's desire to cash in on a popular and recognizable franchise. Because of the fantastic people behind the show, what might have been a hollow concept was turned into something fresh, imaginative, and very worthwhile.