MAIN CAST
Jason Lee (Dogma)
Ethan Suplee (Mallrats)
Jaime Pressly (Mom)
Nadine Velazquez (War)
Eddie Steeples (Raising Hope)
RECURRING / NOTABLE GUEST STARS
Leo Fitzpatrick (Bully)
Gregg Binkley (Galaxy Quest)
Dale Dickey (Iron Man 3)
Carson Daly (Josie and The Pussycats)
Trace Adkins (The Virginian)
Silas Weir Mitchell (Birds of Prey)
Kathryn Joosten (Desperate Housewives)
Tracy Ashton (Stuck on You)
Jesse Heiman (ChucK)
Dax Shepard (Zathura)
Montel Williams (Golden Shoes)
Giovanni Ribisi (Avatar)
Abdoulaye NGom (VR Troopers)
Missi Pyle (Dodgeball)
Timothy Stack (Cast Away)
Chloe Grace Moretz (The Fifth Wave)
Johnny Galecki (The Big Bang Theory)
Kristina Hayes (Expelled)
Beau Bridges (Stargate SG.1)
Niecy Nash (The Soul Man)
Blake Clark (50 First Dates)
Brett Butler (Anger Management)
John Ducey (Sabrina: TTW)
Jon Favreau (Iron Man)
Jeremy Howard (Accepted)
Lindsay Hollister (Bluberella)
Jessica Cauffiel (White Chicks)
Mark Christopher Lawrence (Chuck)
Patricia Belcher (Bones)
Adam Goldberg (Deja Vu)
Christine Taylor (Zoolander)
Samm Levine (Veronica Mars)
Ben Falcone (New Girl)
Timothy Olyphant (Go)
Malcolm David Kelley (Lost)
Juliette Lewis (Some Girl)
Clint Howard (Apollo 13)
Max Perlich (Blow)
Geoffrey Lewis (The Devil's Rejects)
Miriam Shor (Bedazzled)
Shailene Woodley (Divergent)
John DiMaggio (Futurama)
Burt Reynolds (Boogie Nights)
Judy Greer (Jurassic World)
Marlee Matlin (Reasonable Doubts)
Jonathan Slavin (Free Enterprise)
Beth Grant (Wonderfalls)
Jenny McCarthy (Two and a Half Men)
Johnny Sneed (The Heartbreak Kid)
Christian Slater (True Romance)
John Leguizamo (Kick-Ass 2)
Jimmi Simpson (Date Night)
Ray Santiago (Ash vs Evil Dead)
DJ Qualls (Road Trip)
Bob Clendenin (That 70s Show)
Norm MacDonald (Dr. Dolittle)
Kurt Fuller (Ghostbusters 2)
Sean Astin (The Goonies)
Ben Foster (The Punisher)
Craig T. Nelson (The Incredibles)
Dee Wallace (E.T.)
Raymond Cruz (Training Day)
Alyssa Milano (Charmed)
Billy Gardell (Mike & Molly)
Mike O' Malley (R.I.P.D.)
Tamala Jones (Castle)
Shawn Hatosy (Alpha Dog)
Jane Lynch (Glee)
Paris Hilton (Bottoms Up)
Kevin Sussman (The Big Bang Theory)
Michael Pena (American Hustle)
Jon Heder (Blades of Glory)
Bonita Friedericy (Chuck)
Deborah Ann Woll (Daredevil)
Nancy Lenehan (Sex Tape)
Mindy Sterling (Austin Powers)
Seth Green (Family Guy)
Suzy Nakamura (8mm)
Brandon Soo Hoo (Tropic Thunder)
David Arquette (Scream)
Katy Mixon (Mike & Molly)
Jenna Elfman (EdTV)
Brooke Nevin (The Comebacks)
Scoot McNairy (Argo)
Michael Pena (American Hustle)
Joel David Moore (Julia X)
Courtney Gains (Children of The Corn)
Jane Seymour (Smallville)
Jason Priestley (Tru Calling)
Eric Lange (Lost)
Neil Hopkins (The Net 2.0)
Eric Allan Kramer (The Incredible Hulk Returns)
Morgan Fairchild (Chuck)
Danny Glover (Earthsea)
Curtis Armstrong (New Girl)
When I heard that Jason Lee has going to be starring in a new TV series, I was psyched. Ever since his star-making turn in Mallrats,  Earl (Lee), a 250-time loser and minor criminal, won $100,000 on a scratch-off ticket, and was promptly hit by a car. While healing in the hospital, he learns about karma from Carson Daly (on TV) and decides to change his life by making a list of all the people he's wronged and making it up to them. It's a simple concept.
Earl's family and friends, including his brother Randy (Ethan Suplee), his ex-wife Joy (Jamie Pressly), her husband Darnell the Crabman (Eddie Steeples) and his friend Catalina (Nadine Velazquez), are alternately positive and negative influences as he tries to fulfill his debt to karma. Randy, a dopey man-child, helps his brother as much as he can, but because he's not too bright, he tends to screw things up. That's ok though, as he may have the purest intentions of anyone in the show, since he's unable to truly be underhanded. The only person purer than Randy is Darnell, otherwise known as Crabman. Even more innocent than Randy, he lives a simple life and is a simple man. That he's married to Joy, a woman to whom no level of evil is out of reach, shows what he can put up with in life and remain good-natured. She's also incredibly funny, as Pressly does the best work of her career, playing this trailer bitch to the max. She's balanced by Earl and Randy's pal Catalina, the highly sexy maid at their hotel. Though she's good at heart, there's an inherent darkness in her that shines through with solid comic timing.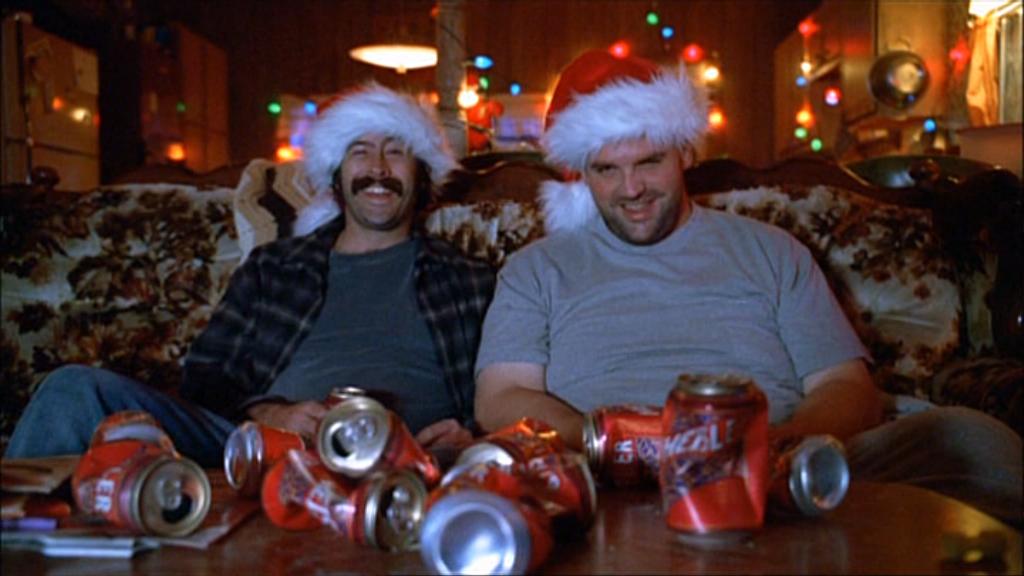 Though there's not a lot of story that progresses from episode to episode, the theme of the list ties everything together nicely. Whether he's helping a suicidal man find a reason to live or giving his mom the Mother's Day she deserved, Earl spreads his "golden rule" message, making the show one of the few TV comedies today where there's a positive message but not a ton of cheese. There are episodes that have as much heartfelt sentiment as any "very special effort" just without the melodrama. Instead, the series is very real in the way it depicts people. They are neither all good or all bad. They just are, and they do what they need to to get by. Darnell isn't ruled by a strict code of ethics. He just does what feels right. Earl has a thread of bad-guy in him, but he believes in the concept of good. The writers have managed to create some of the most complete sitcom characters in recent history, as one can see in "Dad's Car," when Joy's love for her kids is revealed.
There's something special in this show that you only see in truly great ensemble casts, and that's memorable supporting characters that aren't your average "wacky neighbors." It's almost guaranteed that a laugh is coming when Crabman or Catalina are on screen. Even one-time characters, like Earl's clingy ex-girlfriend or the many fantastic guest stars, make the most of their screentime by integrating seamlessly with the regulars, creativing a cohesive universe, giving you more reason to come back and visit with your friends in Camden County.
It's not just the writing and acting that's top-notch though. The choice of music is often inspired, with pop and rock songs helping the show reach new emotional and comedic heights, including a beautiful use of "I've Got a Golden Ticket" in the season finale. Today, you expect soundtracks with such popular, well-known songs to end up replaced on DVD, but it seems that these shows are presented with  the music intact. Just as creative are the inventive visuals, which help tell bigger stories in the small amount of time the show has. It's the small details like this that show the kind of effort that goes into the series.
The second season of the show didn't mess with success, maintaining the things that worked so well for the series, including a very funny cast, a well-developed dynamic and a style that's unique and energetic. What did change was part of a natural evolution, as the show's smaller stories, which make up Earl's karmic quest, are joined by a larger, season-long arc surrounding his ex-wife Joy (Jaime Pressly) and her effort to get revenge on a local store for refusing her return without a receipt. Not exactly the brightest bulb, she decides that the scales will be balanced if she steals one of the store's trucks. Unfortunately for her, worst-laid plans are especially susceptible to failure and things spiral well out of her control, as, when she's inevitably caught, it's her third strike, which would mean a prison term, thus setting up Earl and his friends' attempt to keep Joy out of the big house. Of course, this isn't exactly a crackerjack squad of schemers, so things certainly don't go smoothly, which makes for a hilarious running subplot.
Despite the overarching Joy in Jail plot, the show doesn't lose sight of its core concept: Earl and his list. As he knocks off item after item on the record of bad things he's done, we get to meet more of the residents of Camden County, including the members of a circus freak show, a French exchange student Earl ran out of the country and an aging rocker. There are also a few familiar faces to help, including his gay friend Kenny, the lovably laid-back Crabman (Eddie Steeples, one of the TV's most underrated actors) and Earl Hickey. Yep, after realizing he wrecked his own life, Earl adds himself to the list and spends a few episodes taking care of his own business.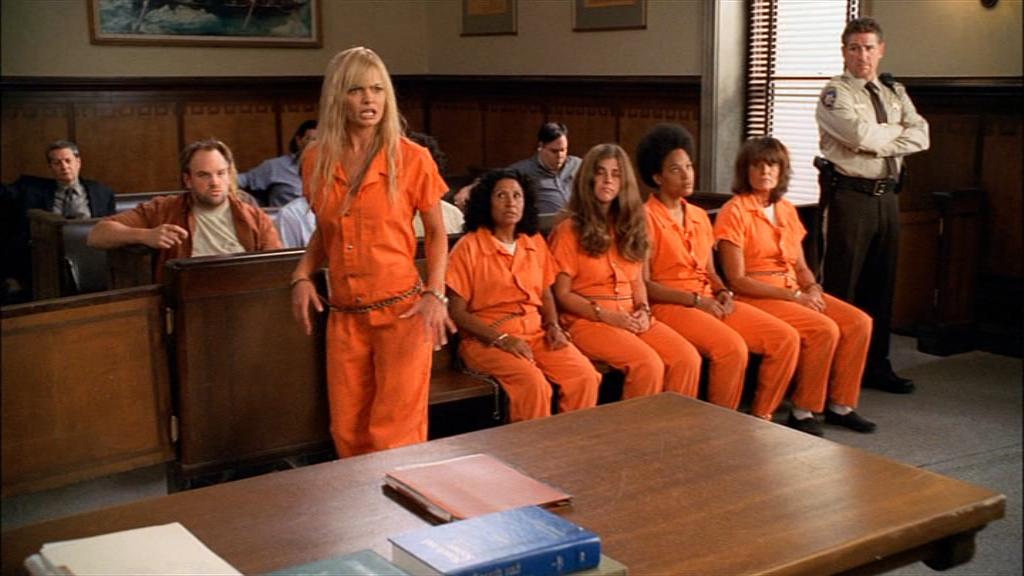 Earl's not the only Hickey in the spotlight though this season, as his adorably simple brother Randy (played wonderfully by Suplee) is increasingly a focus on the show, even getting a few love interests, including the gorgeous and hilarious Catalina (Nadine Velazquez.) A huge part of what's so beautifully and positively human about the series emanates from the good-hearted Randy, who, in many ways lives to be loved, especially by Earl. It's that personality that makes an episode like "South of the Border," in which Randy feels wronged by Earl, and the hurt overwhelms him. In Suplee's capable hands, a character that might otherwise be a cartoon, is fully realized and truly real, as "Larceny of a Kitty Cat" shows, in exploring how Randy reacts to heartbreak, with the help of "Strangers with Candy" star Amy Sedaris.
Sedaris is one of many guest stars who are seamlessly integrated into Earl's world, including Christian Slater, Roseanne Barr, Judy Greer, Jenny McCarthy, John Leguizamo, Kathy Kinney, Mike O'Malley, DJ Qualls, Dog the Bounty Hunter, Charles S. Dutton, Sean Astin and John Waters. Each one works great in the context of the series, especially returning guests like Beau Bridges (as Earl's dad,) Giovanni Ribisi (Earl's insane friend Ralph) and Tim Stack (portraying TV's Tim Stack in a great meta joke) and repeated guest star Marlee Matlin, who's fantastic as Joy's deaf lawyer (along with her interpreter Jonathan Slavin.) But none of them were as fantastic or as inspired as the addition of Chubby, the owner of the local strip club, dry cleaner and rib restaurant. Considering Lee's use of the phrase "Reynolds style" in films and Earl's glorious 'stache, getting Burt Reynolds to play the utterly mental Chubby was brilliant, as was his performance in "Jump for Joy," the Catalina-centered episode that will make any hetero man a fan of "Jump Around." But even better than that, was the appearance of Chubby's son in "Two Balls, Two Strikes." If Reynolds' casting was inspired, there is no phrase to describe the choice of Norm MacDonald to play his son, considering MacDonald's famously bad "SNL" impersonation.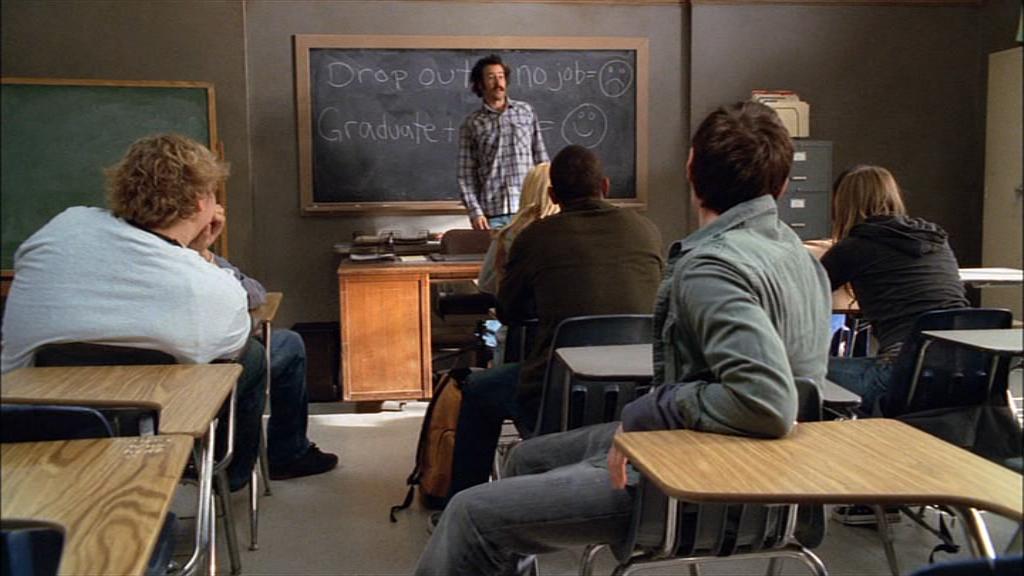 It's this kind of decision-making that makes the series so original and fun, and its seen frequently throughout the season. "Buried Treasure" takes the old "Rashomon" concept and recasts it into a series of mini episodes of "Earl," using the show's style (and iconic opening) to great result, while "Our 'Cops' is On" takes the popular police show and brings it to Earl's neighborhood. Though the concept is pretty consistent from episode to episode, there's no such thing as your average installment of "Earl," as each is a 20-minute masterpiece of comedy and creativity, starring one of the finest comedic casts working today.
By putting Earl behind bars for almost half the season, the series proved it was bigger than its concept, as the situation let him be the man he's been for two seasons, while changing him organically, as he adapts to prison life. Admittedly, his time in jail isn't too different for him, with the warden (a marvelously inept Craig T. Nelson) taking Karma's place, as Earl helps him out in exchange for an early release. But the warden isn't quite as generous as his cosmic benefactor, so life isn't quite as rewarding, which pushes Earl back toward the dark side. Not to spoil anything, but Karma's not a big fan of Bad Earl, and let's him know so, quite forcibly.
Things aren't all bad for Earl though, as his pals, including his dense brother Randy and Joy's husband Crabman, help him out when he really needs it, which this season is for an extended period of time that sets up one of the show's more unique conceits, as Earl finds himself in a fantasy sitcom world that's genuinely amusing to enjoy. Earl also meets a special new lady in his life, when he falls for Billie (Alyssa Milano) the girlfriend of his prison pal Frank (Michael Rappaport.) Though we've seen Earl on the short end of the relationship stick, this new girl tests Earl's patience, as well as what he believes he is all about. To say that Billie is a bit on the confusing side, is a massive understatement, as her mood swings and mindset change with the breeze. That said, we have rarely seen Earl under these conditions, it makes for some genuine comedy. The two-part season finale, which pits Billie against Earl's list brings everything back to center.
One of the best parts about the show is the world in which these characters live, which has been enhanced by repeat guest stars and unique episode concepts. In addition to Nelson as the warden, new arrivals to Camden County include Vincent Pastore, Jane Lynch, Paris Hilton, Jon Hader, John Henson and Shawn Hatosy, some of whom fit in better than others.  Meanwhile, returning this season as guests are Giovanni Ribisi, Tim Stack, Beau Bridges and DJ Qualls, who help make Camden County feel real. Thus, when the show goes back to the well for a two-part "Cops" episode, this time titled "Our Other 'Cops' Is On," it just makes sense that this town could be captured twice by the cameras of the popular police show, and feel no shame about it.
Though the unique situations in this season make for some great episodes, the best would have to be "Creative Writing," which finds Earl taking part in a creative writing class in prison. Though Earl struggles with the inspiration to write, it quickly spreads to his friends and family, which results in ridiculous fantasy scenes, including an animated sequence, Randy's spy fantasy, a telenovela starring Catalina and, best of all, a smooth R&B jam from Crabman. It's the show's ability to bounce between the more realistic adventures of Earl and pals and sequences like these that makes it such a treat to watch a show on a regular basis, because you never know what you're going to see next.
The season continues to see Earl visiting others he's wronged from his past, including one episode that involves his own parents ("Monkeys Take a Bath"). In the episode, Earl and Randy decide they want to apologize to their sensitive childhood neighbor (played by David Paymer). While the two thought the neighbor moved because of their teasing, he actually moved because of an affair with Randy and Earl's mom. When Joy finds out, she approaches Earl's mom, first calling her a hypocrite, then wondering why they couldn't have gotten along if they were both so similar. Of course, Joy gets a negative – and, not surprisingly, familiar – response.

Later in the season, "Nature's Game Show" offers up another darkly amusing gag as a twister (and the show's attempt at showing a twister coming through is about the most hilariously cheap portrayal of a twister I've seen in ages) passes by the town, resulting in a "commonly accepted rule" coming into play: the rule of "finders keepers", as townsfolk scatter to pick up whatever they can from the items that have been blown around by the twister.
However, one of the biggest highlights of the season comes in the second half, with "Darnell Outed", a 2-parter that starts with Earl trying to help Joy get on the new reality show, "Estrada or Nada", starring the former "C.H.I.P.S." actor. Upon seeing the ad for the show, Earl proclaims to Randy, "We truly live in the golden age of television." Shortly after, Earl introduces Joy's audition tape for "Fear Factor". While Pressley has offered up some very funny performances during the four seasons of this series, this is certainly one of the best, even offering up a few genuinely touching moments. The episode sees Joy getting humiliated, which also results in Darnell's witness protection program cover being blown. The second half has Joy (who renames herself Goldie) and Darnell finding themselves in a new life in the 'burbs. Upset that he couldn't make Joy's dream of being famous come true, he sets off to find her – by mailing himself and Randy to Joy's new forwarding address. A few episodes later, Earl and Randy have to explain to Mr. Turtle (who has had a long journey) what happened.

My Name is Earl remains a great series and the series certainly goes out on a high note with this terrific fourth and final season – there's not a bad episode in the bunch, and a few are particularly funny. It does end on a cliffhanger so be warned.