MAIN CAST
John Lithgow (Rise of the Planet of The Apes)
Kristen Johnston (ugly Betty)
French Stewart (Mom)
Joseph Gordon-Levitt (The Dark Knight Rises)
Jane Curtin (The Heat)
Elmarie Wendel (Rumpelstiltskin)
Simbi Khali (Plump Fiction)
Wayne Knight (Jurassic Park)


RECURRING / NOTABLE GUEST CAST
Ian Lithgow (Rice Girl)
David DeLuise (Vampires Suck)
Chris Hogan (Edtv)
Danielle Nicolet (The Flash)
Jennifer Rhodes (Heathers)
Marnette Patterson (Starship Troopers 3)
Marla Sokoloff (Sugar & Spice)
Martha Stewart (2 Broke Girls)
James Earl Jones (Star wars)
Lauren Graham (Bad Santa)
Michael Milhoan (That 70s Show)
Kathryn Joosten (Desperate Housewives)
Ed Begley Jr (Veronica Mars)
Katherine LaNassa (The Campaign)
Shay Astar (All Cheerleaders Die)
Bronson Pinchot (Lois & Clark)
Ileen Getz (Changing Lanes)
John D'Aquino (Xena)
Dennis Rodman (Soldier of Fortune, Inc)
George Takei (Star Trek)
Brenda Strong (The 100)
Danny Strong (Buffy)
Tara Strong (Batman: TSA)
Jan Hooks (The Simpsons)
Nicki Aycox (Roadkill 2)
Linda Cardellini (Scooby Doo)
Mark Hamill (Star Wars)
Chrstine Baranski (The Big Bang Theory)
Roseanne Barr (Roseanne)
Emile Hirsch (Alpah Dog)
Jason Carter (Babylon 5)
Jane Lynch (Glee)
Marguerite Moreau (Easy)
Michael Deluise (Waynes World)
Dom Deluise (Spaceballs)
John Cleese (Rat Race)
Phil Hartman (Small Soldiers0)
Larry Miller (10 Things I Hate About You)
Erika Christensen (Swimfan)
Laurie Metcalf (Bulworth)
Larisa Oleynik (100 Girls)
Kurtwood Smith (Agent Carter)
Courtney Peldon (Frozen)
Ron Rogge (Power Rangers Lightspeed Rescue)
Peter Jurasik (babylon 5)
Kathy Bates (Misery)
Kim Johnston Ulrich (Highlander: TS)
William Shatner (Star Trek)
Jim Beaver (Mike & Molly)
Billy Connolly (The Man Who Sued God)
David Hasselhoff (Knight Rider)
Emily Osment (Mom)
Genie Francis (Roswell)
Jonathan Frakes (Star Trek: TNG)
Ana Gasteyer (Mean Girls)
Chyna (Sabraina: TTW)
Miguel Ferrer (Robocop)
Alan Cumming (Tin Man)
Bonita Friedericy (Chuck)
Enrico Colantoni (Powers)
Olivia D' Abo (Conan The Destroyer)
Megan Mullally (Will & Grace)
Tracy Morgan (Little Man)
Harry Groener (Buffy)
Will Friedle (Batman Beyond)

3rd Rock From the Sun is one of the richest and hilarious television comedies to air. The series first aired in 1996 and lasted for a total of six seasons. The show molds science fiction into a sitcom and the results are a blast. A team of aliens from Mars take on human form in Rutherford, Ohio and integrate themselves into the local populace. Their goal is to learn everything they can about humans in a couple of days. Of course, it turns out humans are much more complex than expected and the team of aliens decide to stay a while longer. This first season is a great start to the series and with each episode, it only gets better.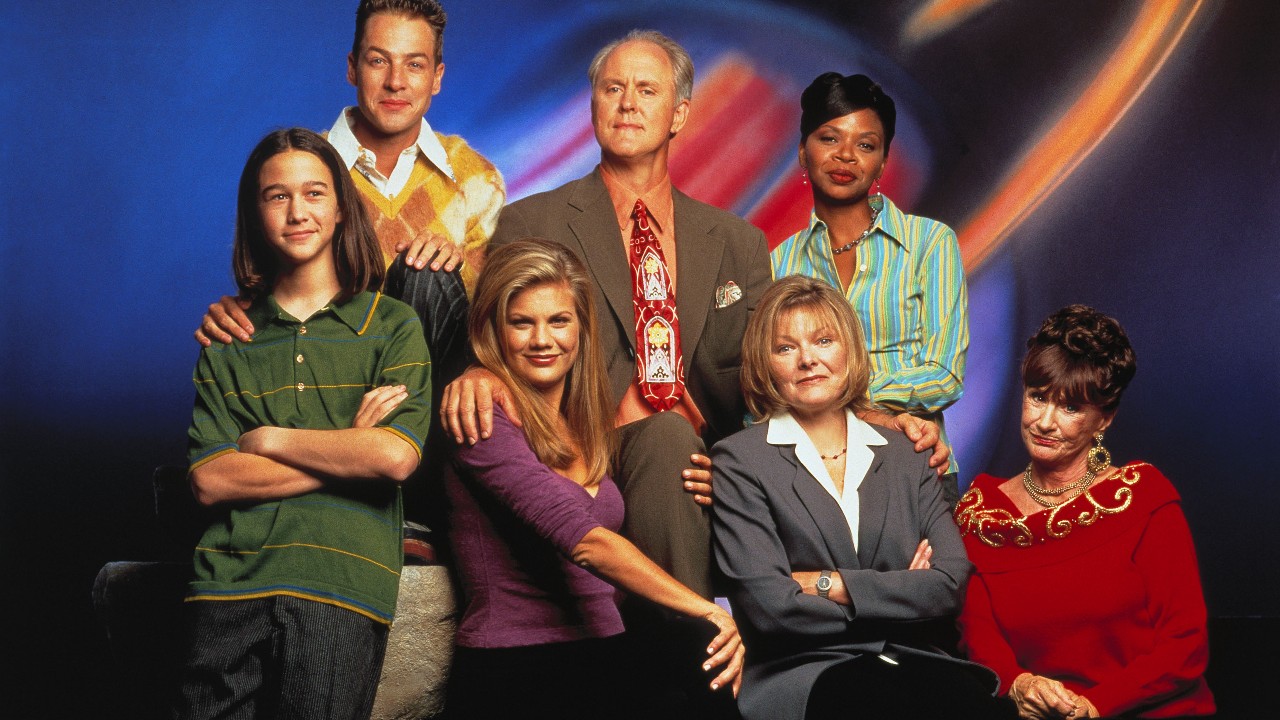 The strongest aspect of this show is its cast. They are remarkable together. From the very first episode, it is apparent how well they interact and play off of each other. Also as individuals they bring something special. The main attraction comes from John Lithgow's role as Dr. Dick Solomon. Dick is the high commander and in charge of the other aliens. As a human, he assumes a role as a college professor of physics. Lithgow does his character well by providing great body language and delivering dialogue in a manner that just makes you smile. His lieutenant and second in command is Sally Solomon (Kristen Johnston). Sally can be an absolute riot, especially in the earlier episodes when she is coming to terms with being a female and all of the "things" that come with it. Harry Solomon (French Stewart), the transmitter/receiver, is another great character. He fills the oblivious to the obvious role for the show. Harry can be dumb, but it is always funny and never annoying like some characters in other series get because of overacting. In Harry's case, Stewart fulfills his character to a tee. The last of the aliens is Tommy Solomon (Joseph Gordon-Levitt), the senior information officer and oldest alien of the group. Oddly enough, he ends up the young teenage boy with raging hormones. The struggle he endures as a wise old alien and a young teenage makes for a very interesting character.

Dr. Mary Albright (Jane Curtin). She is a professor of anthropology and shares an office with Dick. I wouldn't count Curtin as a particularly funny person, but when she goes toe to toe with Lithgow, the outcome is always hilarious. The two have a wonderful chemistry together and they turn some of the lightest material into something wonderful. Nina Campbell (Simbi Khali) is also a fun character. She is Dick and Mary's secretary and adds a tough personality to keep Dick in and his neurotic behavior in check when at the office. Additionally this season has Mamie Dubcek (Elmarie Wendel), the Solomon's cigarette smoking landlord and a couple appearances from Officer Don (Wayne Knight), who turns out to be an odd love interest for Sally in future seasons.

These characters are the true strength of this series and their development as both individuals and as a group really make this first season shine. Since the four alien characters are relatively new and have no experience with human society, there is a lot of different material and directions for the characters to take. The initial episodes are really a handful, because none of the aliens are prepared or really understand the emotional states that come with their human bodies.
For instance, watching Sally take on a feminine role and lifestyle is great. The alien has the personality to be more masculine than feminine, which makes for a funny result and Johnston carries the character well. Similarly, Tommy is a teenage boy going through puberty, but his alien personality wants him to be an old and wise man. Harry's focus is also a riot. Unlike Dick, Sally, and Tommy, he doesn't seem to have a real purpose. There are some hilarious events with him doing some pretty pointless (but funny) things with the hope to find out who he is.

All of the alien characters are quite fun to watch in the early stages of the season. Since they have no experience with anything, their reaction to some of the simplest things is fun. In most cases it's because they overreact. This especially goes for Dick. He turns some pretty dull situations into a laugh fest as he tries to understand and seeks guidance from Mary, Nina, and even some of his students from his physics class. There is also plenty of character development with the human characters and it can be a lot of fun. It is mainly watching both Mary and Nina slowly learn to understand Dick and his neurotic behavior.
As for individual episodes, it's hard to pick out the best, because they are all quite good. The season premiere episode "Brains and Eggs" is worth noting. Obviously, it's an important episode because it features when the Solomon's first appeared in Rutherford, Ohio. The characters are introduced and the hilarious tone is set for the remainder of the season. The next episode "Post-Nasal Dick" is also a blast. The Solomon's catch a common cold and being new to the human form, they fail to realize it is not fatal. "Dick Is From Mars, Sally Is From Venus" is another solid episode where the beautiful Sally goes out on her first date and gets the devastating "I'll call you". The episode "Lonely Dick" guest stars Phil Hartman and he does not fail to produce laughs. The "The Dicks They Are A Changin'" is simply ingenious. Mary comes to believe Dick is a man she knew in the 60s. The fun part about this episode is how her attitude towards Dick takes a 180. In "I Enjoy Being A Dick", Dick dresses in drag, enough said. "Dick Like Me" is also a pretty remarkable episode that covers racial diversity. It tackles such a serious issue in a fun light hearted manner. Dick believes you can pick your ethnicity at will. Under such an assumption, the Solomon's try out just about every ethnicity possible and their attempts aren't well received, but it should still make you laugh.  Overall the first season of 3rd ock From the Sun is so funny it's classic. This first season mixes together a great cast and puts them into one hilarious situation after another. The characters, their interaction and development, are incorporated into the stories quite well. If you enjoy great sitcoms, 3rd Rock From the Sun: Season 1 is a must own DVD box set.
I had a lot of fun watching season one and I'm wasn't really surprised I had an even better time with season two. All of the actors and actresses give stunning performances. The season two writing is clever, witty, and most importantly, funny. I think Lithgow says it best in the interview featurette included as an extra with this set. He makes a couple of comments regarding just how good the show was and his evidence is the cast, the writing, and the unique and very absurd situations they were allowed to get away with. And the truth is that Lithgow was right on every level. 3rd Rock From the Sun is one hell of a funny show and this second season speaks wonders.


The second season picks up where the first season ended. In "See Dick Run – Part I", the season one finale, Dick was replaced by Evil Dick after the Big Giant Head decided he was failing his duties as high commander. The second season concludes the story with "See Dick Continue to Run – Part II" and "See Dick Continue to Run, Continued – Part III". In this three part episode Lithgow gives a stellar performance playing both his normal character and an evil diabolic version of himself. There are also some stunning performances with Lithgow and Stewart doing physical comedy. These episodes set a great tone for the rest of the season.


The episode "World's Greatest Dick" is perhaps the funniest this season has to offer. Sally goes into a gay bar and meets a really great guy named Glenn. Unfortunately, he thinks Sally is a man. Of course it takes her the entire episode to realize what's going on in his mind. What makes this funny is not that it takes the common stereotypical gay guy, but rather that Sally as an alien doesn't understand the stereotype. She just thinks Glenn is the perfect guy. "Proud Dick" is another episode that will leave you chuckling. As we've come to know the high commander, he's a bit of an egotist. In this episode Mary gets a better parking space and Dick is furious he didn't get it. So he goes to the university president and quits his job over the matter. Dick ends up working at a fast food joint. What makes this a funny episode is simply how Dick carries himself and the way the other cast members respond to his situation. Another fun part about this episode is getting to see Harry in a different light. He hits his head and undergoes amnesia. After spending some time with the family, he begins to believe the world is being taken over by aliens.


The two holiday episodes, "Gobble, Gobble, Dick, Dick" and "Jolly Old St. Dick", which respectively cover Thanksgiving and Christmas are also worth noting. The Solomon family having arrived on Earth in January, they haven't experienced America's two biggest holidays. Their inexperience makes both of these episodes a riot. In the Thanksgiving episode, Sally rushes home after going to the grocery store on Thanksgiving. Now think about the last minute crowds at the grocery, grabbing up turkeys, potatoes, cranberry sauce, and just about everything imaginable. So naturally when Sally runs into these crowds, she thinks something bad is on the horizon, like the end of the world. Of course the Solomon's find out what is really going on and trying to keep their human facade going, invite Mary, Mrs. Dubcek and her daughter over for an authentic Thanksgiving dinner. The Christmas episode is also full of laughs. They all learn what the Christmas spirit is all about, which includes the truth about old Saint Nick. I'm not sure if there is anything quite as funny as a grown man, err… Harry, learning that Santa isn't real.
The remaining season episodes are a blast. Our friend Wayne Knight best known for his role as Newman in Seinfeld appears in his reoccurring role as Don Orville, the cop who make san odd match for the beautiful Sally. He shows up in a number of episodes and the ridiculous and overzealous way he handles his character makes him a perfect match for the rest of the cast. This season also has a couple of big names as guests. In "Hotel Dick", the Solomon's go to a science-fiction movie about killer aliens and fear the general public has the wrong idea about them. In order to get the good word out, they go to a science fiction convention, where George Takei from Star Trek: The Original Series guest stars. In "Fifteen Minutes of Dick", Sally punches out Star Wars' Mark Hamill and becomes a local celebrity in Rutherford. The amount of attention she receives leaves Dick jealous beyond belief. In both episodes Hamill and Takei are portrayed in "I'm a washed up actor striving for attention" and damn it's funny.


Some other fun things that happen in this season include Sally coming to terms with being a virgin, Harry is pushed into running for city council, Dick learns what being a sports fanatic is like, Dick takes a sensitivity class, Dick tries to replace Nina with Harry, Harry gets a girlfriend, Tommy falls for glee club teacher, Sally finds out what it's like to be a mother, Mary and Dick take the next step in their relationship, and plenty more. Overall this season promises to deliver even funnier and racier content than the first season. I repeatedly found myself laughing hysterical until it hurt and then rewinding the last scene to laugh just as hard again. Season two of 3rd Rock From the Sun is a must buy.
In the two-part finale of season two, our favorite aliens experienced dreaming for the first time. Not quite understanding the commonplace of dreams, the Solomons were under the impression they were defective and needed to return to their home planet for repairs. Dick decided to stay on Earth because of his undying love of Mary. In the last minutes of season two Dick proposed to Mary and said goodbye to Sally, Harry, and Tommy, only to find out dreaming was a normal human thing. However by this time Sally, Harry, and Tommy had already departed.
Season three picks up with Dick engaged to Mary and lonely without his family. Dick's agony disappears and turns into fear when his family returns with the Big Giant Head's niece Janet (Roseanne Barr). Janet was sent to be his wife, and when Mary finds out about Janet it ruins their relationship. Sad for Dick, good for you. The end result is a comical mishap and a hilarious performance from Barr. At first she acts like the perfect housewife (funny because it seems completely out of character for her) and when she realizes she doesn't have to be Dick's wife, she turns into the Roseanne we know and love.   For the rest of the season, Dick tries hard to win back Mary's heart. This produces several funny side jokes with Dick making an utter ass of himself, as he never really seems to understand the importance of the situation. One specific episode in the earlier portion of the season is "Dick-In-Law" where Dick and Mary spend the weekend with Mary's parents and pretend everything is business as usual. Mary is afraid to tell her parents about her latest failed relationship. Dick gets this crazy notion that if he impresses Mary's parents, she'll have to take him back. Of course, things do not turn out as planned. "Moby Dick" is a fun episode, where Dick finds his clothes no longer fit. The loss of Mary makes him want to eat junk food. In "Tom, Dick And Mary" Dick finds out Mary is seeing another man named Tom. Oddly enough, Tom turns out to be Tommy. The season continues with plenty more fun with Dick and Mary working out the "kinks" in their relationship.

There are many more fun episodes dispersed throughout the season. "A Friend in Dick" is an awesome episode where Dick tries desperately to find a friend to join him for a night at the theater. There is this one scene where Dick inspires a group of strangers to tap dance. It's funny as hell. "Jailhouse Dick" is another episode worth a few laughs. In it, Dick bails a criminal from jail and takes him home in an effort to rehabilitate him. And as usual, Dick blows the situation way out of proportion.

One of the greatest episodes of this season is the two-part Super Bowl episode "36! 24! 36! Dick". In this episode aliens from Venus come to Earth with the intent to rob Earth of all material possessions. The aliens are beautiful women. Among the beautiful faces are Cindy Crawford and Angie Everhart. It is a truly hilarious and goofy episode. In "Pickles And Ice Cream" Sally visits the gynecologist and pretends she is pregnant for the attention from other women. The funny part about this episode is how Don, Mary, and Nina react. Also Harry's pet Pickles comes to Earth to visit. "Portrait Of Tommy As An Old Man" is another strong episode, where Tommy retires from the mission and finds himself living with people his age, senior citizens in a retirement home. How he easily he fits into their routine is simply comical.

In "Just Your Average Dick" and "Dick And The Other Guy", John Cleese guest stars as the great Dr. Liam Neesam, a visiting professor who is better than Dick at everything. Cleese gives a riveting performance as a nut who is even more bizarre than Dick. In the season finale "Eat, Drink, Dick, Mary" guest stars Phil Hartman in one of his last roles as Randy Vicki Dubcek's jealous ex-boyfriend. They end the season with Randy kidnapping Harry.

Overall season three of 3rd Rock From the Sun continues the fun tempo set in the first two seasons. The characters continue to give great performances together and they are funny as ever. The way they deliver dialogue and utilize physical comedy will leave you laughing over and over again.

In the closing of season three, Harry was kidnapped by Vicki's enraged ex-boyfriend (played by Phil Hartman). In the aftermath "Dr. Solomon's Traveling Alien Show", the Solomon family is saddened by their loss and determined to find Harry again. And of all places, they find Harry in a county fair as the alien freak show. It is a fun way to begin the season with the cast acting as goofy as ever.
In the following episode "Power Mad Dick", Mary is promoted to the Dean of the College of Arts and Sciences. Dick believes Mary's promotion is his promotion. He takes it upon himself to act with full power and privileges as dean. Dick misuses his newfound power to fire employees he doesn't like, give raises, and authorize other such things he probably shouldn't have. Of course, it blows up in his face when Mary cuts him off. This leads to his arch-rival in the cafeteria becoming Mary's secretary. Another fun part about this episode is that Sally decides to lose her virginity to Don. While the act is not so funny in itself, how the cast reacts to the decision is. Dick, Tommy, and Harry treat the event like a birthday.

In the episode "Feelin' Albright" the realization of Mary's new position kicks in for Dick when he is referred to as Mrs. Albright, which is of course a damaging thrust to his ego. Sally also realizes Don had previous relationships and like a jealous girlfriend, she tracks them all down. In the episodes "What's Love Got To, Got To Do With Dick?", "I Am Dick Pentameter!", and "DIII: Judgment Day" Laurie Metcalf guest stars as Dr. Jennifer Ravelli. Metcalf temporarily joins the cast as a new officemate and love interest for Dick. Mary's new duties have kept her busy and Dick finds himself in the middle of a new relationship that takes a turn for the worse. Metcalf gives a riotous performance and is a blast to see across Lithgow.

"Two-Faced Dick" is a chance for both Lithgow and Johnston to try different roles, each other's. In this episode, the Big Giant Head grants a request Sally made three years ago to be given a man's body. She didn't want to be the woman on the mission, but after three years, she has grown to like being the woman. Unfortunately, the Big Giant Head grants the request and does it by switching Dick and Sally's bodies. This mucks up their lives as they are forced to try to pretend to be each other. Both Lithgow and Johnston give some tremendous performances playing each other in terms of dialogue delivery, physical comedy, and other little quirks that make them so darn funny.

The next episode "Dick Solomon of the Indiana Solomons" is a great episode. Dick is mistaken for someone else and receives an invitation to a family reunion. No one has seen "Richard" since he was a baby, so Dick believes the Ohio Solomons will fit in perfectly. And it turns out, they do. The fun from this episode comes from everyone trying to fit in and having no problem. "Sally Forth" is an episode about relationships. Don proposes to Sally and it doesn't end with a happy note. Vicki also returns to date Harry once again. In "Paranoid Dick" Mary loses her job as the dean after listening to one of Dick's crazed ideas. The other side of the episode has Sally recovering from her breakup with Don. Vicki takes her out for a girl's night.  "The House That Dick Built" has a bunch of big and fun changes for the cast. After an odd dream, Vicki decides she and Harry should have a baby together. Sally also decides she should move out and takes a room above the garage. Dick reacts in a bad way because he feels like everyone is leaving him. In "Dick 'The Mouth' Solomon" the two happy couples of the season, Dick and Mary and Harry and Vicki go on a couples' retreat to learn to communicate better. Of course, Dick being Dick and Harry being Harry, it never turns out quite right. "Dick v Strudwick" puts Dick against a new rival, who happens to be Tommy's new girlfriend's father. It ends with the two duking it out on live television.

The two-part season finale "Dick's Giant Headache" is a great way to finish the season. In this two-part episode, the mission gets a poor evaluation from the Big Giant Head. Dick is revoked of command and Sally is made high commander. William Shatner guest stars as the Big Giant Head, who is even more bizarre and wacko than Dick, Harry, Tommy, and Sally combined. It is a fun way to end the season with a few goofy surprises.


Overall this season was a lot of fun. Like past seasons, the cast gives great performances in their respective roles. The delivery of dialogue and physical comedy all add up to some hilarious fun. The stories in this season were especially riotous with some great tales about Dick, Sally, Harry, and Tommy get into a lot of crazy situations. If you have enjoyed past seasons, then season four should be a blast.
Season five is the second to last season of 3rd Rock From the Sun. In this season, some crazy things happen with the cast. First off, there are several storylines about Vicki, the Big Giant Head, and their baby. Four of the season's twenty-two episodes are used to cover it. The story makes for some great jokes and has Shatner giving an admirable performance as the Big Giant Head. There are also several stories scattered throughout the season dealing with Tommy and his relationship with Alissa. The heat between Don and Sally continues, especially when he becomes Rutherford's lone motorcycle cop. And Harry lands himself a lady, Janice, who is Rutherford's toughest (and hottest) female cop. The season also includes plenty of more tales with the family blowing nearly everything out of proportion. It is a fun season and should make any fan of the series laugh until it hurts.

The fifth season picks up where the fourth season ended,  In the conclusion to this three-part story, Vicki is in labor and the Solomon's are desperate to prevent the public from seeing the baby. They fear the baby, having an alien as the father, will not be entirely human. Fortunately for our favorite Ohioan aliens, there is nothing wrong with the baby to indicate it is of alien lineage. Unfortunately, Vicki wants to sell her story about being impregnated by aliens to the tabloids. What is great about this episode is how over-the-top the Solomon's reaction is to something most people wouldn't believe even if they read it in a tabloid.
"Dick For Tat" is one of my favorite episodes this season. It is a great story about misconceptions and adulterous affairs. While drinking heavily and playing an adult-oriented board game, Mary reveals her last "fling" was with Strudwick, who is the professor that Dick despises. The two just don't get along. And when he finds out he had a thing with Mary, Dick goes over-the-top with jealousy and tries to fix the matter by sleeping with Strudwick's wife. The situation is blown out of proportion and even includes Strudwick's daughter Alissa and Tommy. Sally also becomes enchanted by the sight of Don, who is now Rutherford's lone motorcycle cop. Both situations turn out to be a riot. The next episode "The Fifth Solomon" is a silly episode about car accidents and insurance. It is an important life lesson Dick never had the chance to get before. The story has two interesting angles, one with Dick getting adjusted to life with a modern car with all the features and Harry and his journey into acquiring all kinds of insurance. This episode was included in the series best of compilation 3rd Rock from the Sun: The Best Episodes in the Universe, Really.

"Dial M For Dick" is a story with a situation that I suppose anyone who did not know what was going on might react in a similar manner to the Solomon's. When Mary invites Dick to a murder mystery weekend, he insists the entire family join them. All five gear up and head off for a weekend of fun. When they get their, Mary starts to feel under the weather and stays in the room. While Dick and the gang are in the mansion, someone gets killed. What they don't realize is that the death was scripted and part of the murder mystery weekend. The Solomon's get a little too serious about the killings and their overreaction to the situation turns out to be worth a few chuckles. In "Charitable Dick", Dick goes head to head with Strudwick again. While at a charity auction, Dick bids on an ugly piece of artwork he does not want Strudwick to win. In the end, Dick ends up with a seventeen hundred dollar painter he can't stand. It is not the season's strongest episode, but it has a few fun moments with Dick's ego getting the best of him.

In the episode "The Loud Solomon Family: A Dickumentary", Mary receives funding to make a documentary about the typical American family, a.k.a. the Solomon's. As an anthropologist she has been studying the family for the last four years. Since the family does not want the truth about their alien heritage coming out, they make up all kinds of things about each other to misdirect suspicion, which include Sally is a lesbian, Harry is an alcoholic, and other antics. "Gwen, Larry, Dick & Mary" is an episode with Dick and Mary trying to branch out their social circle. Mary is tired of always spending time with Dick's family. So, they double date with Mary's tennis partner Gwen and her husband Larry. They all have a swell time, or at least Dick and Mary think they did. Their new friends ignore them; Mary believes it is Dick's odd behavior keeping them away, but she's shocked to learn it is really her. The other plotline has Tommy, Harry, and Sally doing laundry at the laundromat since their washer and dryer broke. Tommy and Harry find out the public laundry facilities are a great place to meet women and Sally becomes the laundry police!
"Dick Puts the 'Id' In Cupid" is an episode about teenage sex and the first time. Valentine's Day is on the horizon and Tommy believes it would be the perfect time to consummate his relationship with Alissa. She agrees and he say he will get a nice hotel room for their first time. Tommy, however, finds out it is not her first time. Tommy becomes intimidated that he won't be good enough. Fortunately for him, Mary's niece Tiffany is more than willing. After losing his virginity to Tiffany, Tommy tells Alissa about it and believes everything is okay. What he didn't realize is how she would react to his affair with Tiffany. And while the issue is fairly serious, the cast does a fine job putting in bits of humor. "The Big Giant Head Returns" sees Shatner returning to Earth as the Big Giant Head in human form Stone Philips and Vicki coming back into the Solomon's lives. Stone wants both Vicki and the baby. Vicki, however, has no desire to be with Stone or give him the baby. To that end, Stone commands Dick to make Vicki love him or else. It is a silly story with Shatner making a royal ass of himself once again and finding true love, or so it would seem.

In "Frankie Goes To Rutherford", Dick has a lesson about homosexuality and the misconceptions of being an "alien". Frank, a former student of Mary's, shows up to say hello and Dick becomes insanely jealous. Dick believes there is something between the two. Frank assures Dick he is not like other guys and he tries to reveal something about himself. Dick mistaken his hints and he falls under the impression Frank is an alien. Matters are complicated when Dick tells him he is one too. The fun part is watching Frank and Dick go to a gay bar, which Dick thinks is an alien hideout. The season finale is the two-part episode "The Big Giant Head Returns Again". Hopefully not a surprise, but Shatner makes another appearance as the Big Giant Head. He returns to Earth with his marriage to Vicki on the rocks, as the two are not getting along very well. He confides in Dick (which includes a heart-to-heart moment and some song and dance) and reveals a big secret to him. Later he demands Dick ends it with Mary after getting to know her better. Sally also comes to believe Alissa is going to break it off with Tommy and does it for him, which obviously complicates their relationship. Tommy is also selected as valedictorian and gives a speech you will probably never hear at a high school. It is a riot! Harry and Vicki resume their relationship, sort of. There are some complications like Vicki's spouse and Harry's new girlfriend Janice. The story is pretty fun way to close out the season, with a lot of things going on for the cast.

Overall, season five sees has some big events for the cast and situations dealing with the Big Giant Head, Vicki, and their newborn baby, as well as the cast just getting mixed up into some good old fashion situations that can only happen when you have a cast of aliens pretending to be humans. As far as the quality, it is still quite good. Fans of the series should enjoy getting another twenty-two episodes of Dick, Tommy, Harry, Sally, Mary, Nina, Don, and all of the other supporting roles getting into one mixed up situation after the next.
The sixth season features the final moments of 3rd Rock From the Sun as the series' last season. The season sees a few changes for the cast. Notably, Tommy goes to college and his role in the series is minimized in comparison to previous seasons. I wasn't too happy with this change, but the general dynamic of the show still worked fine. As for the stories, they focus on the cast continually blowing common situations out of proportion, the cast and their relationships, and even some out-the-ordinary episodes. The season ends with the aliens being recalled to their home world.
Season Six begins with the episode "Les Liaisons Dickgereuses". It is a fun episode with Megan Mullally (Will & Grace) guest starring as Renata, Mary's rich sister. Mary has always lived in Renata's shadow and her latest endeavor is to build a library at Pembleton. Dick and Mary plot to get back at Renata by having Dick date and break her heart. Unfortunately, Dick finds himself overcome by Renata's money and power. This is a fun episode with Dick and Mary at their best–goofy, over-the-top, and funny as ever.


The two-part episode "Dick'll Take Manhattan" sees the cast going to a parallel reality, where they all have different lives in New York City. Dick is a trial lawyer, Harry is the president of television network NBC, Tommy is the freshest star on Saturday Night Live!, Sally is a columnist, Don is the mayor, Mary is a singer in a sleazy bar, and Nina is a judge. At first the cast believes they have found the perfect lives, but they soon find out that not everything is as good as it seems. It is a fun story to see Harry in a position of power and Tommy interacting with the SNL cast.

"B.D.O.C." is an all-around fun episode that marks the reason Tommy does not have as strong of a presence in the show this season. Tommy goes off to college, which has great angle with Dick having a hard time letting go of Tommy. Meanwhile, Sally and Harry interview candidates to replace Tommy as the information officer. What makes this part of the episode fun is who Sally hires and how she decides to treat him.


Sally gets a job this season and a new reoccurring character is introduced. In the episode "Dick's Ark", she is hired to do the weather under the catchy name of Sally Storm. At first, the new job is fun and introduces an odd chemistry with anchor Chaz (Pat Finn). But it soon gets old with overplayed jokes and supporting characters that do not live up to the rest of the cast. Chaz is a limited character who pretty much serves as the butt of Sally's jokes.


In several of the episodes, the focus is on the Dick-Mary relationship. In "Dick Digs", Dick goes on an archeological dig with Mary and tries to make her dream come true by planting an artifact in her section. In "A Dick Replacement", Dick believes he is going to die soon and tries to find a new boyfriend for Mary because he wants her to be happy. "Mary Loves Scoochie" is a two-part episode with John Cleese reprising his role as Liam Neesam. Other episodes throughout the season feature silly situations from the Dick-Mary relationship. The two have a great dynamic together and seeing them in one odd situation after another was hilarious.


The Dick-Mary relationship inevitably ties into the series two-part finale. In "Mary Loves Scoochie", Mary witnessed something she was not supposed to see when Dick turned Liam into a monkey. In the two-part series finale "The Thing That Wouldn't Die", the brass (the Big Giant Head) find out about what Dick did and the entire team is recalled back to the home planet. The gang decides to through a massive going away party.


Overall, I was happy with season six, but I wasn't nearly as moved by it as I have been with previous seasons. The season six writing felt different. Perhaps it was simply the fact that the show could only go so far with its premise and after five years of it, enough is enough. The situations the cast encountered this season offered a lot of laughs, but at the same time the strong chemistry, dialogue, and writing did not feel nearly as strong. In the end, I felt season six was good, but not great.